Small Arctic ISP Caches Netflix in New Way
Small Arctic ISP Caches Netflix in New Way
Meshnet in the Canadian Arctic is using Aterlo Network's NightShift technology to cache Netflix content locally so consumers with low-speed Internet connections can still stream the video service. In a geographic area that is closer to Greenland than much of mainland Canada, Meshnet, a service provider in Iqualuit, Nunavut, is announcing a new partnership with Aterlo Networks to give its customers something they've never been able to get before -- quality access to Netflix service.
Meshnet is integrating Aterlo's NightShift product with its Internet service to cache Netflix content locally and make it available for viewers with low-speed connections. That's an important new feature because typically in Nunavut, which is located in the Canadian Arctic, a network connection maxing out at 1.5 Mbit/s downstream sells for a monthly fee of about $80, while a connection reaching 5 Mbit/s can cost as much as $400 per month. Not only are the monthly fees exorbitant, but a basic Internet package doesn't maintain the speeds necessary to support normal video streaming. Netflix recommends a minimum 3 Mbit/s connection for standard definition video and a minimum 5 Mbit/s connection for HD video.
NightShift works by downloading and storing Netflix content on a local device overnight so that it's available for playback during the day. That makes for a much smoother playback experience, and NightShift doesn't touch Netflix Inc. (Nasdaq: NFLX)'s digital rights management technology, which keeps content security intact. Unlike Netflix's new download-to-go feature, the NightShift function doesn't let users move content around outside the home, but it does make content accessible inside the home that would otherwise be difficult or impossible to stream. (See also WOW: Broadband Caps, Not 'If' but 'When'.)
Figure 1: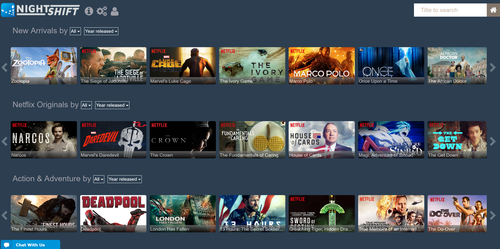 "Caching high definition video streaming services for homes and users without adequate bandwidth and Internet plans is something we have passionately talked about since 2014," Aterlo marketing executive Harneet Singh told Light Reading. Indeed, Aterlo has sold NightShift at retail since 2015, offering the product for a one-time cost of $99 and an additional subscription fee starting at $7 per month. Aterlo has also signed deals with maritime customers, enabling the service on yachts out at sea. But the contract with Meshnet marks the first agreement where an ISP is including the NightShift technology as part of its broadband service.
According to Aterlo, since Meshnet first started deploying NightShift, more than 40% of Netflix traffic has moved from real-time streaming over the Meshnet network to local caching for later playback.
In some ways, the solution is similar to the work that Technicolor (Euronext Paris: TCH; NYSE: TCH) is doing with Amazon Web Services Inc. , albeit less complex. NightShift appropriates local storage for video caching, while AWS and Technicolor are pushing certain computing functions out to the home on broadband gateways. (See Technicolor Brings AWS Home to Gateways.)
Both strategies marry cloud technology with available local resources. Together they represent what is likely only the first wave of hybrid consumer services to distribute functionality more broadly across the Internet and local networks. (See also Could Netflix Someday Cache at Home?)
— Mari Silbey, Senior Editor, Cable/Video, Light Reading
Subscribe and receive the latest news from the industry.
Join 62,000+ members. Yes it's completely free.
You May Also Like
---