Ericsson is not following Nokia into the unChinese Open RAN Policy Coalition
Ericsson is not following Nokia into the unChinese Open RAN Policy Coalition
The Swedish equipment maker remains on the outside of a group promoting a technology that forms part of the US attack on China's Huawei.


Joining an anti-China club would be a risky move for a company that owed a major slice of its business to the Chinese market. While the recently established Open RAN Policy Coalition has never identified itself as anti-Chinese, its entire raison d'être is to secure government support for a technology seen by some hawkish US officials as the weapon to fight Huawei, China's biggest maker of network equipment. Most existing members are American. None is Chinese.
The shifting and Chinese fortunes of Ericsson and Nokia, Europe's two big manufacturers of radio access networks (RANs), probably explain their contrasting attitudes toward the newest club in the bustling open RAN community. Spurned in China's RAN market, and less averse to open RAN technology than its chief rivals, Nokia signed its membership form last week. Ericsson, which recently boasted a market share improvement in China, does not look set to follow.
Its wariness of the latest association came across in a statement emailed to Light Reading. "Ericsson is not a member of the Open RAN Policy Coalition," said a spokesperson when asked if Ericsson would join. "We believe in open and fair competition. To stay ahead in the 5G race, the US and other governments should maintain their market-based approach through technology-agnostic policies. The focus of policymakers needs to be on speeding up 5G deployment through spectrum allocation and removing network deployment barriers."
In other words, Ericsson does not approve of government support for one technology – in this case open RAN – over alternatives. Its lack of enthusiasm for open RAN does not surprise Ericsson's opponents. By opening up the interfaces between different parts of the RAN, that technology would allow an operator to build its RAN using products from different vendors. In today's networks based on 3GPP specifications, everything must come from the same supplier – a situation that favors the incumbents.
Want to know more about 5G? Check out our dedicated 5G content channel here on Light Reading. While that group also includes Nokia, the Finnish vendor trails both Huawei and Ericsson in the RAN market, where it plays more of a challenger role. To Nokia, therefore, open RAN presents an opportunity to seize the technology initiative from its bigger rivals and be disruptive. Even before it signed up to the Open RAN Policy Coalition, it had joined the Telecom Infra Project (TIP), a Facebook-led association experimenting with open network technologies, and the O-RAN Alliance, the group developing new specifications for open interfaces. Neither Ericsson nor Huawei is a member of TIP. And while Ericsson last year joined the O-RAN Alliance, it has continued to badmouth open RAN as a poor substitute for 3GPP technology. Nokia, moreover, has little to lose from any Chinese perception the Open RAN Policy Coalition is a new front in the campaign against Huawei. Last month, the Finnish vendor confirmed it would retreat from China's 5G RAN market entirely, after failing to land contracts with any of its three main service providers. Today, Nokia's exposure to the Chinese market is less than it has been for years. In 2015, before its takeover of Alcatel-Lucent, Nokia made 15% of its revenues in China. Last year, the figure was down to just 8%. Figure 1: Share of sales from China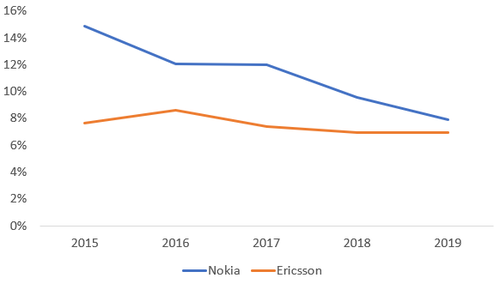 Source: Ericsson, Nokia The share of Ericsson's revenues that comes from the Chinese market is even smaller, at 7%. But the figure has remained relatively stable over the last five years and may grow this year and next as coronavirus upsets European sales. In April, Ericsson secured 11.5% of a $5.6 billion 5G RAN tender issued by China Mobile, the country's biggest operator. It has also been chosen as a RAN vendor by China Telecom and China Unicom, the two rivals co-building a 5G network. In this situation, membership of a group set up to bludgeon Huawei out of business in Western markets might not look politic. Ericsson has not ruled out membership and insists it is "committed to work with all relevant players and alliances in the industry." But right now, its preference is for technologies based on 3GPP specifications, and not the largely unproven open RAN alternatives. With $21.7 billion in network sales riding on that 3GPP system, and Huawei reeling from a new set of US sanctions, Ericsson's current logic is hard to fault. Related posts: Here's why T-Mobile is avoiding the open RAN policy debate 5G gives RAN market a Q1 boost – Dell'Oro The outlook for 5G open vRAN The political hijacking of open RAN Nokia gives up on 5G radio business in China — Iain Morris, International Editor, Light Reading
Subscribe and receive the latest news from the industry.
Join 62,000+ members. Yes it's completely free.
You May Also Like
---