Bill Owens, an industry veteran who brings military and political perspectives to the technology table, is impressed with the innovation in today's communications networking industry, particularly related to virtualization. But, as he noted during a keynote speech at the recent Big Communications Event (BCE) in Austin, Texas, he believes more can be done to deliver value to the US market if barriers to entry were lowered.
Owens, the non-executive chairman at US operator CenturyLink Inc. (NYSE: CTL), chairman of Red Bison Advisory Group and once the CEO of Nortel, believes the US market could be enriched further if it fully embraced international expertise. "I want to stress the importance of the international world," he noted, citing Huawei as an example of a company that plays a key role in communications network strategies in most parts of the world but "we hardly know them in the US."
I took that to mean (before the shouting begins) that Huawei Technologies Co. Ltd. is not well known as a partner and supplier in the US, for reasons that are well documented. (See US vs Huawei/ZTE: The Verdict and China Lashes Out at 'Cold War Mentality'.)
Indeed, only days after Owens suggested that companies such as Huawei should be welcomed with open arms, the Chinese vendor was once again in the headlines. (See US Probe Into Huawei Threatens Trade War.)
But it's not just about China: Owens pointed out how Indian companies such as Wipro Ltd. (NYSE: WIT) (where Owens sits on the board), Infosys Technologies Ltd. (Nasdaq: INFY) and Tata Consultancy Services Ltd. are "fonts of IT knowledge that bring great value to us in the US."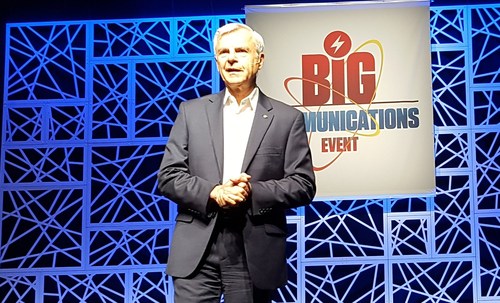 Innovations from outside the US should be embraced to help companies such as CenturyLink reach their potential, the former Cold War commander suggested. "I urge us all to see [this] as a world of very smart people who are engaging … some of the most important innovations come from those [international] companies … how can we bring these great companies into our country? To welcome them, not to put up the barriers, not to preclude them … but to integrate the knowledge of companies to make a difference."
Owens believes such open access fosters partnerships and that collaboration is the best way to encourage further technology innovation that, in turn, can help CenturyLink develop a broader range of services for its enterprise customers. The operator, which generates the majority of its revenues from business customers -- $10.65 billion in 2015, about 60% of its total revenues -- is "focused on how to provide the best solutions to businesses … how do we integrate all of the wonders of your companies to create new solutions?" he asked the audience. "It's important for us to figure out how to partner, enormously important."
Given the current state of the relationship between the US authorities and, in particular, the two main Chinese vendors, I'm not sure that many barriers are going to be lowered any time soon. And, of course, this is a two-way street -- the opportunities to participate and collaborate around the world should be open to all. (See ZTE CEO to Quit in US Export-Ban Dispute.)
And who knows, maybe, as has been suggested on Light Reading before, political change and pressure from the operator community could herald a thaw in certain relations. Owens will be hoping so. (See Curing America's China Syndrome and Are Huawei & ZTE About to Feel a Thaw in the Comms Cold War?.)
If you want to hear everything Owens had to say about collaboration, open markets and the impact that innovation is having on US tech job prospects, check out his full keynote:
— Ray Le Maistre,

, Editor-in-Chief, Light Reading