Cisco Slashes Storage for Cloud DVR
Cisco Slashes Storage for Cloud DVR
Smart streaming saves storage, as much as 40%. LAS VEGAS -- Storage is a major challenge for cloud DVR deployments, particularly in places like the US where laws require operators to maintain an individual copy of a recorded program for each user who wants to save the content for later viewing. Cisco thinks it's found a way to significantly mitigate the problem, however, by using technology that it calls smart streaming to reduce video file sizes. The company believes it can cut down overall storage requirements for cloud DVR by as much as 30% to 40%.
Smart streaming is Cisco Systems Inc. (Nasdaq: CSCO)'s phrase to describe its method of adjusting video compression based on the visual complexity of a given scene. The more complex a scene, the more information has to be transmitted to the end user to deliver a high-quality viewing experience. But the converse is also true. The less complex a scene, the less information is needed to deliver the same perceived level of quality. Cisco adjusts the bit rate for delivery based on what is needed for the particular content being shown, and it does so dynamically.
"Why use more bandwidth when you don't need it?" Cisco's director of product line management, Ramin Farassat, pointed out in an interview at CES here.
Figure 1: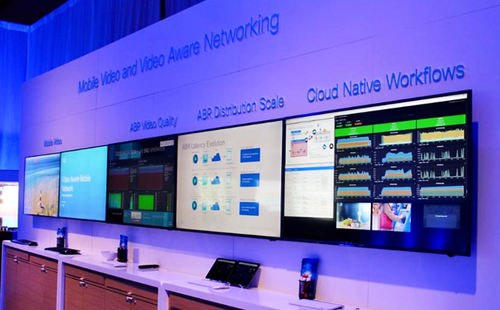 Cisco photo inside the demo room at CES 2018
The idea isn't new. Companies from Arris to Netflix to Twitter have all developed (or acquired) similar technologies for optimizing bandwidth in video delivery. (See Netflix Isn't the Only One Rethinking ABR and Twitter Buys Magic Pony... Not That Kind.)
However, Cisco believes it's done something unique by extending the concept from live video streaming into the cloud DVR space where storage is such an issue.
"When you talk about it within the concept of live video, you talk usually about [savings of] 20% to 30%," says Farassat. But for cloud DVR, "we're actually saving 30% to 40% because we actually have more time. We can actually do better analysis."
That's a major benefit, particularly as operators come face to face with the scale of storage needed to support cloud DVR. Comcast's cloud DVR service, for example, required hundreds of petabytes of storage capacity as it was rolled out. Neill Kipp, distinguished engineer at the company, said last March that it took Comcast more than a year just to rack all of that storage, and that in units of half-inch terabyte drives, a tower containing that much capacity would reach five miles high. (See IP Video Not Yet a Slam-Dunk for Cable.)
Unsurprisingly, Farassat says operator customers have shown a great deal of interest in Cisco's storage-optimizing solution, and he notes that customer tests are already underway. If it all works as designed, the Cisco technology could make it much easier -- and cheaper -- for operators to offer cloud DVR services going forward.
— Mari Silbey, Senior Editor, Cable/Video, Light Reading
Interested in learning more about the technology trends and business cases shaping the cable industry? Then come to the Cable Next-Gen Technologies & Strategies event in Denver, March 20-22. For more information, or to register, click here. Free entry for communications service provider and network operator employees.
Subscribe and receive the latest news from the industry.
Join 62,000+ members. Yes it's completely free.
You May Also Like
---