Taking aim at a subset of the market not covered by its postpaid broadband service, Cox Communications has quietly introduced a pay-as-you-go, prepaid high-speed Internet offering called StraightUp Internet.

The prepaid option sells for a flat $50 per month and includes a refurbished DOCSIS 3.0 WiFi gateway that customers get to keep.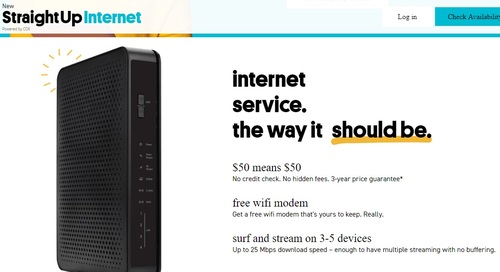 As a pay-as-you-go service, StraightUp Internet customers can decide to refill the service each month or drop the service anytime. To entice those customers to stick around, Cox also promises a three-year price guarantee on StraightUp Internet. However, "current rates will apply" when customers pause service for more than 30 days or cancel service altogether. StraightUp Internet customers can pay with debit or credit cards, via EasyPay, or pay in cash at a Cox Solutions Store.
The prepaid broadband option gives Cox a way to market the service to consumers who don't qualify for the company's postpaid service or who don't have access to banking services. Cox, which began to offer the service commercially last June (reports on trials began to surface in late 2017), doesn't appear to be promoting StraightUp Internet heavily. However, digital advertising is one route that Cox is using to spread the word about StraightUp Internet. For example, an ad for the service recently appeared in this reporter's Facebook feed on Wednesday.
StraightUp Internet delivers speeds of 25 Mbit/s down by 3 Mbit/s up, matching the FCC's current definition of "broadband."
Cox's StraightUp Internet service allows consumption of up to 1 terabyte of data each month, but does not yet enforce a policy when prepaid customers exceed that limit. Cox also puts a monthly 1TB limit on its postpaid residential broadband products. Depending on the market, Cox's postpaid policies also support an unlimited plan, a 500 Gigabyte "additional data plan," or charge $10 extra for each additional bucket of 50 Gigabytes when customers exceed their 1TB monthly limit.
Cox doesn't have any plans to offer a prepaid TV product, "but we are always evaluating consumer buying preferences and make adjustments to future plans based on feedback," a Cox spokesman said in a statement.
Cox is the latest cable operator to add a prepaid option for Internet. Comcast offers both prepaid Internet and prepaid TV services. Comcast's prepaid Internet product sells for $45 for a service that delivers up to 20 Mbit/s down and 1 Mbit/s up. In addition to a $45 30-day refill, Comcast also offers a seven day refill for $15. Its relatively new Prepaid Instant TV offering is an IP-delivered product starting at $22 that requires the prepaid Internet service.
Verizon also markets a prepaid version of Fios Internet (25 Mbit/s symmetrical) and Fios TV (select packages like Custom TV, Custom TV Sports and More, and Mundo). The prepaid Fios TV service requires Fios prepaid Internet and includes the necessary equipment (Fios Prepaid Internet features a router and Fios Prepaid TV includes one set-top box). However, customers are expected to return that equipment when they decide to give up the service.
Related posts:

— Jeff Baumgartner, Senior Editor, Light Reading