Startup Finds a Business in OpenFlow
Startup Finds a Business in OpenFlow
xFlow is taking advantage of the OpenFlow buzz, getting itself hired as an engineering partner to some notable chip companies The promise of the OpenFlow specification is making money for at least one little startup.

xFlow Research Inc. was at last week's Open Networking Summit boasting of having done OpenFlow projects for some big communications-chip companies.

For Marvell Technology Group Ltd. (Nasdaq: MRVL), xFlow ported Open vSwitch -- software for running virtual switches -- onto switching chip families including the 10Gbit/s line called Lion; all the switch chips involved are OpenFlow 1.0-compliant. For Cavium Inc. (Nasdaq: CAVM), xFlow helped develop a 10Gbit/s network interface card (NIC) that supports OpenFlow 1.0.

xFlow COO Ashok Malani said the company is also working with Broadcom Corp. (Nasdaq: BRCM) on something, although he wouldn't say what. (Light Reading pinged Broadcom on Friday afternoon about this but didn't get an immediate response.)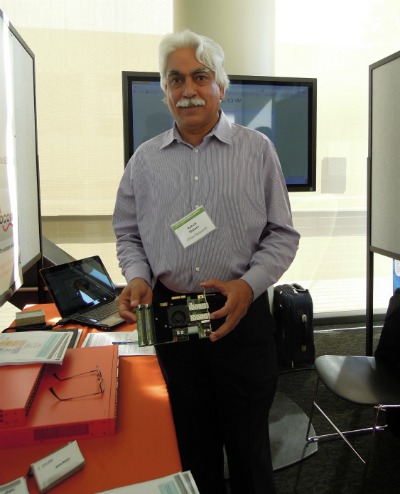 With 22 employees and just about 18 months of existence, xFlow isn't a powerhouse. Founder Ali Khayam, an assistant professor at the National University of Sciences and Technology in Pakistan, started the outfit in 2010 working on controllers for the home market.

Khayam had also worked with OpenFlow, though, and had gotten involved with academic discussions on the protocol. As it became apparent that the industry was interested, xFlow spun out of NIST and opened a headquarters in Sunnyvale, Calif. (Some of the team remains in Pakistan.) The company remains self-funded so far.

What's particularly important about xFlow's story is the customer list -- namely, big communications-chip companies that have taken a quick interest in supporting OpenFlow.

That should be heartening for the operators that are taking an interest in the protocol. Stuart Elby, vice president of technology for Verizon Communications Inc. (NYSE: VZ), was talking at the Summit about his company's eagerness to dive into software-defined networking, of which OpenFlow is a part. Verizon is mainly interested in the cost savings, which would come about by moving off purpose-built hardware and onto simpler platforms running on merchant semiconductors. But this masterplan wouldn't go far if the chip companies didn't buy into it.

Network processor companies are working with OpenFlow, too. EZchip Technologies Ltd. (Nasdaq: EZCH) made a big deal out of being the first chipmaker to implement OpenFlow 1.1. And Netronome has spent the last year at conferences touting its own advantages with regards to OpenFlow. (See EZchip Runs OpenFlow 1.1.)

Here's more coverage from the Open Networking Summit:
Subscribe and receive the latest news from the industry.
Join 62,000+ members. Yes it's completely free.
You May Also Like
---