Arrcus Scores $30M & Takes Network 'Democratization' to the Edge
Arrcus Scores $30M & Takes Network 'Democratization' to the Edge
Arrcus is extending its architecture from the data center to the edge, using high-density 100G/400G white box networking hardware based on Broadcom Jericho2 processors. White box startup Arrcus is taking its "democratized" network architecture to the edge, using an operating system running on merchant silicon. To propel its efforts, the company has banked a $30 million Series B funding round, the company said Tuesday.
The white box vendor has until now focused on the data center, but now it's launching high-density 100G/400G hardware based on the Broadcom Jericho2 switch-router system-on-a-chip (SoC) that is suitable for for hypercloud, edge and 5G network deployments, Arrcus said in a news release. (See Arrcus Raises $30M, Expands to Network Edge.)
Additionally, Arrcus launched ArcIQ, an AI-driven data analytics tool for network optimization.
"Arrcus offers a simple, scalable and secure routing-centric solution for network transformation," Devesh Garg, Arrcus founder and CEO, tells Light Reading, boasting that the company "democratizes the networking industry."
The new products are designed to fuel service provider demand for more intelligent, reliable, greater-capacity networks, with intelligence located closer to the customer, the company says.
According to Arrcus, the combination of ArcOS with Jericho2 silicon delivers up to 10Tbit/s switching capacity (five times the performance of the previous generation of Jericho+ processors), as well as four times increased port density, and increased scalability, Arrcus says.
In addition to the product news, Arrcus announced a $30 million Series B funding round, led by Lightspeed Venture Partners, which Arrcus will use to fund growth and expansion. It now has about 50 staff, which it plans to double in the next six to 12 months.
Figure 1: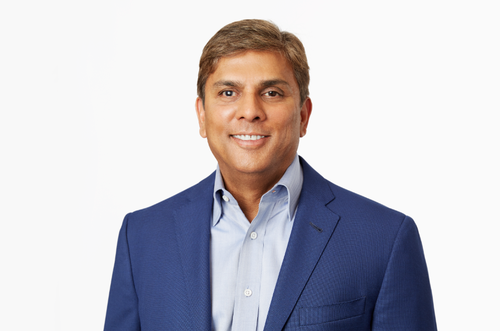 Devesh Garg, Arrcus founder and CEO.
Arrcus, which came out of stealth mode a year ago, claims more than ten production deployments, including service provider, data center and content delivery network customers. "The pipeline is rich," with 20–25 additional proofs-of-concept with companies, Garg says.
Arrcus faces a competitive market, says IDC analyst Brad Casemore. It needs to beat the network incumbents -- Cisco, Juniper and Arista -- as well as several startups also working on disaggregated routing platforms using software that runs on industry-standard white boxes running "increasingly capable network silicon," Casemore said.
Rival startups include: Volta, which claims it can save customers 90% compared with legacy routers; and DriveNets, which scored $110 million funding in February. DriveNets followed up in April with support for up to 400G per port routing -- Arrcus announced 400G support in January -- and added $7 million funding this month.
Both DriveNets and Volta were named as finalists in April for the Light Reading Leading Lights award for Most Innovative Telco Cloud Product Strategy (Vendor).
"[The startups are] somewhat different from one another in their technological approaches and use cases, of course, but one thing they have in common is a disaggregated routing platform that leverages microservices and runs on merchant-silicon-based white boxes," Casemore said in an email.
"The other thing they all have in common is competition against Cisco, Juniper, and Arista," Casemore said.
Arrcus claims a cost and power-consumption advantage over the competition, which will prove attractive if Arrcus can deliver, says ACG Research analyst Ray Mota.
Mota said he is impressed by the pedigree of Arrcus's management and advisory team.
Garg was previously founding CEO of Tilera Corp., a processor company acquired by EZchip. He was president of EZchip, which was acquired by Mellanox. He was an early, pre-IPO employee of Broadcom, where he built a team and a business of about $500 million in just three years. Other founders are Broadcom and Cisco veterans. Advisors include Pankaj Patel, former EVP at Cisco; and Kelly Ahuja, formerly SVP/GM Service Provider Business at Cisco and currently CEO of Versa.
The endgame for Arrcus is likely to be acquisition. "If they deliver and nail some customers, they are a prime target for acquisition," Mota says. "That seems to be a quicker angle than going public, like Arista did."
Arrcus's focus on the high-performance environment is reminiscent of how Arista broke into the networking market, says Bob Laliberte, a senior analyst at Enterprise Strategy Group.
5G is driving increased performance demands for service providers, making Arrcus "well timed," Laliberte says. "Given the pressure on CSPs to claw back margins, the router economics provided with this solution are most likely compelling enough for organizations to take a look."
Laliberte adds, "While still relatively young, [Arrcus's] software development based on a microservices architecture will enable it to add new features and functions at a very quick pace."
— Mitch Wagner




Executive Editor, Light Reading
Subscribe and receive the latest news from the industry.
Join 62,000+ members. Yes it's completely free.
You May Also Like
---