 SD-WAN emerged as a way for enterprise and SMB customers to cut network costs. But the real benefits of SD-WAN are "network flexibility or redundancy, dynamic routing capability and improved application performance," explains Mike Sapien, chief analyst of Enterprise Services for Ovum.
As the SD-WAN market moves past the early-adopter phase to what Sapien calls "SD-WAN 3.0," service providers are rethinking their SD-WAN offerings to focus on simplicity; offer more network, feature and vendor choices; and target the IT outcomes that customers are demanding, such as improved application performance and more integrated security options, adds Ovum Ltd. 's Sapien. He explains that SD-WAN 3.0 is a more stable, production-ready service with significant new features added.
Learn how to tackle the challenge of wide-scale SD-WAN rollouts at the fifth-annual Big Communications Event in Austin, May 14-16. The event is free for communications service providers!
TPx Communications is an example of this shift where carriers are partnering with multiple SD-WAN vendors, says Sapien. In February, TPx announced a new partnership with Silver Peak, in addition to the operator's existing partnership with VeloCloud. Sapien explains that TPx told him it is happy with VeloCloud's offering but wanted to add Silver Peak to meet the needs of some customers with more complex requirements. (See TPx Takes SD-WAN International With Silver Peak and Silver Peak Powers TPx Expansion of SD-WAN Services.)
"These carriers are now in that 3.0 era where they're looking for other options – for other customers, a feature that's more complex, or even customers that want something more simple... looking for a lightweight version of this that's cheaper," says Sapien. "It's not just TPx going up-market with Silver Peak; you'll see other providers going down-market with a simple, cheaper, lightweight version of [SD-WAN]."
While Windstream already offers a lighter version of SD-WAN in its Advanced Tier service, Mike Frane, VP for SD-WAN at Windstream, says the sweet spot for the service provider has been the Concierge level SD-WAN service. Frane says the Concierge service is "where we become an extension of your team, from network design to implementation and deployment where we give you dedicated project experts to ensure your SD-WAN and the associated Windstream services are delivered on time and as you expected and they can take immediate action to make changes on the fly and your behalf."
Windstream Communications Inc. (Nasdaq: WIN) has seen success with SD-WAN in markets such as the financial, healthcare and retailer sectors, targeting many mid-market companies, but also some enterprise and smaller companies. Frane says he's also beginning to see more interest from smaller companies for a "light version of SD-WAN," where the customer doesn't need the full suite of SD-WAN features available.
In late 2017, the SD-WAN market experienced consolidation with Cisco's acquisition of Viptela and VMWare's acquisition of VeloCloud. Both Frane and Bob Laliberte, senior analyst for Enterprise Strategy Group (ESG) , say it will be interesting to see how consolidation will change the approach to SD-WAN, shifting from SD-WAN as a standalone product to SD-WAN as an add-on feature available in a number of network vendor's offerings.
Laliberte explains that despite all the momentum with SD-WAN, customers are still trying to decide how they want to consume the service. ESG issued a survey to IT professionals from mid-market companies to enterprise in 2017 and asked what their preferred SD-WAN procurement source is. As the graph here shows, the responses were split fairly evenly among networking vendors, SD-WAN vendors, WAN vendors, major service providers and managed service providers (MSPs).
Figure 1: Preferred SD-WAN Procurement Source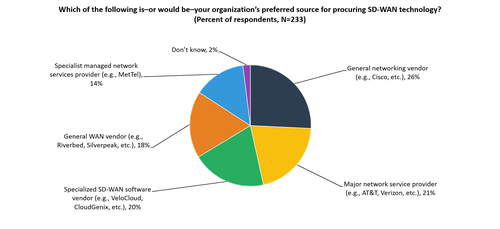 Source: Enterprise Strategy Group, 2017. ESG surveyed 300 IT professionals from midmarket and enterprise organizations in North America.
This even split shows that "right now it's still up for grabs and people are still trying to decide," says Laliberte. "It's still a fairly new technology that's rapidly growing so people are trying to figure out, 'how do I want to consume and use this and what's the best way?' The interesting piece is you're starting to see it show up a lot more as a feature versus its own device."
Laliberte explains that wireless access point companies, such as Aruba, are showing interest in deploying SD-WAN features so that when customers deploys WiFi in the branch, they could add on SD-WAN capabilities as well.
Light Reading will delve further into the changing consumption models for SD-WAN, new approaches that vendors and carriers are taking in deploying SD-WAN, standards efforts and interoperability challenges, and more during the panel "SD-WAN: How the Market is Evolving," at the fifth-annual Big Communications Event in Austin next month.
Read the full panel description here.
Panelists include Walter Miron, Director, SDN & Business Service Solutions, Chief Technology Office for Telus Corp. (NYSE: TU; Toronto: T) ; Pascal Menezes, CTO of MEF ; and Rajiv Papneja, VP & Fixed Network/SDN CTO at Huawei Technologies Co. Ltd . Windstream's Mike Frane will be speaking on a different SD-WAN panel at BCE -- SD-WAN and the State of Software-Defined Security.
To learn more about the shifting SD-WAN market and engage in the discussion, join Light Reading, Heavy Reading and telecom experts at BCE in Austin on May 14-16. We'll see you there!
— Kelsey Kusterer Ziser, Senior Editor, Light Reading
Subscribe and receive the latest news from the industry.
Join 62,000+ members. Yes it's completely free.
You May Also Like
---