Enterprises Moving to Managed SD-WAN
Respondents revealed what they want most out of a successful SD-WAN deployment, which includes cloud and WAN optimization, NFV (35%), support for remote workers (33%), SD-WAN as a managed service and security features. The survey also outlined a rising trend in enterprises' interest in SD-WAN as a fully managed service – 37% expressed interest this year versus 28% in 2019 – instead of a DIY deployment. Also, 87% of respondents would consider a managed SD-WAN as compared to 59% in 2019, which is likely due to enterprises' desire for reduced network complexity and better application performance.
A recent report by Omdia echoes enterprises' growing interest in deploying SD-WAN as managed service. According to Omdia, "Market growth is being driven by service providers that are acting as sales channels for SD-WAN vendors' over-the-top solutions by offering SD-WAN technology as a managed service bundled with other services."
Revenue for SD-WAN appliance and control and management software market spiked by 75% in Q4 of 2019 as more service providers provided SD-WAN as part of managed-service bundles, reports Omdia. SD-WAN market revenue hit $639.5 million in Q4, up from $364.5 million in Q4 2018. In total, SD-WAN revenue grew 90% to reach $2 billion in 2019, up from $1.1 billion in 2018.
As enterprises have hit some roadblocks in attempting to deploy SD-WAN on their own, they're increasingly looking to a managed service provider to assist with deploying an SD-WAN with "more complete end-to-end WAN optimization, bringing in regional multi-cloud connectivity that includes connections into SaaS applications, and includes security – which was a major theme in the survey last year and this year," says Aryaka's Ginsburg.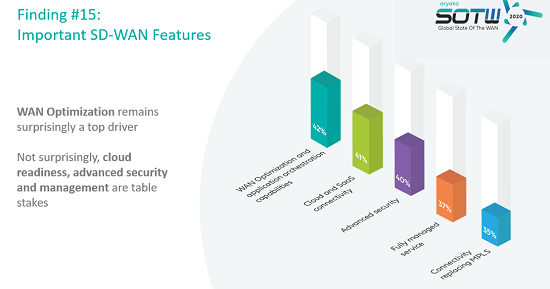 Although more enterprises are interested in managed SD-WAN services, about a third of respondents expressed frustration in working with telcos on SD-WAN – 28% of respondents said it still takes over a month for activation of SD-WAN services, and 34% expressed dissatisfaction in working with managing telcos/service providers on SD-WAN services. However, 37% would consider deploying managed SD-WAN from a telco and 27% from a managed service provider.
"The number of organizations considering a managed service went up significantly, which is probably reflective of a growing awareness and acceptance in North America of a managed model, which was always strong in the rest of the world," says Ginsburg. "This is really good from the standpoint of those offering a managed SD-WAN service."
— Kelsey Kusterer Ziser, Senior Editor, Light Reading