 Companies like Bullitt and Apple have already proven that it's possible to connect regular smartphones directly to satellites. However, so far such services center around slow-speed applications like text messaging.
AST SpaceMobile is promising to change all that. During its recent quarterly conference call, company officials suggested that its satellites would support smartphone connections that are just as speedy as those available from terrestrial 5G networks.
However, the company isn't yet offering any firm details. And investors aren't happy about that.
"While the company itself is excited to share that initial test results indicate that ... signal strength is sufficient to achieve 5G cellular broadband connections, we believe this message could have been made more clearly," wrote the financial analysts at B. Riley Securities in their assessment of AST SpaceMobile's latest quarterly conference call.
Indeed, the startup's stock dropped 20% late last week after the call with investors. It's currently trading at around $4.50 per share, down about 50% from its initial public offering in 2021.
"We believe it is a shame that investors focused on the uncertain messaging," added the B. Riley Securities analysts.
Probably 30 Mbit/s
According to a Seeking Alpha transcript of the call, AST SpaceMobile officials promised that the company would release the full details of its ongoing phone-to-satellite testing in the near future.
Figure 1: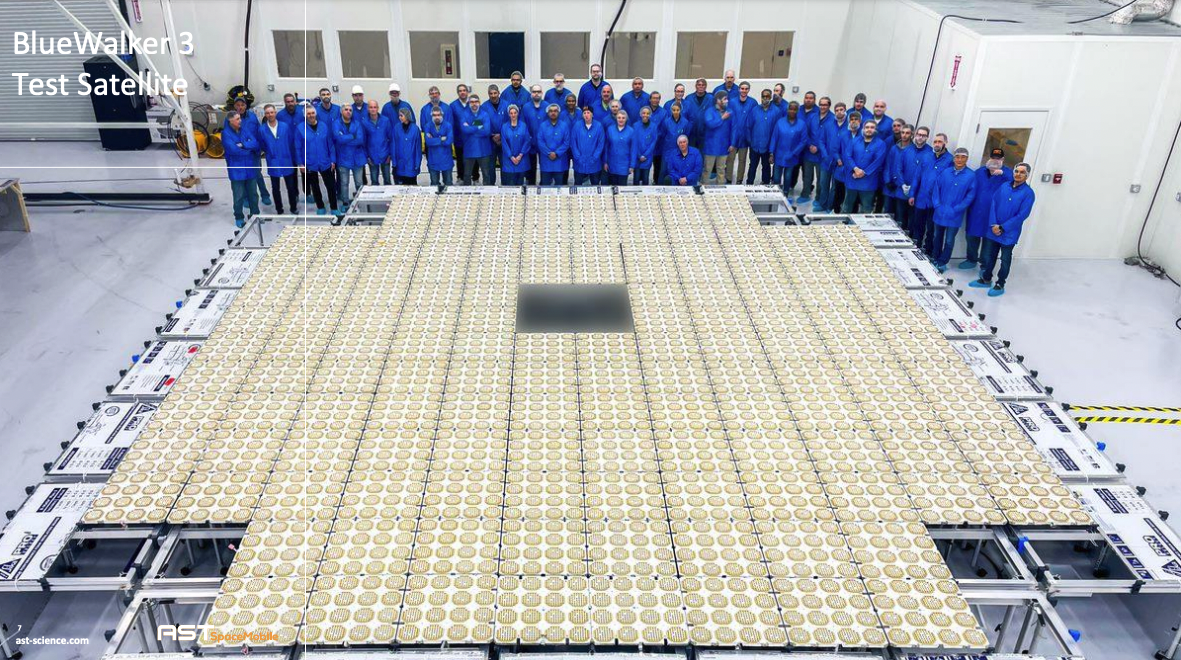 AST SpaceMobile recently launched its BlueWalker 3 satellite into orbit.
(Source: AST SpaceMobile)
"In due course, we plan to announce results in conjunction with our telco partners," said CEO Abel Avellan.
AST SpaceMobile has agreements with Rakuten in Japan and Vodafone in Europe. In the US, AT&T has emerged as a vocal supporter of the company. That's likely because AST SpaceMobile has made it clear in FCC filings that it intends to offer satellite-based Internet services to AT&T's FirstNet customers. FirstNet is an independent arm of the US government charged with offering wireless services to first responders like police officers and firefighters via AT&T's network.
During SpaceMobile's conference call, Avellan said several times that "we will be able to get to 4G and 5G speeds. We have achieved that." But he did not elaborate.
During one exchange with an analyst from Morgan Stanley, Avellan said SpaceMobile would offer 5G speeds under the FCC's definition of 5G. However, that US government agency doesn't maintain a strict definition of what constitutes 5G speeds.
In a followup question, the Morgan Stanley analyst asked if SpaceMobile would offer speeds in the range of 30 Mbit/s. "In that order, yes," Avellan replied.
The company "could have done itself more favors by providing a more cohesive timeline regarding when investors should expect the next key milestone and catalyst for the company – namely, the joint sharing (with MNO [mobile network operators] and technology partners) of completed test results, including beamforming and signal throughput data to multiple standard unmodified handsets," wrote the B. Riley Securities analysts.
Pushing forward amid setbacks
AST SpaceMobile is one of many companies hoping to find profits in the "direct to device" (D2D) market. The nascent but growing sector involves connecting smartphones to satellites, thereby virtually eliminating cellular dead spots. Already the iPhone 14 can connect to Globalstar's satellites, while some new Bullitt phones can connect to satellites operated by Inmarsat.
But those services rely on spectrum dedicated to satellite services. AST SpaceMobile – alongside SpaceX and startup Lynk Global – hopes to offer similar services using the spectrum allocated to terrestrial mobile network operators. It's an important distinction because using operators' terrestrial spectrum would make satellite connections immediately available to all those operators' existing customers. In the approach pioneered by Apple and Bullitt, customers must purchase new, satellite-capable phones.
Both Lynk and SpaceX have mainly discussed satellite-powered text messaging as their initial offering.
"We expect 2degrees customers will be able to send text messages and ultimately get voice calls and basic data services from anywhere in New Zealand," said Mark Callander, CEO of 2degrees, in a recent release touting successful tests with Lynk.
But AST SpaceMobile has argued that it's deploying bigger satellites than any of its rivals, and that those big satellites will support faster speeds.
"We ... have demonstrated our ability to deploy the largest ever communication array deployed into low Earth orbit," Avellan said of AST SpaceMobile's BlueWalker 3 satellite. However, satellite speeds and capacity, whether for direct-to-device services or other services, are contingent on the number of satellites and the number of users. More satellites and fewer users mean faster speeds.
More cash needed
AST SpaceMobile will need to raise more cash sometime next year to launch its planned satellite constellation. Indeed, AST SpaceMobile last week delayed the planned launch of its first five commercial satellites from the fourth quarter of 2023 to the first quarter of next year.
AST SpaceMobile's fundraising efforts could be impacted by the ongoing tumult affecting the broader satellite marketplace. Just this week, Virgin Orbit filed for bankruptcy after being unable to raise more cash for satellite launches.
Separately, Switzerland's Astrocast also this week announced almost $18 million in funding from Thuraya, a satellite effort from the United Arab Emirates, for its Internet of things (IoT) nanosatellite network.
Related posts:

— Mike Dano, Editorial Director, 5G & Mobile Strategies, Light Reading | @mikeddano
Subscribe and receive the latest news from the industry.
Join 62,000+ members. Yes it's completely free.
You May Also Like
---