China Mobile IoT: China Mobile Partners With Huawei to Create the Era of IoE
Partner Perspectives
Huawei
5/14/2018
The IoE Era Is Coming
The world is beginning to feel the effects of the explosive development of the Internet of Things (IoT). IoT is a driving force for social development, powering industrial transformation: smart cities, transportation, finance, energy, healthcare, manufacturing, smart home or consumer electronics, and offering the potential for Communications Service Providers to capture new services and revenue – estimated to reach 15 billion connections by 2020, and over $2 trillion in overall market revenue.*
China has the world's fastest rate of growth in total IoT connections. By 2020, the number of IoT connections in the country alone will reach 8 billion. An estimated 1.08 billion of these connections will be delivered over cellular networks.*
Digital Operations Transformation Is Imperative for IoT
China Mobile is the largest Mobile Service Provider in the world, currently serving over 890 million customers. Given the scale of operations it supports, they have adopted an IoT strategy called "Big Connection", whereby China Mobile aims to create an Internet of Everything (IoE), in which thousands of businesses are empowered to create billions of connected devices.
China Mobile recognized it needed to consider four key areas of capabilities to enable this strategy:
Explosive growth of connections: The annual growth rate of IoT connections exceeds 50%, posing new challenges to IoT operations platforms in connection capability, data governance, and security management.
High cost of decentralized operations: Existing IoT operations platforms were distributed and not centrally integrated, resulting in slow service response and high operations and management cost. The requirement was for a centralized, integrated operations platform capable of supporting a wide range of use cases.
Agile transformation of the IoT operations platform: IoT features massive connections (which are low cost and low profit) and therefore requires simpler service architecture and more agile and efficient processes to quickly satisfy the differentiated requirements of industry customers.
Capability exposure: Industry customers require that the IoT operations platforms be open enough to meet differentiated innovation requirements and develop innovative Network Applications by integrating open APIs.

CM IoT: The World's Leading IoT Platform and Accelerating Digital Transformation for the Industry Ecosystem

China Mobile and Huawei jointly committed to building an agile, open, and secure IoT operations platform which would perform at the industry leading scale of the markets they serve. Built using Huawei IoT BSS product, the CM IoT Platform was the result – where CM not only short for China Mobile, but also for Connection Management and Centralized Management.

CM IoT highlights:

CM IoT provides an agile, low-cost solution that can be quickly deployed to enable the digital transformation of the IoT business ecosystem.
Agile: The agile service architecture and process are redesigned based on the feature of "things" connections to implement centralized operations and provide template-based tools for digital agility.
Low cost: Through traffic sharing, rule automation and open APIs, customers can optimize cost control to reduce operations costs.
Quick deployment: The design of CM IoT recognizes the unique requirements of IoT business operations compared with operations for B2C connectivity management. CM IoT features a focused BSS stack with simplified, dedicated IoT data models, service processes, and service communication, with much faster deployment of new services versus a traditional BSS stack.

CM IoT Architecture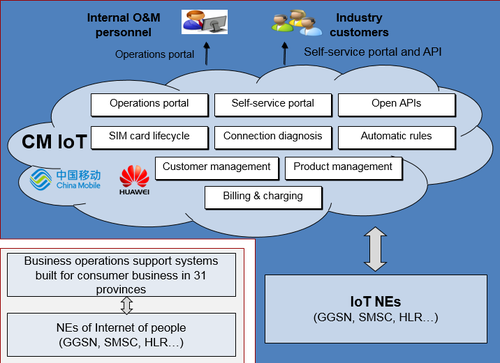 As a connection operations management platform built on the cloud, CM IoT is independent from the people-oriented operations support system and uses IoT-dedicated network elements for connection support. CM IoT provides a variety of digital service capabilities for connections of things, including customer management, product management, lifecycle management, charging, automated monitoring & management, and connection diagnosis. This enables hyper agility and scalability as existing IoT services explode in popularity while thousands of new services are being launched annually.
Operationally, CM IoT is a centralized IoT operations system which lays the foundations for massive IoT connections with low per-connection profitability that enables its users to introduce new IoT services into their markets with optimized operating costs.
Technologically, CM IoT incorporates industry leading technologies that enable a wide range of service capabilities that drive new service categories within China and beyond into global markets.
CM IoT: Development of the Digital Economy and industrial transformation
CM IoT is supporting digital transformation of society and the industries that serve it, wherever they are based, whatever they do. Industry-specific IoT application scenarios help customers reduce operation costs. Open APIs assist customers with quick integration and service innovation. One-stop services enable customers to quickly promote IoT services. CM IoT:
Supports targeted industry scenarios, provides 368 offerings, and has accessed more than 50,000 industry customers.
Provides global connection services and supports IoT services in 26 countries.
Enables innovation - Industry customers have developed 19 types of innovative applications through open APIs.
Enables smart transportation to provide flexible and customizable IoT card lifecycles for automobile enterprises, meeting all service scenarios of new energy vehicles from production, testing, and inventory to transportation, sales, and final use.
Offers multi-APN and Deep Packet Inspection (DPI) charging capabilities to promote Connected Car services.
Assists the development of the sharing economy and provides stable and reliable IoT connection services and open API services for innovative sharing enterprises. China Mobile has issued more than 20 million cards for 8 sharing industries and 44 enterprises.
Assists with public utilities supporting smart metering. Where manufacturers can purchase cost-effective NB-IoT modules with embedded SIM cards in batches. The cross-operator card writing service greatly reduces international roaming costs, helping smart meter enterprises promote smart metering services in Chinese government ''Belt and Road Initiative'' countries.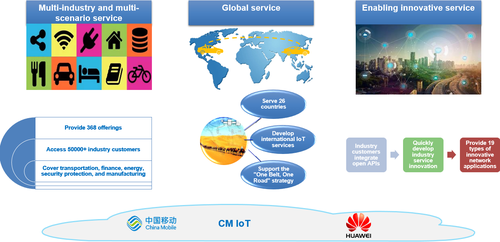 CM IoT: Empowering the wider China Mobile's Digital Transformation
The CM IoT platform is a key element within the wider China Mobile digital transformation strategy called ''Big Connection''. The CM IoT platform has accelerated the way in which Chine Mobile serves its enterprise customers: strategy, organization, technology, operations, and user experience.
Strategy: China Mobile's "Big Connection" strategy is the cornerstone of its target to to support 595 million IoT connections by 2020.
Organization: China Mobile Information Technology Co., Ltd., a new standalone business, has been established to provide unified service support for IoT services across the entire network.
Technology: A centralized IoT operations platform has been built for connection to things, to replace inefficient legacy, distributed IoT platforms
Operations: A centralized operations system has been established across the entire network to unlock new sustainable revenue streams from services that previously would have been prohibitively costly to operate.
User experience: China Mobile now provides a one-stop service for large enterprises to meet their global service deployment requirements.

CM IoT: Delivering results

Results from use and promotion of the platform are already visible to China Mobile and their customers:
Rapid service growth: Made possible by opening its platform to new enterprises through open APIs, the number of connections supported by China Mobile has doubled in a single year, exceeding 200 million by the end of 2017 and projected to reach 300 million in 2018.
Timely service response: Service provisioning speed has improved by a factor of 12 and CDR processing capacity improved 3 fold.
Consistent service experience throughout the network: The centralized platform provides customers with a consistent experience and one-stop services.
Rapid launch of new products: The average time taken to release a product on the platform has been reduced from 90 days to 7 days, and service response speed has improved by 12 times.
Industry innovation enablement: China Mobile provides 34 open APIs. The number of API calls by industry customers typically exceeds 3 billion per month.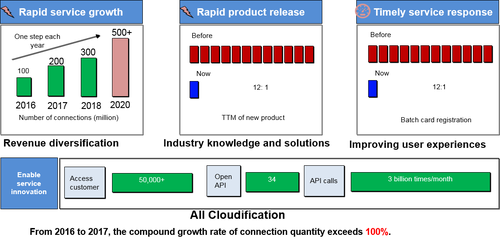 Thanks to the digital service capabilities provided by CM IoT, China Mobile is powering accelerated growth in IoT service deployments and estimates that by 2020, the number of IoT connections supported by CM IoT will reach 595 million.
CM IoT: Transformation in action
CM IoT already powers services within multiple verticals, covering transportation, finance, energy, security protection, and industrial manufacturing. It has already had a remarkable impact on costs and opened up new revenue growth opportunities in a wide range of use cases across various industries.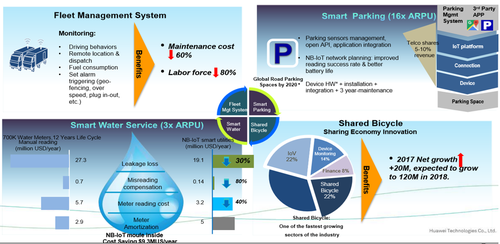 CM IoT powers Mobike, the world's largest bicycle sharing company, accelerating its business growth into global markets:
The CM IoT platform scaled up as quickly as the Mobile business, and supported localized services requirements within a centralized platform, paving the way for Mobike to spread beyond China into global markets. The platform today supports tens of millions of stable and reliable simultaneous connections. It enables Mobike to innovate its own services quickly through open APIs for service development.