Verizon, AT&T lag behind Lumen on Wavelength Services Leaderboard
Verizon, AT&T lag behind Lumen on Wavelength Services Leaderboard
While wavelength technology is about 20 years old, it's experiencing a 'rebirth because of the demand for very high speeds,' said Vertical Systems Group's Rick Malone.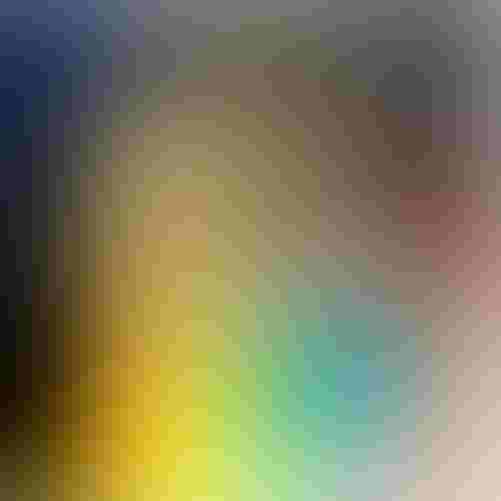 Lumen Technologies topped the 2021 US Wavelength Services Leaderboard ahead of Zayo, Verizon and AT&T, but Vertical Systems Group's Rick Malone said that's likely because AT&T and Verizon have increasingly been focusing on the mobile market.
"If you looked at maybe Verizon and AT&T, their strategic focus over the years is more focused internationally, integrating their mobile operations with their other business units, and not as much focus on just high-speed connectivity between two pairs of sites for some of these networks," said Malone, principal of Vertical Systems Group (VSG).
Lumen also has the benefit of a fiber footprint that expanded greatly with its Level 3 acquisition, he added. Lumen's 2016 acquisition of Level 3 for $34 billion combined assets covering 200,000 miles of fiber, which included 64,000 route miles in 350 metropolitan areas and 33,000 subsea miles. The service provider's on-net buildings increased by about 75% to 75,000, including 10,000 buildings in EMEA and Latin America.
Figure 1: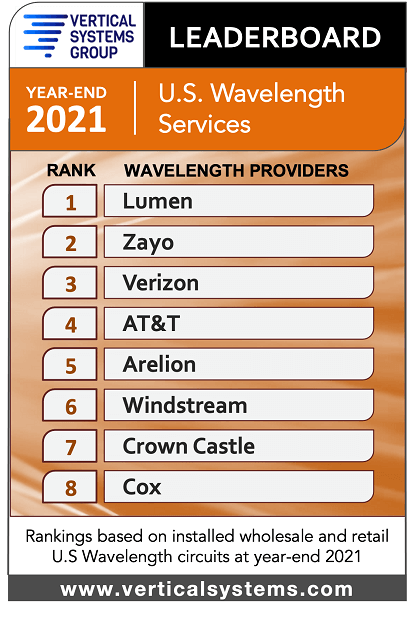 This is VSG's first Wavelength Services Leaderboard – the research group has previously published leaderboards for markets such as ethernet and SD-WAN. VSG describes a wavelength circuits as providing a "Layer 1 dedicated bidirectional gigabit-speed optical fiber connection between two sites."
While wavelength technology is about 20 years old, it's experiencing a "rebirth because of the demand for very high speeds," Malone said, adding that VSG clients have asked for an assessment of the market.
"The past five years or so, we've seen many more enterprises, cloud providers and hyperscalers buying up circuits. Now we're in a phase where enterprises use it for data center interconnect, cloud connections and specific applications that require high bandwidth," said Malone.
Growth expected despite pandemic effects
In rank order based on circuit share, Lumen is first on the leaderboard, followed by Zayo, Verizon, AT&T, Arelion (formerly Telia Carrier), Windstream, Crown Castle and Cox. Rankings are based on installed wholesale and retail US wavelength circuits for 2021, and companies on the leaderboard have 1% or higher share of US wavelength circuits.
Most of the companies on the leaderboard are US-based service providers with a significant number of fiber-lit buildings in the US, with the exception of Arelion, which is headquartered in Stockholm, Sweden, explained Malone.
Customer demand for retail wavelength circuits outpaced wholesale deployments last year, according to VSG. In addition, the research firm predicts that revenue for US wavelength services will grow at a 13% CAGR between 2021 and 2026, despite the impact of the pandemic and resulting installation disruptions and chip shortages.
VSG ranks "Market Players" as all other wavelength providers with US circuit share of less than 1%. Market Players for 2021 include the following wavelength providers (in alphabetical order): Altice USA, Armstrong Business Solutions, Astound Business Solutions, Colt, Consolidated Communications, C Spire, Comcast, DQE Communications, Epsilon, Everstream, Exa Infrastructure (formerly GTT), ExteNet Systems, Fatbeam, FiberLight, FirstLight, Frontier, Great Plains Communications, Logix Fiber Networks, LS Networks, Midco, Ritter Communications, Segra, Shentel Business, Silver Star Telecom, Sparklight Business, Spectrum Enterprise, Syringa, T-Mobile, TDS Telecom, Unite Private Networks, Uniti, US Signal, Veracity, WOW!Business, Ziply Fiber and others.
Six providers on the Wavelength Services Leaderboard are also on VSG's US Fiber Lit Buildings Leaderboard. They include Lumen, Zayo, Verizon, AT&T, Crown Castle and Cox. Windstream ranked in the Challenge Tier.
Lumen, Verizon, AT&T, Windstream and Cox are also on the Mid-2021 US Ethernet Leaderboard, and Zayo is in the Challenge Tier.
— Kelsey Kusterer Ziser, Senior Editor, Light Reading
Subscribe and receive the latest news from the industry.
Join 62,000+ members. Yes it's completely free.
You May Also Like
---