Coherent Optics Get Close to the Edge
Coherent Optics Get Close to the Edge
Why it makes sense for cable operators to distribute coherent packet-optical technology to the cable network edge. An insatiable appetite for network resources, the growing number of Internet connections, ever-faster media streaming devices and the escalation of high-definition mobile video are together burdening already overtaxed cable networks. In the cable world, these applications require huge amounts of bandwidth coupled with low latency. What's more, the supporting infrastructure must offer the flexibility to cope with steadily increasing dynamic traffic flows.
Cable operators have limited options to deal with these issues: Do nothing Replace everything Or, something in between -- modernize what they already have With option number one, both operational expenditures (opex) and network obsolescence would quickly lead to poor reliability and a steady loss of subscribers. Cable operators would be at a competitive disadvantage, as existing analog systems simply cannot scale to deliver new packet-based revenue opportunities. Option number two works well for greenfield operations but not so much for brownfields, as there is an associated high cost required for permitting, civil works, digging, trenching and physical access. You'd basically be spending money to keep customers you already have or pass. For example, cable operators already pass approximately 93% of residential customers in the US with a coaxial cable as part of a Converged Cable Access Platform (CCAP). Thus, most cable operators are sensibly choosing option number three -- modernize their existing networks when and where it makes sense. Many are looking to a "Fiber Deep" architecture, which is an end-to-end solution combining packet switching and aggregation alongside coherent optical. In this case, Hybrid Fiber Coax (HFC) architectures are transformed and coexist with modern digital fiber and packet technologies. The term "Fiber Deep" has been used to describe an approach that empowers a forward-looking, universal access framework that includes Data Over Cable Service Interface Specification (DOCSIS), Remote PHY devices (RPD), point-to-point 10G and higher fiber-based business services, xPON, small cells and finally Converged Haul 4G and 5G New Radio (NR) mobility futures. Combining some or all of these will take the industry some time to sort out, giving operators more time to deploy. But one thing is certain -- coherent optical technologies will play an integral role. Coherent optics Coherent optical technology has been around to ten years. Pioneered by vendors like Ciena, it is the foundation of modern transport networks, overland and undersea, operating from 100G to 400G today and even higher in the not-too-distant future. Figure 4: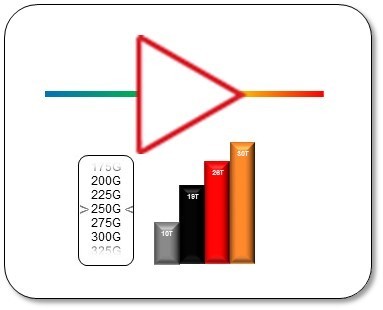 Source: Ciena With the use of a Digital Signal Processor (DSP) at both the transmitter and receiver, higher bit-rates, greater degrees of flexibility, simpler photonic line systems and better optical performance can all be achieved. Fiber types and fiber impairments can be compensated for, leading to fewer regenerators and amplifiers, lowering costs, increasing transmission distances and adding traffic-handling capacity. Coherent optics can be implemented in either integrated or pluggable form factors. In the integrated approach, vendors customize solutions with their own technology and benefits. Pluggable coherent technologies can be split into two basic types: Analog Coherent Optics (ACO) and Digital Coherent Optics (DCO). ACOs consume less power by removing DSP functionality (and its hardware) from the pluggable. The pluggable communicates with the carrier circuit board using analog signals via a special connector and is where the DSP functionality resides. DCOs have the DSP function embedded within the pluggable. This approach makes them more compatible with other vendors but consumes more power and has less vendor-specific technology. The result is a more commoditized commercial offering, albeit at the expense of reduced overall performance. Coherent packet optical-based fiber deep architecture Figure 1:

Source: Ciena For its part, coherent packet-optical combines the power of coherent optical transmission technology with packet fabric-based switching. It simplifies the network design and operations by eliminating the cost and complexity associated with deploying separate and physically distinct packet and optical platforms. It also facilitates future Distributed Access Architecture (DAA) and legacy CCAP support, so you don't throw the baby out with the bath water. Using compact modular platforms, cable operators can offer flexibility to boost fiber capacity to 30.4 Tb/s per fiber pair in both L-band and C-band to deliver more bandwidth and scalability between the hub and headend locations, and optical access right to the network edge. Integrating packet switching reduces the quantity of connections required across the network using packet aggregation. The packet switch can also be used to deploy multiple solutions like packet-optical, Ethernet and IP/MPLS, using simplified next-generation packet forwarding techniques like Segment Routing. In practical implementations, networking gear is targeted at one of two environments -- commercial or industrial. Commercial environments are typically controlled, while industrial environments are referred to as "temperature hardened" or outdoor. Cable operators operate in both environments, using both outdoor cabinet and pole applications. There are, up to 10G rates, hardened optical transceivers with packet aggregation switches available today. No hardened coherent optical solutions exist right now, but it's also fair to point out the application didn't exist until now either -- so stay tuned! Distributing coherent packet-optical platforms enable huge amounts of available bandwidth at low latency, coupled with the ability to address dynamic traffic flows. In addition, open Application Programming Interfaces (APIs) can be used for programmability, automated provisioning and streaming telemetry regardless of environment, which together speed up deployment and reduce truck rolls. As cable operators face the challenges of delivering massive bandwidth to increasingly hungry audiences, combinations of technologies will be brought to bear to modernize existing infrastructures as well as create new ones. What we can say for certain is that fiber will play a key role, and packet fabrics will add versatility and contain costs so operators have options. — Wayne Hickey, Advisor, Product Marketing, Ciena
Subscribe and receive the latest news from the industry.
Join 62,000+ members. Yes it's completely free.
You May Also Like
---