Ciena Goes Terabit
Ciena Goes Terabit
11:00 AM Running 1Tbit/s isn't pretty yet, and that's part of the fun 11:00 AM -- As you might imagine, 1Tbit/s optical transmission is already running in labs. It's just not ready for public presentation.

I got a look at one setup last week, while visiting Ciena Corp. (NYSE: CIEN) in Ottawa. The setup didn't disappoint: three shelves of gear clattered together, as if someone had spent a day at the OFC/NFOEC flea market.

That's not meant to be an insult; it's fun to see technology that's still in that raw prototype stage.

This particular experiment had the extra fun of being in a historic location -- Carling Place, the former Nortel Networks Ltd. campus. This is where they developed 10Gbit/s DWDM and Nortel's first 100Gbit/s products. I got to meet Charles Laperle, one of those longtime researchers who's carried on with Ciena -- a wiry, gray-haired fellow with small glasses.

We weren't allowed to photograph the terabit setup. So, I took a few other touristy shots around the lab -- like these massive stores of fiber, all spooled up and ready to go. It's kept on the shelf like extra flour in the pantry.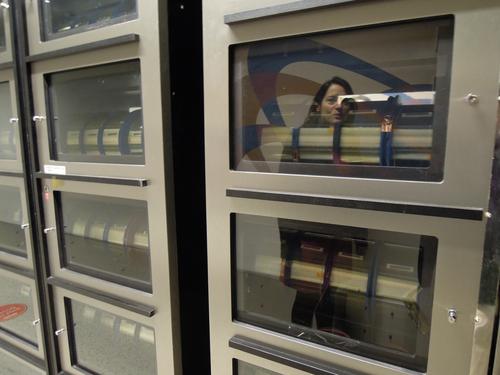 This visit was part of a media day, which in turn was part of the five-week Vectors Summit, during which Ciena brings a few hundred customers through the labs to give feedback on the company's R&D plans.

This was also the place where coherent optical transmission was developed. Dino DiPerna, vice president of transport R&D, said it came about after Nortel had glued together an 80Gbit/s non-coherent demo for Telecom '99. It was even less elegant than the 1Tbit/s shelves.

"I like to say we had every element in the periodic table," DiPerna told media visitors. "The radio guys came over from the other side of the campus and said, 'Is that all you can do? Turn a light on and off?'" The radio guys, of course, had been using coherent receivers for years. The mixing of cultures at Carling Place brought the two sides together.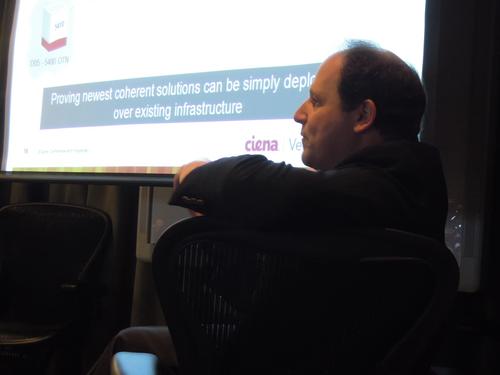 As for exactly how Ciena's doing coherent 1Tbit/s, they're using 16-QAM modulation and five carriers of 200Gbit/s each, creating a 1Tbit/s waveform that can fit in a 200GHz space. Laperle's demo puts that onto a fiber also carrying 83 100Gbit/s wavelengths, to show that terabit can share real-world conditions. The combination points to a future of flexible-grid optics.

Getting to 1Tbit/s has a lot to do with digital signal processing. Coherent detection involves having a DSP on the receiving side, but Ciena is adding one to the transmitter as well, said Helen Xenos, senior product and solutions marketing manager at Ciena.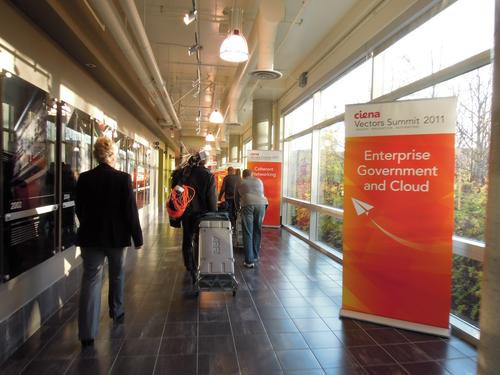 — Craig Matsumoto, West Coast Editor, Light Reading


Subscribe and receive the latest news from the industry.
Join 62,000+ members. Yes it's completely free.
You May Also Like
---