Carrier Pwns NYC/Chicago Latency
Carrier Pwns NYC/Chicago Latency
Spread Networks, funded by ex-Netscape CEO James Barksdale, got a low-latency network the 'easy' way: by trenching its own fiber... 'All your base are belong to us!' Well, here's one way to create a low-latency network: Draw a straight line and just build your own fiber along it.

The reason people aren't slapping their foreheads saying "Why didn't I think of that?" is because, of course, it takes a lot of time and a lot of money to do that. But if you've got both, you can be like Spread Networks , which today announced a New York-to-Chicago dark fiber network built for low latency. (See Spread Unveils Low-Latency Network.)

Spread drew up a fiber route that, it says, is as straight as possible, with allowances for lakes, highway systems, people's houses, and the like. There's no telling if the map below (taken from Spread's Website) is perfectly to scale, but it illustrates the idea, anyway.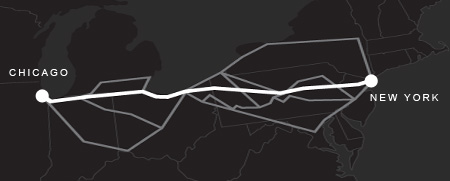 The money came from The Barksdale Group, a venture firm whose founder, James Barksdale, is also Spread's chairman. His name might be familiar from, well, everywhere. Barksdale has been a top executive at FedEx, McCaw Cellular, AT&T Wireless (because it bought McCaw), and Netscape (you remember those guys).

"We were approached about two-and-a-half years ago by someone who was in the industry and aware there wasn't dark fiber available along that route that was low latency," says David Barksdale, James's son and Spread Networks' CEO. "In fact, I'm not sure there's any dark fiber at all along that route."

Much of the intervening time was spent getting rights-of-way established through five states and, of course, installing the fiber.

The market for low-latency networks -- that is, networks with short transit times between endpoints -- is mostly limited to the financial community, but they're apparently willing to spend big for the feature. Equipment providers eagerly describe how a matter of microseconds can win a coveted trade. (See Interop Wrap: Latency Craze, Infinera Touts Low Latency, Transmode Touts 4 Nanosecond Latency, and BTI Goes Low Latency.)

"Being second or third place isn't good enough. You've got to be first, or you're gonna get pwned," says Andrew Schmitt, an analyst with Infonetics Research Inc.

So, Spread's marketing focuses on a round-trip transit time of 13.33 milliseconds along its 825-mile fiber router.

That's a few milliseconds shorter than anyone else has advertised. Jim Theodoras, director of technology marketing for ADVA Optical Networking , says the shortest Chicago/New York round-trip time he's found advertised is 17.1ms. ADVA director of business development Brian Quigley, being quoted by A-Team Insights, claims that 15.9ms connections are out there.

David Barksdale won't say how much was spent building the network, but it certainly wasn't cheap, especially considering Spread caters to what he admits is "a relatively limited market." The network will have other uses, though; an affiliated company called Northeastern ITS will use it for wireless backhaul, for instance.

On the equipment side, Spread has certified low-latency gear from four vendors: ADVA, Ciena Corp. (NYSE: CIEN), Infinera Corp. (Nasdaq: INFN), and JDSU (Nasdaq: JDSU; Toronto: JDU). Financial institutions leasing fiber from Spread will build their own links, from the pool of approved gear.

For the chosen four, that opens up the possibility for managed-services revenue, because these customers aren't optical experts. "Their focus is on the trading, the computers, and the software. They don't want to think about the transport network," Theodoras says.

Spread has trumped any other provider's low-latency offering between New York and Chicago, Infonetics' Schmitt says. But one thing still bothers him:

"If this is so lucrative, why doesn't somebody just do it with microwaves or something like that? Get right above the ground and get a straight line?"

— Craig Matsumoto, West Coast Editor, Light Reading


Subscribe and receive the latest news from the industry.
Join 62,000+ members. Yes it's completely free.
You May Also Like
---