There is a lot to like about Infinera's proposed acquisition of Coriant. But as sure as hell and Texas are hot, it will be a while before we see if the grand plan for this arranged marriage is just fine or faulty. (See Infinera, Coriant Hear a $430M Siren Song of Synergy and Infinera to Buy Coriant for $430M.)
The competitive environment demanded action from Infinera. "In our view, 'carrying on' as a sub-scale optical transport vendor in a market environment where the R&D investment requirements are going significantly higher is a bad strategy," wrote Jefferies & Company Inc. analyst George Notter, in a note to clients on Tuesday.
"I think the competitive environment is truly changing," said David Heard, Infinera general manager for product and solutions. "On the edge and in access, you're starting to see the disruption where cable guys are beginning to look to optical networking specialists, like us, to provide those solutions."
Heard said Infinera Corp. (Nasdaq: INFN)'s market advantage in long-haul optical networking can be something that moves the entire Coriant product portfolio forward. "We think we're giving our customers a real advantage versus their existing infrastructure [vendors] because … we're vertically integrated, can provide the performance to cost ratio and then make the bandwidth flexible," he said.
Heard said Infinera does intend to put its full optical engine -- what it calls the Infinite Capacity Engine (ICE) -- in as many Coriant product lines as it can manage. The ICE integrates Infinera's PIC (photonic integrated circuit) with its FlexCoherent DSP (digital signal processor). Analysts say that could spell bad news for Acacia Communications Inc. , which supplies components to Coriant. Shares of Acacia are down 5% at the time of writing.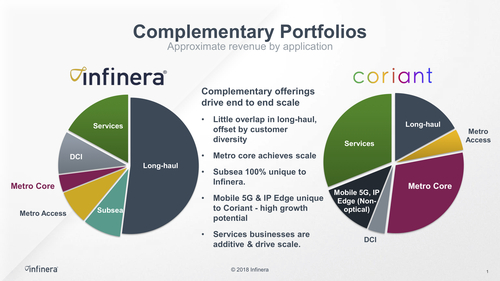 But "replacing Coriant's Acacia-based designs with PIC chips isn't a simple tweak -- it's a major overhaul," cautions analyst Notter. "In most cases, Coriant's products will need to be significantly redesigned, retested and go through re-qualifications in customer networks." And, if a carrier is re-qualifying equipment, it just might open up the opportunity for more competitors to bid for the business.
It'll be an interesting high-wire act for the folk at Infinera. Either they improve the cost competitiveness and optical performance of Coriant's metro (and other) platforms, or they get bogged down in the process and maybe even lose a customer or two while trying to fine-tune the product line.
"Integration will be a big challenge -- considering the plan to re-architect Coriant products for PICs -- and competitors will be very aggressive going after the Coriant incumbent business," said Sterling Perrin, principal analyst at Heavy Reading . "This could force Infinera to compete with low pricing, perpetuating the dynamic they are hoping to eliminate in the optical market."
---
Now entering its fifth year, the 2020 Vision Executive Summit is an exclusive meeting of global CSP executives focused on navigating the disruptive forces at work in telecom today. Join us in Lisbon on December 4-6 to meet with fellow experts as we define the future of next-gen communications and how to make it profitable.
---
The product overlap may not be too much now, but Infinera sees plenty of chances to reconcile its R&D spending and product pursuits. Heard noted that "over time, there are areas where you only need one long-haul platform, only one metro core platform, only one software platform. Only one services team for consistency … The whole beauty of this one for us is, on many of the product categories, we're the only ones doing the vertical integration of the photonic integrated circuit and the DSP engine. We can put that in their platforms and they're currently today buying off-the-shelf optics."
Infinera won't have the last word on whether its integration is tempting enough to overcome whatever kept some Tier 1s away from it to begin with. "It will be interesting to see how AT&T reacts to the deal since AT&T is a meaningful Coriant customer but has never purchased from Infinera," wrote Mike Genovese, managing director at MKM Partners , in a note to clients on Tuesday.
"The last point is price -- it's very low and certainly bakes in the risk they are taking on in buying a company in revenue decline," said Perrin. "Still, if the acquisition proves overwhelming, it will inhibit Infinera's ability to invest in other growth areas that come up in the next two years. They could miss out on opportunities."
Heard, in a conversation with Light Reading yesterday, sounded confident that Infinera had done its homework. "We did a fair bit of due diligence because they are private and did spend a great deal of time with the customers understanding the solutions that they're looking for and we were quite impressed with what we saw … We saw the complementary portfolio together, with the R&D horsepower together, with the unique position to be vertically integrated."
We're wishing the happy couple well but also, as ever, keeping the receipt for the KitchenAid mixer. Just in case.
— Phil Harvey, US News Editor, Light Reading