Zoomdata Raises $17M to Beautify Big Data
Zoomdata Raises $17M to Beautify Big Data
Big data analytics startup says it's good to be late to this market and plans to use its series B funding to expand its sales, marketing and engineering teams.

The big data analytics space continues to be a hotbed of investment and activity as startup Zoomdata announced Monday it has raised $17 million to help it achieve its goal of analyzing data faster than its competitors and presenting it more attractively than them too.
The two-year-old company closed $17 million in series B funding led by Accel Partners , bringing its total raised to date to $22 million. Founder and CEO Justin Langseth said it will use the fresh cash to double down on engineering -- the majority of its 50 employees are engineers today -- and expand its sales and marketing teams.
Zoomdata is hoping to benefit from the same "late-mover advantage" that helped Google (Nasdaq: GOOG) become the leading search engine despite the existence of dozens of other choices. It built its patented micro-query software and stream-processing engine from a mobile-first perspective that Langseth says can analyze data in seconds. The company connects to legacy storage databases as well as Hadoop, NoSQL and Spark to present all the data in a unified and -- Langseth claims -- "beautiful" interface.
"We are focused on design; making it beautiful and super easy," he says.
Figure 1: Beauty's in the Eye of the Data Scientist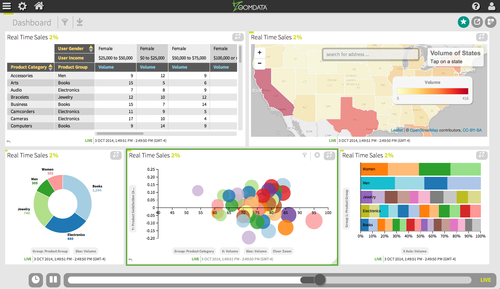 Zoomdata pulls in data from traditional storage databases, Hadoop, NoSQL and Spark and shows it off on one, easy to digest dashboard.
The CEO equates Zoomdata's micro-query architecture to a video that gets increasingly crisper as it loads. Data sharpening technology provides a sketch of the data that continuously updates through stream processing until the full picture is clear.
Zoomdata primarily serves the enterprise space with 20 customers including Deloitte, GoPro and Juniper Networks Inc. (NYSE: JNPR), but it is also in trials with telecom and cable operators. Langseth says it's working with a satellite company to collect data from set-top boxes, including when and where consumers stop, fast forward and rewind content to build better targeted ads.
It is also working with a big network equipment company -- not Cisco Systems Inc. (Nasdaq: CSCO) -- to understand internal support and maintenance issues on devices such as firewalls and routers, but it also provides that same dashboard to the end customers who are paying to own the devices. It collects performance and demographic data in the cloud, network or on the device itself, and offers its service branded or white labeled.
Want to know more about big data? Check out our dedicated analytics content channel here on Light Reading. "It's entirely software, but not a cloud service," Langseth says. "We don't require telcos send all the raw data to us. We're believers that data analysis software should run as close to data as possible." The startup is playing in a hot space, made more important by the fact that operators are connecting millions of new sensors to their networks. The Internet of Things is generating massive amounts of data, oftentimes that requires real-time action -- that's a notion that enterprises and operators are still trying to get their heads around. (See Cisco Paints IoT Into the Big Data Picture.) Langseth says what differentiates Zoomdata from established vendors and startups such as Tableau, Guavus Inc. and others is the speed of its analysis that combines continuous event processing and historical analytics through a "data DVR," and the simplicity of its platform, which also works on mobile devices. (See Guavus Colors in Its Big Data Picture and Big Data Attracts Big Dollars, New Faces.) "We started the company two years ago focused on Hadoop," Langseth says. "Everyone else has built up older architecture based on relational databases. Because we got started late, we have that last-mover advantage," he believes. — Sarah Reedy, Senior Editor, Light Reading
Subscribe and receive the latest news from the industry.
Join 62,000+ members. Yes it's completely free.
You May Also Like
---