WiCipedia: Hardwiring Sexism, Brogrammer Culture & Wall Street Fearmongering
WiCipedia: Hardwiring Sexism, Brogrammer Culture & Wall Street Fearmongering
This week in our WiC roundup: Brogrammers are still thriving; TPG puts the spotlight on a female hire; Wall Street's fear of women; and more. This week in our WiCipedia roundup: Brogrammers are still thriving; TPG puts the spotlight on a female hire; Wall Street's fear of women; and more.
While AI presents the opportunity for many positive changes, it also brings with it a host of worrying side effects, like potential job loss. Yet The Next Web warns that the negative changes for women could go beyond job status and even into how we perceive and interact with women. Chatbots are overwhelmingly female, and users interact with them in a variety of helpful and not-so-helpful ways, which has a way of "hardwiring sexism and gender bias into our future," the article states. While AI is still in its infancy, it's imperative that women are involved in designing our future technology to prevent this from being an entirely male-dominated realm. As the article explains, "It's essential to break these gender biases in design to be able to make real-world changes. If new technology would stop peddling old stereotypes, women would have an easier time moving up the ranks professionally without being cast as assistants or any other 'helpful' stereotype." (See Why We Need Diversity Before AI Takes Over and WiCipedia: AI for Social Good & a Fitbit Fail for Women.)
Figure 1: This Can't Be Good for Humanity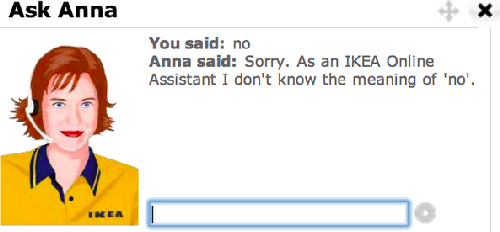 (Source: The Next Web)
"Brogrammer culture," created by gaslighting guys in hoodies, has not been squashed by the #MeToo movement; on the contrary, it's alive and well, says the Financial Times. From frat boy office culture to chauvinistic coworker comments, women in tech deal with brogrammers every day. The article interviewed many women in tech who feel as though they are entering a battle every time they step into the office. One female engineer in London is quitting her job because of the sexist treatment and the lack of belief when harassment is reported. She explained, "It is death by a thousand paper cuts and managers not believing you are bleeding. These things can seem like small problems or nothing at all to someone hearing them for the first time [but] by the time you are telling someone, you have been ground down." (See WiCipedia: Diversity Awareness & Schooling Brogrammers and What Brogrammers Look Like to the Rest of Us.) Australia's TPG Telecom , which recently started the process of merging with Vodafone Australia , is now moving into the 21st century. The Sydney Morning Herald explains that TPG is making an effort to bring new female leaders into the upper echelon of the company. Executive Chairman David Teoh is currently interviewing only female candidates for the open director position and has said that hiring a woman for the role is a "priority." (See WiCipedia: All-Female Boards, Google 'Utterly Unprepared' & Insecure Men.) In the wake of a sexual harassment scandal, how do you avoid repeating what got you there in the first place? By avoiding women at all costs, or so says Wall Street. Bloomberg reports that on Wall Street, instead of hiring more women to level out the gender gap and treating them respectfully (i.e., not sexually harassing them), the finance bros have swung the other way and decided to avoid women altogether. They're calling it the "Pence Effect," since the VP is famous for not dining alone with women who aren't his wife. Yet this fear of interacting with women isn't going to solve the real issue. One employment attorney stated, "If men avoid working or traveling with women alone, or stop mentoring women for fear of being accused of sexual harassment, those men are going to back out of a sexual harassment complaint and right into a sex discrimination complaint." (See Women of Wall Street CEO Offers Discrimination Solutions.) We were saddened to learn that Evelyn Berezin, the woman who created the first word processor, has died at age 93 of lymphoma. The New York Times reports that Evelyn was a true trailblazer for women in tech in the 1970s and 1980s, and brought an end to the "dead-end secretary" job with her technological inventions. While she admitted that she never considered that her innovations might threaten jobs historically held by women, she paved the way for women and men alike to rise to the top of the tech world. British writer and entrepreneur Gwyn Headley said of Evelyn, "Why is this woman not famous?... Without Ms. Berezin, there would be no Bill Gates, no Steve Jobs, no internet, no word processors, no spreadsheets; nothing that remotely connects business with the 21st century." (See Meet the Woman Who Can Make You a Millionaire Inventor and WiC Leading Lights 2018 Finalists: Female Tech Pioneer of the Year.) — Eryn Leavens, Special Features & Copy Editor, Light Reading
Subscribe and receive the latest news from the industry.
Join 62,000+ members. Yes it's completely free.
You May Also Like
---