Meet the Woman Who Can Make You a Millionaire Inventor
Meet the Woman Who Can Make You a Millionaire Inventor
Deanne Bell, host of CNBC's Make Me a Millionaire Inventor, turned her passion for inventing into a television career, hoping to inspire others to find the fun -- and money -- in engineering.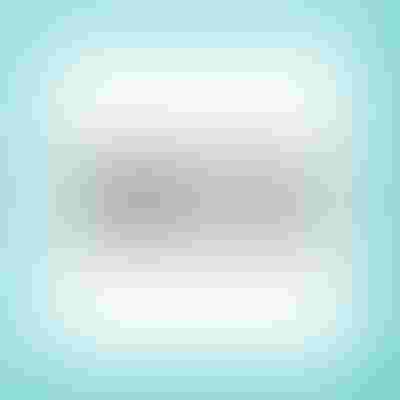 If you've ever had an invention that never saw the light of day, Deanne Bell may be looking for you -- ready to turn your big idea into a reality and make you a millionaire in the process.
As the co-host of CNBC's Make Me a Millionaire Inventor, that is literally what Bell gets to do -- find the best inventions that were never made but have serious money-making potential and help the inventor turn their product into a reality from the prototype all the way to the investor pitch. In the process, Bell hopes to inspire young people by casting a spotlight on just how cool the engineering aspect of inventions can be.
It helps that Bell, herself, is an engineer. She holds a BSME from Washington University in St. Louis with a minor in architecture and got her post-graduate start designing opto-mechanics for military aircraft sensors and working as a senior application engineer for a CAD software startup. She is also the founder and CEO of Future Engineers, an online platform that hosts a series of student invention challenges developed with the American Society of Mechanical Engineers Foundation and NASA. .
Bell's passion for inventing dates back to a childhood spent tinkering with hardware store cast-offs. It's a passion that she turned into a career and a mission to inspire that same level of interest in engineering -- in young children who need to see how creative it can be all the way to adults with an idea they just need to be empowered to execute on.
"It's fun to engage students when they are young and then empower them when they are older to see their inventions on the shelf, and have the ability to say that's their business rather than their idea they missed out on realizing," Bell says.
Figure 1: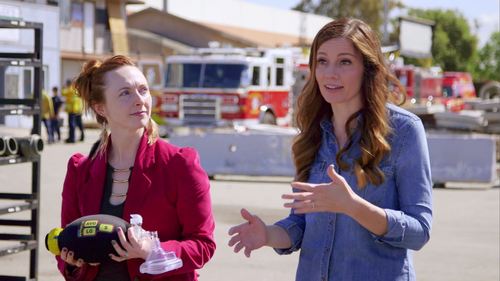 Deanne Bell (right), co-host of Make Me a Millionaire Inventor and CEO and founder of Future Engineers.
Women in Comms is gearing up for a bigger, better 2017. Join us in our cause to redress the gender imbalance in the comms industry! Visit WiC Online and get in touch to learn more.
Women in Comms: Tell us about your background and how you first became interested in engineering.
Deanne Bell: When I was a little girl, I loved to build, tinker and invent, and I had a team of girlfriends who also loved to tinker, invent and build, so we used to hang out in my backyard and turn whimsical ideas into tangible ideas. We didn't have an income, of course, so I would go to thrift stores and get broken down appliances -- basically trash -- but we'd go to hardware stores and beg and plead, and take apart broken down appliances and bring inventions to life. That spurred my interest in inventing and engineering. It wasn't all I was interested in, but when I went to college, I found that to pursue a degree in STEM -- while it seemed focused at the time -- I knew it provided a foundation to do so many things because there is science and engineering in everything. I knew I could use it to turn my ideas into reality as a professional engineer, and it'd give me flexibility to pursue any number of disciplines.
WiC: What does your current job entail as host of the TV show Make Me a Millionaire Inventor?
DB: It all comes full circle with Make Me a Millionaire Inventor. We work with so many inventors from so many walks of life, and all of them need help turning their ideas into actual launches. My role is a mentor. I take them on a journey. I meet inventors who are all at different stages with their inventions. Some are at the really early stage; some have done Kickstarters and have some business; some are more established. I talk to them and assess where they are at and what capital they have available. We bring in an in-house engineering team and brainstorm how to take their idea to the next level and build a polished prototype to do a pitch. When people think about that big pitch, there's a lot you have to do to get to that moment. We do an engineering makeover to get to the product prototype because first impressions matter. I work with inventors on their business plan -- everyone has different needs to be addressed. I mentor them to be fully prepared for a pitch.
WiC: What has been the most exciting or promising invention you have come across on the show?
DB: The beauty of our show is there are so many inventions we work with, so it's hard to choose just one. Because it's Women in Comms, I'll highlight two female inventors. We kicked off season two with Goldilocks Valve from an ER nurse, Bobbi Sue McCollum. She identified a problem in her own field that she had a solution for. She invented a valve that goes on a mask to ventilate a patient. It regulates it to prevent over-ventilation. We see things that have a serious tone like that to the other side of the spectrum. We had a woman who designed a mobile video production studio right on your mobile phone. That was a really exciting invention too. You have to think about not only the product and its function, but you also a lot about the market. You have to consider who is buying the product -- anyone from Millennials to healthcare providers. It's awesome to empower them and put them on the right path. In that case, the inventor is female, the technology influencer is also female, and they pitched to a female investor as well. To see them all collaborating was pretty cool.
WiC: Is that a common occurrence in STEM, or do you tend to think it's still predominantly male dominated?
DB: I do work with women. I think there are a lot of really capable and confident and amazing women, and one of the big motivations for me to work in TV and bring engineering to TV is really to be an example of a woman who's passionate about the STEM field. It takes more of us. There are a lot of us out there but it takes more of us being visible so the next generation of girls can see that. The more examples we see, the more it feels like a reality to our generation.
WiC: How do you think we can expose more young people, girls in particular, to STEM and get them excited about it?
DB: My exposure to STEM was two-fold: One, my father is an engineer and two, my mother is trained as a math teacher. I was in a family that nurtured that. I was in a position where it was something I was exposed to at a young age. But even though my father was an engineer, I didn't understand what the term meant. It was a confusing term to me. I wanted to be an inventor, but when you go to college, you can't get a degree in invention. I also got involved with an after-school program that issued challenges to design for. That was influential for me -- to not just be around others in STEM but to dive in and get my hands dirty. With younger students, we need to start earlier and earlier. For girls in particular, we really need to reach out by the time they are 12. We issue national challenges for K-12 students at Future Engineers. It's open to both genders, but we prioritize girls in the media we create, and we do outreach to girls.
I think that interest is there. Whether you're a girl or boy, the key with STEM is you can apply it in so many ways. One of my goals is to just make it feel relatable and approachable. Within the educational sector, adding "A" for Arts in STEAM is one way, but then there are so many different influences. When you look at TV, highlighting these different inventors and how they use STEM to bring it to life is a cultural influence as well. There is no set recipe in how you inspire a kid, but the more we do to show them STEM is in everything, the more students and girls we can reach, the better.
WiC: What is your biggest piece of personal advice for women who may have an invention or business idea they want to turn into a reality?
DB: Dive in and take a risk. The paralysis of an inventor is something we encounter a lot. People have an idea and don't really know what to do with it. They get stuck. One of the great things about Make Me a Millionaire Inventor is we give an inventor momentum and the confidence they need to go into a pitch. You will never know everything. No one does. Even if you study entrepreneurship for a long time, every situation is different. You have to have the confidence to dive in and go and get that momentum and figure it out along the way. Everyone has the capability to solve a problem ahead of them with research, but you also have to just put two feet in the door and go for it.
WiC: What makes you feel optimistic -- or pessimistic -- about the future for women in STEM?
DB: I tend to be an optimistic person, in general. I've been an engineer for quite some time and have been working in STEM TV shows and in STEM education outside of TV. I like to tell people that it's all about one person at a time: one inventor at a time; one student at a time. When I launched Future Engineers, we had our very first junior winner, a little girl. She was so inspired that she actually got to email me and then actually talk to me, and her parents followed up after that and were talking about how influential her interaction with me was and how inspiring it was. It sounds like a small little goal, but those stories inspire me that the future is bright. We have a lot of really bright young ones out there growing up to be inventors. Even on the show there are so many people with so much passion for inventing that they see something they can improve or make better. They are motivated to use tech in that way. I'm inspired on so many levels, from the young girls I mentor to adult inventors and women I mentor on the show.
— Sarah Thomas,

, Director, Women in Comms
Subscribe and receive the latest news from the industry.
Join 62,000+ members. Yes it's completely free.
You May Also Like
---