Choi Succeeds Jacobfeuerborn as DT Tech Boss
Choi Succeeds Jacobfeuerborn as DT Tech Boss
Management shake-up leaves former SK Telecom executive in charge of technology strategy and Jacobfeuerborn leading the towers subsidiary.

A reshuffling of responsibilities at Deutsche Telekom has left Alex Choi as the German operator's chief technology officer in all but name, with former CTO Bruno Jacobfeuerborn now focused on his role as CEO of towers subsidiary Deutsche Funkturm, Light Reading has learned.
Formerly the SK Telecom (Nasdaq: SKM) CTO, Choi left the South Korean telco last August to join Deutsche Telekom AG (NYSE: DT), having reportedly been lured to the German operator by none other than CEO Timotheus Höttges.
He was then said to have joined Deutsche Telekom in a vice president role and has taken responsibility for "several strategic projects," including the Telekom Innovation Laboratories research and development unit, according to the German operator's website. In that capacity, he has been reporting to Claudia Nemat, Deutsche Telekom's board member for technology and innovation.
While this does not appear to have changed, Choi has now effectively taken over from Jacobfeuerborn as the executive managing Deutsche Telekom's technology strategy, a spokesperson for the operator told Light Reading.
"Regarding his role, Alex Choi is Bruno's successor -- but without the title CTO," the spokesperson said.
Figure 1: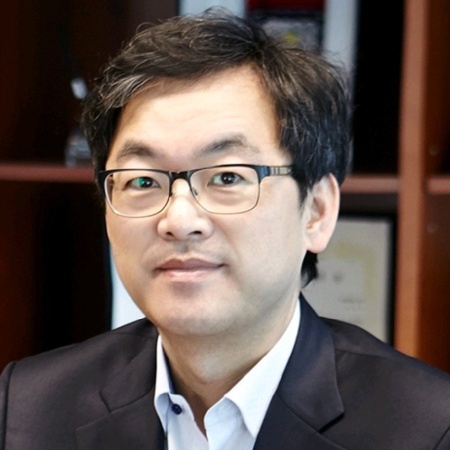 Alex Choi has effectively taken over from Bruno Jacobfeuerborn as CTO.
The elimination of the CTO title confirms Nemat as Deutsche Telekom's most senior executive on the technology side. It may be intended partly to overcome any external confusion about the technology chain of command.
The apparent reshuffling, not marked by an official announcement, could reflect a shift in priorities for Deutsche Telekom as it starts to prepare for the rollout of 5G services, following progress on standardization of 5G new radio technology last year. (See 5G Is Official: First 3GPP Specs Approved.)
Choi is regarded as an expert on 5G, artificial intelligence and autonomous driving. SK Telecom came to be seen as a pioneer of these technologies during his tenure at the company.
Deutsche Telekom seems to have poached him after teaming up with SK Telecom in early 2017 on an "intercontinental" trial of network slicing, a 5G technique that should allow an operator to provide many different types of "virtualized" network service over the same 5G infrastructure. (See Eurobites: DT, Ericsson Slice 5G With SK Telecom.)
Want to know more about 5G? Check out our dedicated 5G content channel here on
Light Reading.
While Choi takes over as technology boss, Jacobfeuerborn will henceforth concentrate solely on his role as the CEO of Deutsche Funkturm, a subsidiary that employs around 700 people and looks after Deutsche Telekom's 28,000 mobile masts in Germany.
Although Deutsche Telekom has not officially announced the management changes, Jacobfeuerborn recently updated his LinkedIn page to show that he quit the CTO role in December.
The shake-up comes just weeks after Höttges told attendees at a Morgan Stanley conference that spinning off the mobile towers business could help Deutsche Telekom to raise capital for investment activities.
Previously a part of the Germany operating segment, Funkturm was reassigned in January 2017 to a new business unit called Group Development, which "actively manages and increases the value of selected subsidiaries of the group," said Deutsche Telekom in its most recent earnings report.
The unit also manages the T-Mobile Netherlands subsidiary, as well as Deutsche Telekom's 12% stake in the UK's BT Group plc (NYSE: BT; London: BTA).
Deutsche Telekom recently agreed to merge T-Mobile Netherlands with Dutch rival Tele2 Netherlands Holding NV in exchange for a cash payment of €190 million ($233 million) and a 25% stake in the combined company for Tele2 AB (Nasdaq: TLTO) shareholders. (See T-Mobile Netherlands to Merge With Tele2.)
The stake in BT, meanwhile, was put under review after the British public voted to quit the European Union during the so-called "Brexit" referendum of June 2016 -- a decision that has triggered concern about the prospects for the UK economy. (See Why Deutsche Telekom Might Brexit Too.)
Were a complete spin-off to happen, Funkturm might be freer to acquire towers from other infrastructure players and rent them out to mobile operators -- much as the likes of Crown Castle International Corp. (NYSE: CCI) and American Tower Corp. (NYSE: AMT) do in the US.
Carriers there, including Deutsche Telekom subsidiary T-Mobile US, have sold assets to the so-called "towercos" and leased them back, arguing this move has allowed them to reduce costs and focus resources on their core service provider business.
Jacobfeuerborn has previously said that more network sharing will be needed to facilitate the economical rollout of 5G networks, and predicted that Europe will become more like the US market as 5G services are deployed. (See Europe's Backhaul Black Hole Looms Above 5G, The Growing Pains of 5G and DT CTO: Costs Must Fall or 5G 'Won't Work'.)
"If you look at the US, where tower companies are buying fiber to connect sites, that is a trend I see happening [in Europe] in future," he told Light Reading during an interview at the Mobile World Congress trade show last year.
In another jobs and departmental move that hints at shifting technology priorities, Deutsche Telekom was last week revealed by Light Reading to have formed a new edge computing unit led by Jason Hoffman, a former cloud technology executive at Ericsson AB (Nasdaq: ERIC). (See DT Forms New Edge Computing Unit, Appoints Ex-Ericsson Cloud Guru as CEO.)
MobiledgeX, as the division is called, will "further explore the opportunities of edge computing," the German operator told Light Reading.
Linked closely to a number of 5G deployment scenarios, edge computing involves the relocation of IT resources from big data centers to smaller facilities that are nearer to end customers.
This relocation is partly aimed at reducing "latency" -- the delay in sending a signal over a data network -- and thereby opening up new service opportunities in areas like robotics and factory automation, which demand very low-latency connections.
— Iain Morris, News Editor, Light Reading
Subscribe and receive the latest news from the industry.
Join 62,000+ members. Yes it's completely free.
You May Also Like
---