Vodafone: Desperately Seeking Cloud-Centric Tech

Comment (0)
LONDON -- OSS in the Era of SDN & NFV -- The ability to deliver cloud-native software is the entry-level starting point for any vendor wanting to board the network and service transformation ship that is Vodafone's Ocean initiative, according to the operator's head of network virtualization and SDN/NFV.
David Amzallag has already made a name for himself in the SDN and NFV world with the ambitious virtualization plan that Vodafone Group plc (NYSE: VOD) has dubbed Ocean. He has regularly used public speaking opportunities in the 18 months since the Ocean program began to remind technology vendors that they need to up their game in a big way. (See Vodafone Demands More From NFV Vendors).
Now Amzallag, delivering the opening keynote speech at today's Light Reading event in London, has hammered home the point that only software developed from the ground up to function in a distributed data center architecture is going to make the grade as Vodafone chooses its next-generation technology partners.
And cloud native doesn't just mean "cloud ready": Amzallag is very clear about the vendor evolution steps that he is witnessing and which will meet Vodafone's future needs.
Legacy hardware is, of course, not even discussed, while a virtual version of legacy systems (the ones that were first tagged with the NFV label from 2013 onward) are also not under consideration.
Cloud-ready software is a major step forward and a number of traditional communications system vendors are at that stage, where software functions have built-in lifecycle management and other operational/management capabilities.
Cloud-native software, though, is still only available from startups, the young companies that don't have any legacy products, code or mindsets, Amzallag tells Light Reading. That's a very loud and clear message to the vendors that have underpinned the telecom sector for decades -- there's a new breed of technology developers about to upset the status quo and be the new key partners to Tier 1 operators.
As if that wasn't enough for the incumbent technology firms to worry about, getting to cloud-native status isn't the end game: Amzallag says there's another step beyond that, whereby software functions become auto-adaptable depending on current network and service demands. That concept could cause some sleepless nights in many an R&D team…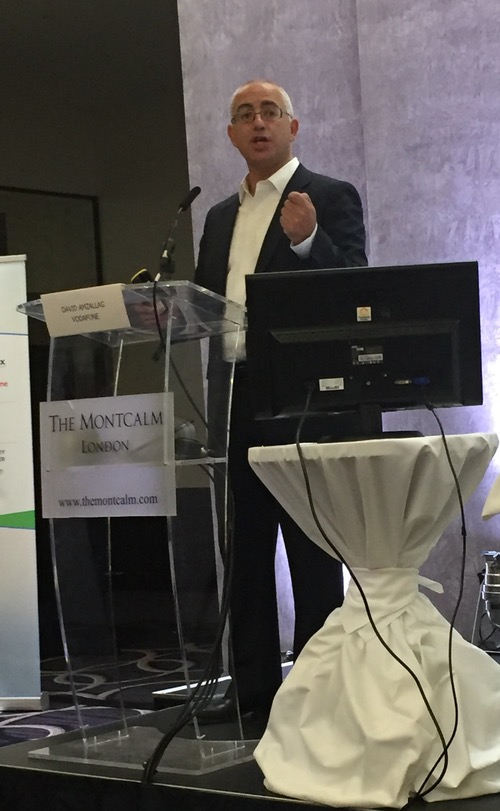 Amzallag and his team aren't demanding this from vendors just to test the boundaries, though: Such capabilities will be needed to achieve the operational efficiencies and agility needed to fulfill the operator's aims of building a single end-to-end architecture, based on flexible software tools with open interfaces, that can help Vodafone meet the needs of the operator's 50+ operating units (which have many different existing legacy technologies that need to be taken into account) and also meet the needs of the operator's multinational customers. Ocean "is probably the biggest transformation project in the industry," claimed Amzallag.
The Ocean program is diverse and complex, so Vodafone has started by focusing on two key use cases. The first is a new enterprise service portfolio using SDN and NFV capabilities that has manifested in a new service called VPN+, a "cross-country, cross-network, cross-cloud" service that offers users self-configuration and self-monitoring capabilities. The second is a "centralization platform" that can maximize the benefits of a cloud architecture by hosting applications (such as IMS) as a core function, with a single operations team, that can service multiple markets. Amzallag says this has already been put into practice in Europe with a centralized mobile messaging platform.
Above and beyond those two initial use cases, Amzallag and his team have embarked on a number of other "journeys," namely Service Orchestration, SDN-based Transport and an overhaul of IP/Operations and Engineering. Key to the latter is reducing the integration time of new applications: The current year it takes to test and then integrate a new service can be dramatically reduced using SDN- and NFV-related processes, he notes.
In a nutshell, Vodafone has started many Ocean journeys and it's gotten further with some than others. What's pretty clear, though, is that it won't just be the usual suspects along for the ride.
— Ray Le Maistre,

, Editor-in-Chief, Light Reading
PARTNER PERSPECTIVES
- content from our sponsors
GUEST PERSPECTIVES
- curated contributions