Following the initial rush of excitement a few years back, the NFV community has stumbled into the quicksand of operational reality and, despite the best efforts of industry bodies, willing operators and sometimes desperate vendors, it hasn't yet been pulled free. (See Time for a Telecom Reboot.)
But every communications network operator knows that network functions virtualization (NFV) is part of its future, so an NFV implementation strategy is needed. The major problem facing operators, though, is that each one has a unique network and different challenges: Yes, there are many commonalities between them, but each operator has a network with different legacy systems and each one has a different end goal.
But there are a couple of challenges that are universal:
Business models: Many of the major challenges for operators come in the form of operational processes, business models and business relationships (how to engage with the suppliers of software and hardware for their virtualization plans). This is a challenge that outgoing Vodafone group head of Network Virtualization, SDN and NFV, David Amzallag, has articulated on a number of occasions but which isn't the main focus of this article. (See Vodafone: The Pricing Isn't Right.)

Interoperability: Network operators need to be able to deploy virtual network functions (VNFs) from any developer, be sure they will run seamlessly over the installed NFV infrastructure (NFVi) and interact seamlessly with the installed MANO (management and orchestration) software. (See Together, We Can Build the Telecom 'App Store'.)
If that latter challenge sounds relatively simple, it isn't… currently it's not possible -- the NFV sector is still a set of development islands and the interoperability that operators need seems a long way off.
So where do operators turn for help to solve this problem?
Well, there's no shortage of industry bodies and groups offering up a broad range of help, from advice to specifications to platforms and blueprints. And then there's the vendor community, which has a large number of silver bullets ready to whip out at any given moment. It's just that there's no gun to fire them (yet).
But on the technology planning and implementation side, there are a few key areas where operators can engage with collaborative bodies and independent organizations to further their strategies, particularly when it comes to multi-vendor testing and deciding on an all-important MANO (management and orchestration) strategy. There are also some key starting points for operators as they consider their NFVi (NFV infrastructure) options.
So let's look at some of the key considerations for network operators, including testing and the options available for those seeking an existing MANO that they could deploy.
Testing
Third-party testing has long been a key element in any network operator's technology decision-making processes and there's no reason for that to change. NFV testing, though, is relatively new and the labs that undertake such tasks are, in many ways, developing the blueprints for NFV tests as they engage with the industry.
That's certainly the experience of the team at EANTC, which been undertaking multiple NFV interoperability tests on behalf of the The New IP Agency (NIA). (See 2016 NIA-EANTC NFV Interoperability Test Report and Light Reading Publishes Unique NFV Interoperability Test Report.)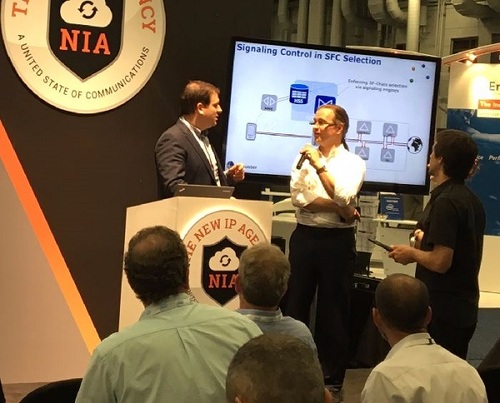 (FYI, the next NIA test undertaken by EANTC will be showcased at the upcoming Big Communications Event (BCE) in Austin, Texas. (See New IP Agency Plans Test for NFV Interoperability.)
Other bodies have also undertaken multi-vendor tests, including CableLabs, ETSI (which holds "plugtests") and OPNFV, which has undertaken assessments in partnership with the University of New Hampshire Interoperability Lab. (See Outstanding Results for the First ETSI NFV Interoperability Test Event, OrbTV: ETSI NFV ISG Plugtest Results, CableLabs Sets Up NFV Interop Lab and OPNFV Nearing Commercial Deployment.)
MANO
The MANO, or management and network orchestration, segment of the ETSI NFV ISG's original architecture was once a sorely neglected space -- for sure, some sort of MANO package could be sourced from commercial technology vendors, but such a move leads to the frantic waving of the "interoperability" and "open" flags.
So what are the non-commercial vendor options? Prior to 2016 there was little for operators to choose from (Open Baton being the exception -- see below) but that lack of options was wildly corrected in 2016, with the arrival of three new efforts, two of which have since joined forces to reduce the dilution of effort.
Here's a brief look at the key offerings: