Xfinity Home App Now On Comcast's X1 TV
Xfinity Home App Now On Comcast's X1 TV
The Comcast Xfinity Home app is now available on the TV screen for X1 subscribers. If checking camera feeds and thermostat settings from the TV is your thing, Comcast has you covered. Following a wave of business services news announcements, the cable company gave a nod to residential customers this week with news that the Xfinity Home app is now available on the TV screen for X1 subscribers. (See also Comcast Takes Ethernet Everywhere.)
The Xfinity Home app lets users control smart home functions such as security sensors and connected appliances from an IP-based device. Traditionally, that IP controller has been a smartphone or tablet, but Comcast has now extended app support to X1 TV set-tops. As Comcast noted in a blog post, Xfinity Home users can turn lights on and off, adjust the thermostat, see who's at the door, and more, all from the living room couch.
Comcast showed off Xfinity Home on the TV back at the Cable Show in April. At the time, the cable company demonstrated several new services on the roadmap for X1 including a feature for streaming videos on a smartphone to another X1 user's TV screen. Several of the features Comcast demonstrated then are expected to debut in 2015, but some have already launched, including a voice-guided TV interface that was introduced just last week. (See Comcast: Stream Phone Videos to Grandma's TV.)
Figure 1: Put Your Hand Up If You Like Home Networking!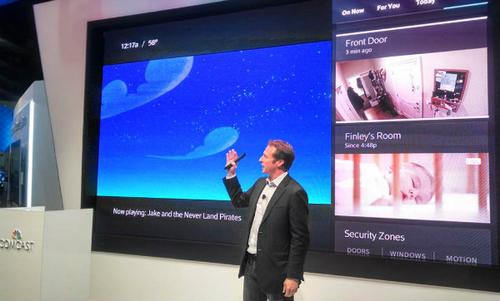 Comcast SVP Charlie Herrin demos Xfinity Home at the Cable Show.
On the Xfinity Home front, Comcast is part of a wave of service providers that are aiming for new revenue with smart home services. (See Verizon Drops Its Quantum Router, Hints at IoT and Apple Joins Home Automation Wars.)
So far, however, it's unclear how much financial success Comcast has had with its smart home offering. The company acknowledged in its most recent earnings report that it has experienced "modest expense growth" thanks to rapid continuing deployments of X1, cloud DVR service, wireless gateways and Xfinity Home. On the other hand, Comcast said in 2013 that Xfinity Home has helped it attract new subscribers. As of summer 2013, Comcast reported that 41% of households buying its smart home services were new customers.
— Mari Silbey, special to Light Reading
Subscribe and receive the latest news from the industry.
Join 62,000+ members. Yes it's completely free.
You May Also Like
---