Tellabs CEO Sees 'Tough Sledding'
Tellabs CEO Sees 'Tough Sledding'
Tellabs' Michael Birck reiterates his intent to stay the course. But today's earnings show it isn't fun CEO Michael J. Birck of Tellabs Inc. (Nasdaq: TLAB; Frankfurt: BTLA) continues to hope for better things next year. But he acknowledges that, in the meantime, being CEO of a leading telecom supplier is no picnic.

"It was a helluva lot more fun in the latter part of the 90s," Birck quipped during an interview with Light Reading after today's third-quarter earnings presentation.

Birck served as CEO of Tellabs from 1974 through 2000. After a two-year stint as chairman of the board, he took the helm again when Richard C. Notebaert ended his brief tenure as chief exec to head up Qwest Communications International Inc. (NYSE: Q) (see Notebaert Takes Out Nacchio).

"It's an awful time... It's tough sledding," Birck told analysts today. Tellabs' latest earnings punctuate the observation (see Tellabs Reports Q3). The company reported $288 million in sales, 16 percent lower than last quarter's sales and 22 percent lower than the first quarter's (see Tellabs 'Stays the Course' and No Surprises From Tellabs). Excluding restructuring and other charges, Tellabs showed a pro forma net loss of $17 million, or $0.04 for the quarter, versus $565,000 in pro forma net income (resulting in $0 per share) the preceding quarter.

On the plus side, the company reported seven new customers (up from one, last quarter) for the Tellabs 6400 metro transport switch, a strategic product acquired through Ocular, whose ex-CEO Edward Kennedy now heads up a new Tellabs metro networking group as part of a recent management regrouping (see Tellabs Regroups, Promotes Kennedy).

Birck noted that the 6400 recently completed the Osmine process at Telcordia Technologies Inc., furthering its chances with U.S. incumbent LECs (see Tellabs Trumpets Osmine). "It's a bit like going to the dentist," he said of the process. "You have to do it, and it's expensive, but without it, you don't fare so well."

All told, though, sales of optical products, including the 6400, the 6500 transport switch, 5500 crossconnects, and the 7100 DWDM platform, were down 29 percent sequentially. Interestingly, there was a 4 percent uptick in sales of broadband access equipment, including the company's 8100 SDH access system and 6300 SDH transport switch, as well as the 2300 series of cable telephony gear.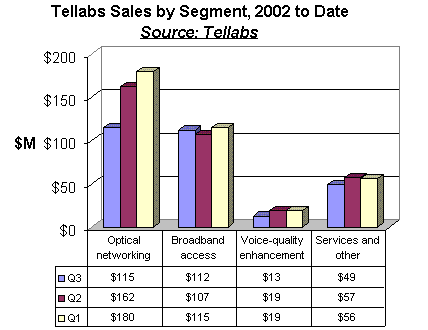 Birck thinks the droop doesn't mean much. "The numbers are too small to show a trend. It's just the vagaries of the market," he told Light Reading. Indeed, the upsurge in sales of Tellabs' international gear isn't anything to rave about, either, he notes. While Tellabs continues to want the international market to contribute between 30 and 40 percent of sales (it was 31 percent this quarter), Birck says it's not a panacea. Indeed, things are getting worse in areas like Latin America, he notes. And "I certainly don't want to see international sales higher because domestic ones are slower."

Tellabs issued no guidance, though Birck says he hopes for better things next year. "Levels should be higher, maybe not gloriously so."

Throughout today's events, Birck maintained his plainspoken demeanor. Here are some more of his thoughts:


On the future: "This industry will be different, it's changing… There has to be more focus and intensity, a more compressed industry."

On the North American regulatory situation: "The Feds have to get out of the act. Let the weak players go, allow competition to take over."

On his successor: "I'm not seeking a successor… but we're putting some people to the test inside the organization."

On how he copes: "I keep Maalox around and lots of aspirin."

On his focus: "There needs to be an absolute focus on expenses, it's crucial, including executive salaries and bonuses. We're relentlessly examining all areas."

On what else to do during the downturn: "Staying close to customers is important, even if they're not buying. I spent an uncomfortable hour recently with WorldCom. Still, you do that. When they get better and get the checkbook out again, we'll be there."



— Mary Jander, Senior Editor, Light Reading
www.lightreading.com
Subscribe and receive the latest news from the industry.
Join 62,000+ members. Yes it's completely free.
You May Also Like
---