SDN Means 'Speed Da Network' for Cloud Provider Navisite
SDN Means 'Speed Da Network' for Cloud Provider Navisite
In the cloud, network agility often lags compute and storage. Cloud provider Navisite is looking to fix that. Navisite is looking to software-defined networking to provide the same agility for connectivity that the cloud already sees for compute and storage.
Navisite faces a struggle that's common for public cloud providers, as well as enterprises running private clouds: Networking agility lags way behind compute and storage. Users can spin up new compute and storage resources for applications in minutes. But it takes days -- or more -- to provision the networking resources those applications need.
Navisite, a cloud provider serving enterprises in finance, healthcare, manufacturing, retail and other sectors, is solving the network agility problem by interconnecting its data centers with SDN, according to a statement from Navisite's vendor, Cisco.

Navisite's core customer base for about 20 years has been businesses with $250 million to $5 billion revenue -- the upper midmarket and lower-end enterprise, Sumeet Sabharwal, Navisite group vice president and general manager, tells Enterprise Cloud News. For those customers, Navisite provides managed technology services. In the old world, that was provided in the customer's own data centers and in managed hosting; in the new world, those services increasingly are in the cloud.
Figure 1: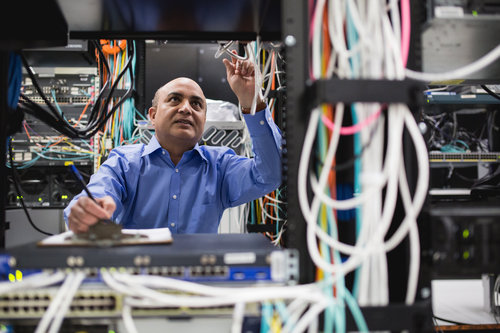 Chandra Upadhyay, Navisite senior director, systems engineering, performs routine testing at Navisite's Andover, Mass., data center.
"From a client perspective, our value is the ability to come in and deliver highly efficient and optimized IT fabric that spans across multiple deployment modes," Sabharwal says. These modes include bare metal in Navisite's own data centers, as well as the Microsoft Azure public cloud. Navisite has eight data centers in the US and UK.
Time Warner Cable acquired Navisite in 2011, to expand from TWC's existing base in small and lower midmarket business. Charter acquired TWC last year. (See Meet the New Charter.)
Networking has been "the last bastion of change" in the transition from on-premise and hosted applications to the cloud, Sabharwal says. Navisite has been investigating SDN for additional agility for about a year, and selected Cisco Nexus 9000 switches, implementing Cisco's SDN infrastructure, which Cisco calls Application Centric Infrastructure.
"We can provision the entire environment for clients, including network, in five to 15 minutes," Sabharwal says. "That's really helped us unlock tremendous efficiency and -- most importantly -- speed. Customers come to the cloud with the expectation of an on-demand model where they can scale resources up and down. This helps them complete the value proposition."
ACI cuts latency in half and nearly doubles throughput, Sabharwal says. ACI also simplifies management, providing a single plane of glass to control eight data centers with over 25,000 devices, more than 3,000 firewalls and 28 petabytes of storage.
For compute, Navisite uses VMware vSphere and vCloud Director. In addition to Cisco's ACI at the core of the network, Navisite uses VMware's NSX SDN architecture at the edge. Navisite went with ACI at the core, rather than NSX, because ACI combines hardware and software for greater throughput, it says. "It lets us create a seamless mesh, not just within the data centers, but across data centers as well," Sabharwal says.
M&A activity is turning the cloud upside down. Find out what you need to know in our special report: Mergers, Acquisitions & IPOs are Rocking the Cloud.
In addition to considering VMware NSX for core network SDN, Navisite considered Juniper. But Navisite already had a deep partnership with Cisco, making Cisco a natural choice, says Sabharwal.
Navisite decided to deploy the Nexus 9000 switches in the autumn, and has rolled out 12 switches over the past six months across four of its eight data centers, with the remainder coming by year end, Sabharwal says.
The biggest problem in making the transition to SDN was cultural, Sabharwal says. That's a common thread in businesses moving to the cloud and SDN. Instead of thinking about network needs, network engineers had to learn to think about application needs, and how the network could adapt to meet those needs. "You have to look at it from the workload down, not the network up," Sabharwal says. (See Cloud Skills: What's Hot? -- registration required.)
Enterprises demand agility form the cloud. That's already available in compute and storage and, using SDN, Navisite is working to provide it in networking as well.
Related posts:
— Mitch Wagner
Editor, Enterprise Cloud News
Subscribe and receive the latest news from the industry.
Join 62,000+ members. Yes it's completely free.
You May Also Like
---