Sale of Arris Set-Top Box Biz 'On the Table' for CommScope – Analyst
Sale of Arris Set-Top Box Biz 'On the Table' for CommScope – Analyst
CommScope could get $500 million for that unit 'in a distressed sale to a financial buyer,' Jefferies analyst George Notter suggests. CommScope has not announced the fate of Arris's struggling set-top box business, but an analyst believes that selling that unit is "on the table" as CommScope moves ahead with its proposed $7.4 billion acquisition of Arris.
"[W]e suspect that [CommScope's] need to de-lever the company probably trumps their desire to appease STB customers or try to fix the business economically," George Notter, analyst at Jefferies & Company Inc. , suggested in a research note issued Monday.
He believes that CommScope Inc. , which has put up $7.4 billion for Arris Group Inc. (Nasdaq: ARRS), could get about $500 million for Arris's set-top box business "in a distressed sale to a financial buyer." Notter said such a sale would aid CommScope's top-line growth rate, de-leverage the company more rapidly and soothe investor concerns about the set-top box business (many investors, he's told, have an incorrect perception that Arris is purely about set-top boxes). (See CommScope Puts Up $7.4B for Arris.)
Figure 1: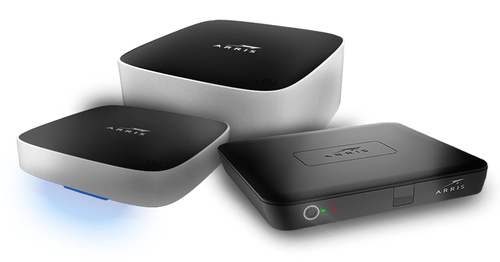 Though many CommScope investors perceive Arris as a set-top box business (pictured is a set of Arris-made Android TV boxes), Notter notes that Arris's Network & Cloud business has likewise been "significantly undervalued" by investors given the early state of DOCSIS 3.1 and fiber-deep deployments by cable operators.
Historically, CommScope management "has had little patience for sustaining value-destroying product lines," Notter said, pointing out that CommScope sold its satellite communications business in January 2008 (soon after obtaining it via its acquisition of Andrew Corp.), and unloaded its EPON and RFoG business to Adtran Inc. (Nasdaq: ADTN) in 2016. (See Adtran Seeks Cable Stardom With EPON Deal.)
Arris became the world's largest supplier of set-top boxes through a series of acquisitions -- Digeo for $20 million in 2009; Motorola Home for $2.35 billion in 2012; and UK-based Pace plc for $2.1 billion in 2015. Of course, the Motorola Home and Pace deals weren't solely about set-tops, as Arris also acquired some other products and technologies via those two deals, including access networking and video processing gear. (See Arris to Acquire Pace for $2.1B, Motorola & Arris: Product Gaps & Overlaps and Google Sells Moto Home to Arris for $2.35B.)
CommScope stressed that no decisions about any lines of business at Arris have been made. "We continue to do our due diligence regarding the ARRIS acquisition, which is expected to close in the first half of 2019; however, we cannot comment on any of ARRIS' specific business lines at this time," a CommScope official said in a statement to Light Reading.
Arris's set-top box business has been pressured by components shortages, the US tariffs on Chinese goods and the video market's general migration to Roku players and other retail streaming devices that support pay-TV apps. Excluding the tariffs issue, Technicolor (Euronext Paris: TCH; NYSE: TCH) is also dealing with similar pressures and is reportedly considering a sale of its set-top box business too. (See Arris: Tariffs Add $200M in Broadband Gear Costs, Threaten US 5G Plans, Arris Financials Clipped by Component Shortages and Technicolor Eyes Options, Including Sale of Set-Top Biz – Report.)
CommScope's public attitude toward Arris's set-top box business has been lukewarm, recognizing that it's a declining business even as sales of broadband modems and gateways remain strong. And while CPE sales represent a large part of Arris's revenues, CommScope has pointed out that it would also represent a small piece of the combined company's pro forma EBIDTA. (See Is Arris the Answer to CommScope's Pain?)
Arris and CommScope have instead emphasized other synergies they expect from a merger, holding that their combined expertise and product lines for licensed and unlicensed spectrum will put the company in a good position for the 5G era. (See Why CommScope Wooed Arris.)
Investor sentiment on merger is 'terrible'
Notter also set a new price target on CommScope shares of $28.50 and slapped a "buy" rating on the stock, which fell sharply after the company announced the deal alongside disappointing Q3 results. CommScope shares are down about 26% since the Arris deal was announced on November 7, and down 53% year-to-date, making the risk/reward on CommScope shares "now attractive," he added.
"[I]nvestor sentiment is terrible as evidenced by the recent capitulation in the stock," Notter wrote. But he added that a "likely sale" of the set-top box business "should help investor sentiment and reduce the debt load."
Notter also sees "fundamental upside from the Arris side of the companied company." He acknowledged that CommScope's pattern of levering and de-levering the business around M&A has worked out well for the company. (See CommScope/Arris Deal More About Dollars Than Strategic Sense – Analyst and Podcast: CommScope & Arris Tie the Knot, but Why?)
Back to Arris, Notter, who has downgraded the stock from "Buy" to "Hold" in the wake of the deal, sees the set-top box part of Arris's business declining 15% per year in 2019 and 2020, respectively, offset by "modest growth" in broadband CPE.
At the same time, he believes that Arris's Network & Cloud division was being significantly undervalued by investors as DOCSIS 3.1 upgrades and fiber-deep deployments by cable operators are in the "very early innings."
Despite some investor perception about Arris being solely a set-top box company, Notter does agree with management that CommScope is a "natural acquisition partner" for Arris, given their complementary product lines, ability to create more customer diversify and drive an expected $150 million-plus in merger-related cost synergies.
— Jeff Baumgartner, Senior Editor, Light Reading
Subscribe and receive the latest news from the industry.
Join 62,000+ members. Yes it's completely free.
You May Also Like
---