NFV Gets Real – Finally
NFV Gets Real – Finally
New landmark for network virtualization as Light Reading issues formal invitations to leading vendors for participation in the first ever NFV interoperability test. Monday, August 10, 2015: Today's date is an immensely significant one for the communications industry. Why? Because Light Reading issued formal invitations to the industry's leading vendors to take part in the world's first ever NFV interoperability test.
Click on this link to see the invite.
In fact, "test" may not be quite the right word for what we're doing; I prefer to look at this as an interoperability evaluation, or validation. Our goal here is to demonstrate which products can be installed together to support next-generation virtualized New IP networks.
That's an incredibly important mission. There is no question that NFV will be the fundamental enabler of next-generation communications networks, the ones that will underlie the next global digital economy. The incumbent equipment manufacturers know this and so have spent the past few years -- and hundreds of millions of marketing dollars -- convincing communications service providers (CSPs) that NFV can provide them with more efficient, agile and competitive networks.
But for NFV to truly deliver on that vision, products from different vendors must be able to work together. If they can't, then service providers will be no better off than they were in the 20th century, when they were locked into using proprietary networking solutions from one or two vendors. And without interoperability, service providers won't have the freedom to choose the best virtual network function (VNF) from one company and deploy them with core NFV infrastructure (NFVi) from another.
The message from service providers such as Deutsche Telekom, Telefónica, EE, BT and many others is loud and clear: It is time to move beyond marketing and demonstrate that these products are not only real but that they can really deliver on the promises of NFV.
In a poll I ran during a recent webinar -- The State of the State: Preparing for Next-Gen Communications Infrastructure -- with 270 registered service provider executives, more than half of the attendees cited either a lack of interoperability or system integration challenges (which in themselves are primarily caused by interoperability problems) as the number one hurdle to the deployment of network virtualization technology.
Figure 1: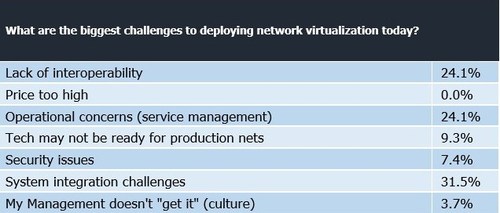 Light Reading's validation program is being conducted by our test partner, EANTC, in Berlin (where even the orchestra is beautiful!) on behalf of the New IP Agency (NIA), which we are both helping to launch in January 2016 (more on that right here).
At Light Reading and EANTC we are doing everything we can to make participation easy for vendors, up to and including conducting the testing on an "at cost" or not-for-profit basis (you're welcome, communications industry).
This is obviously a busy time for NFV vendors -- many have their hands full with requests from customers to provide gear for proofs of concept (PoCs) and trials. Nevertheless, and based on initial backchannel feedback from a few of the very largest players, I'm optimistic we will get a substantial number of the largest companies to free up the necessary resources to take part. After all, by participating in the evaluation, the industry's first, they get to prove interoperability to the entire industry, and move NFV from marketing to independent validation.
I'll be sure to update you here when we get the first vendors signing up for the evaluation.
— Stephen Saunders, Founder and CEO, Light Reading
Subscribe and receive the latest news from the industry.
Join 62,000+ members. Yes it's completely free.
You May Also Like
---