Google Extends Enterprise Support in 'Firebase' Mobile Dev Service
Google Extends Enterprise Support in 'Firebase' Mobile Dev Service
Google is taking the next generation of its Firebase mobile app development service beyond consumer apps and small and midsized business developers.
Google is looking to win enterprise hearts with its Firebase mobile app development platform, extending the service beyond its traditional base of consumer and small and midsized business developers.
Firebase provides mobile app developers on Android, iOS and the mobile web with a set of cloud services and tools to help them solve shared problems in the application development lifecycle, including data storage, user authentication, performance monitoring and analytics.
The service, with more than 1.5 million apps in the field every month, is already used by big organizations including the New York Times, Pandora and international companies. Now, Google (Nasdaq: GOOG) is broadening Firebase capabilities to win bigger customers, the company announced Monday.
"Our platform is adding features and functionality catering to enterprise app development," Francis Ma, Google head of Firebase product strategy, tells Light Reading.
The primary change is a new paid, enterprise-grade support tier, which will offer guaranteed service levels, 24/7 support, and a dedicated account manager, with the option to have Firebase questions answered through Google Cloud Platform support. Current GCP support customers will get Firebase support added at no additional cost, Google says.
Figure 1: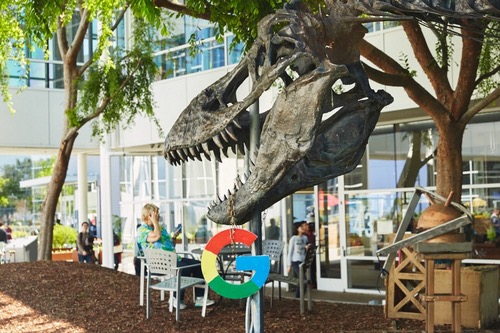 A dinosaur at Google's offices. The offices are called the "Googleplex." The dinosaur is "Stan."
Now entering its fifth year, the 2020 Vision Executive Summit is an exclusive meeting of global CSP executives focused on navigating the disruptive forces at work in telecom today. Join us in Lisbon on December 4-6 to meet with fellow experts as we define the future of next-gen communications and how to make it profitable.
Additionally, Firebase is exposing its management API to allow developers to programmatically provision development environments. Developers can spin up a test environment every time they create a new feature, run tests, and tear the new environment down programmatically when they no longer need it. Google is partnering with Glitch and StackBlitz, popular web-based interactive development environments for web applications, extending those IDEs to provide automated deployment as well as development.
Google is extending availability of its test lab, which provides both physical and virtual devices hosted in Google's data center, for app test purposes. Previously that was only available for Android; now it includes devices running iOS 12, Google says.
And the new Firebase Predictions service allows developers to grow their business by using machine learning and analytics to predict how users will react to changes to app changes. Firebase Predictions supports BigQuery and A/B testing.
Additionally, Firebase now supports ML Kit Face Contours, expanding apps' Face Detection API to detect more than 100 detailed landmark points in and around a face to support use cases such as apps that position virtual masks and accessories on facial features, and facial beautification. (We're having difficulty seeing how this is an enterprise feature unless your job is way more fun than ours.)
Telcos and other communications companies will find Firebase useful as they deploy apps to their own employees and field service technicians, according to Ma.
Related posts:
— Mitch Wagner




Executive Editor, Light Reading
Subscribe and receive the latest news from the industry.
Join 62,000+ members. Yes it's completely free.
You May Also Like
---