The US is sizzling through record summer heat, but that didn't stop Google from dropping a blizzard of enterprise cloud news this month. Google claims 105 announcements at the Google Cloud Next conference last week alone, and there were a few more the week before.
It's easy to become confused under that sheer volume of news. I know I sometimes was. It seems like I spent much of the past week hunched over my keyboard, punching out one story after another, in a windowless meeting room that had been converted to a press room in the Moscone Center, fueled by cupfuls of bad conference coffee and tasty trail mix[1].
However, now that I'm back at my home office desk[2], those dozens and dozens of announcements fall into a pattern. Or a few patterns.
Google is moving beyond the cloud
Google is colonizing the Internet of Things[3] and customer premises. The company launched Cloud IoT Edge, to extend its artificial intelligence to gateways and connected devices. It also debuted the Edge TPU, a purpose-built ASIC chip to run machine learning algorithms on edge devices. "Your sensors become more than data collectors -- they make local, real-time intelligent decisions," said Antony Passemard, Google head of product management for Cloud IoT. (See Google Debuts Processor Boosting AI for IoT.)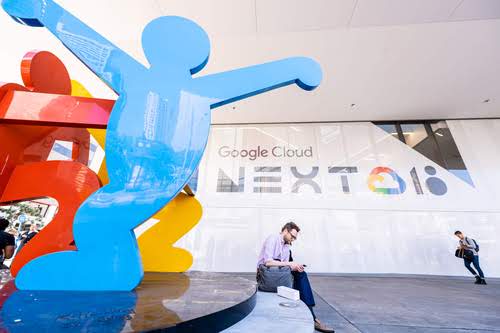 ---
Now entering its fifth year, the 2020 Vision Executive Summit is an exclusive meeting of global CSP executives focused on navigating the disruptive forces at work in telecom today. Join us in Lisbon on December 4-6 to meet with fellow experts as we define the future of next-gen communications and how to make it profitable.
---
Additionally, Google is colonizing the enterprise premises, with the launch of GKE On-Prem server software, which runs Kubernetes applications manageable with the same tools as used for the GKE Kubernetes engine in Google's public cloud[4]. (See Google Debuts On-Prem Kubernetes Server.)
"We're bringing the cloud to you and ending the false dichotomy between on-premise and in the cloud," Urs Hölzle, Google senior vice president for technical infrastructure, said at a Tuesday morning keynote at Google's annual cloud conference.
Chromebooks are key building blocks of Google's enterprise cloud strategy, providing enterprises with an inexpensive and simple way to put browser-based apps, from Google and other vendors, into the hands of end users. Google launched a "Grab and Go" service, to allow enterprises to easily loan Chromebooks to employees, two weeks ago[5]. (See Google Debuts Enterprise 'Grab and Go' for Chromebook Loaners.)
Google has found its voice in the enterprise cloud
When Diane Greene took the presidency of Google Cloud Platform in November, 2015, Google didn't seem to be serious about the enterprise. G Suite was its only successful enterprise service[6], and even that lagged woefully behind Microsoft offerings. Under Greene's leadership, Google gained enterprise credibility, but for a long time the company lacked identity. Amazon Web Services Inc. is the market leader, Microsoft Corp. (Nasdaq: MSFT) and IBM Corp. (NYSE: IBM) are building off existing enterprise business -- why would anybody want to go with Google?
Over time, the answer emerged: Google is the smartest kid in the room. This month, the message became more nuanced. What do all the smart kids in computer science specialize in? Open source and artificial intelligence. And having the best engineers gets you the best security, reliability and performance. Google hit on all those points this month.
Open Source: Google launched Cloud Services Platform, combining Kubernetes containers with Istio, an emerging open source platform for orchestrating containerized applications. CSP is designed to provide "an integrated family of cloud services" to "increase [application] speed and reliability, improve security and governance and build once to run anywhere, across GCP and on-premises environments." (See Google Launches Cloud Services Platform, a Toolkit for Kubernetes & Serverless Apps.)
Open source and software portability go together. With open source software, you avoid being locked in to a single vendor, and Google emphasized that all the major cloud platforms support Kubernetes, meaning applications written for Kubernetes can run anywhere.
Google launched a platform for Continuous Integration/Continuous Delivery (CI/CD) software development, Cloud Build, and partnered with GitHub to combine that platform with GitHub repositories, despite GitHub being on track to be acquired by Google competitor Microsoft. (See Google Builds Bridge With Microsoft in GitHub Partnership.)
Multicloud: Google's open source strategy gives enterprises freedom of choice, said Urs Hölzle, the company's senior vice president for technical infrastructure. "Our goal with the Cloud Services Platform is that we leave the choice to the customer of how they move to the cloud," he said. Enterprises can move at their own pace, in small steps, in making the transition from monolithic, legacy software to the public cloud. (See Google's Hölzle: Take Your Time With Cloud Migration – We Won't Rush You.)
One keynote speaker said that the cloud isn't a location -- it's a computing philosophy. At the time I dismissed it as a marketing platitude[7] -- I didn't even write it down in my notes -- but now I think it captures the essence of cloud philosophy.
Security: Google debuted Titan Security Key, a hardware token providing a second authentication factor for high-value end users in the enterprise, such as cloud admins. It also rolled out new security tools for virtualized and containerized apps, as well as beefing up security for G Suite. (See Google: Security vs. Convenience – You Don't Have to Choose.)
Reliability and performance: Networking is key to delivering applications where they're needed, and Google announced its 13th subsea cable two weeks ago, this one connecting the US and Europe under the Atlantic Ocean. The connectivity will improve reliability, increase bandwidth, and reduce latency for applications. Networking demand is driven by relatively new types of applications, such as Google Cloud Platform, YouTube, artificial intelligence and mobile, Google says. (See Google Takes Transatlantic Cable for Solo Swim.)
Artificial intelligence: AI pervades Google, including its IoT technologies launched this month, but AI was particularly focused on G Suite this month. Google is augmenting G Suite with AI-driven tools to automatically suggest replies to messages in Gmail and Google Hangouts, and correct grammar in Google Docs. (See Google G Suite AI Talks With Your Colleagues So You Don't Have To.)
Other G Suite improvements launched last week include a new user interface for Gmail, enhanced enterprise search[8], improved Google Voice, and a new standalone option for licensing Google Drive. (See Google Brings the G Suite Heat.)
Google still has a long way to go
Mere hours after the metaphorical bartenders sounded last call at Google Cloud Next 2018 Thursday[9], Synergy Research came out with its quarterly estimate of the cloud market leaders. The ranking has been essentially unchanged for some time. Amazon maintains its market dominance, at 34%, greater than its next four competitors, including Google, combined. Google is ranked fourth behind Amazon, Microsoft and IBM. Microsoft is growing faster than Google but Google is growing faster than IBM. Amazon's market share is relatively stable. And Alibaba, a newcomer to the ranks of top cloud providers, is growing fastest of all. (See Amazon Still Dominates Cloud Market, Bigger Than Next Four Competitors Combined.)
While Google will argue that it excels in its strengths at IoT, hybrid cloud, open source, security, reliability, performance and AI, those are areas of focus for its competitors as well. Google has vast amounts of capital and talent, but so do its competitors, so Google will have to apply its full resources to gain in the market, or even keep its place.
Adam Seligman, Google VP of developer relations, rocked giraffe shoes
Look at his shoes. Just look at them. (See Google Cloud Next in Photos, With Gorgeous Giraffe Footwear.)
— Mitch Wagner




Executive Editor, Light Reading