Console Connect Targets Cloud Lock-In
Console Connect Targets Cloud Lock-In
The company's CloudNexus network for enterprise cloud connectivity gains the capability for efficiently moving data between clouds, as well as new automation features. Vendor lock-in is a big risk for enterprises moving applications and data to Amazon Web Services or another cloud provider. Once the apps and data spin up and get settled in, it becomes difficult and expensive to move to another cloud provider.
Data volumes are a big part of that problem -- the volume of data required by a big enterprise app isn't something that moves quickly even using dedicated connections. Indeed, Amazon Web Services Inc. (AWS) literally uses a 45-foot shipping container pulled by a semi-trailer truck to move up to 100PB of data from enterprise customers' on-premises storage to the Amazon cloud. Amazon calls the service Snowmobile. And Amazon anticipates some enterprises will need multiple Snowmobiles to do the job.
That gets your data into AWS. But what if you want to get your data out of AWS to some other cloud platform? Or between two other cloud platforms?
Figure 1: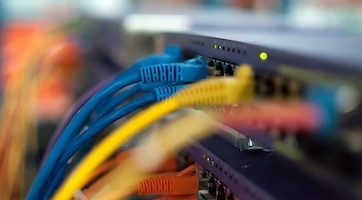 Photo by Norlando Pobre (CC BY 2.0)
Service provider Console Connect is looking to help. The company recently upgraded its CloudNexus service to allow direct connections between cloud providers, on Monday, May 15.
"The new product allows customers to create connectivity directly between the resources in the public cloud, instead of having to bring traffic back to their own premise and route it from there," Micah Bartell, Console Connect senior director of product management, tells Enterprise Cloud News.
Console Connect also added Layer 3 automation -- to automate switching and routing -- in addition to the Level 2 data link automation available when the service launched a year ago. (See Console Intros Cloud Connection Software Platform.)
Console Connect announced the service in late 2015, before the company underwent a name change and management change. (See IIX Launches 'Console' Platform for Enterprise-Cloud Interconnect and Console Gets New CEO.)
The CloudNexus service isn't just for moving data between cloud services.
Enterprises can use the CloudNexus network to connect directly to software-as-a-service applications, business partners, and for internal wide-area networks across Asia-Pacific, the US, and Europe and the Middle East, Bartell tells Enterprise Cloud News. CloudNexus has 170 POPs worldwide, and uses dark fiber and DWDN networks.
Compared with alternatives, CloudNexus provides easy connectivity, automated Layer 2 and Layer 3 switching, and flexible pricing, Bartell says.
CloudNexus provides a less expensive alternative to MPLS for wide-area network connections, and is complementary to SD-WAN, Martell says. SD-WAN focuses on the last-mile connection and uses the public Internet, with multiple options to provide the best currently available path. CloudNexus is about the "middle mile," making connections between resources located in data centers, Bartell says.
M&A activity is turning the cloud upside down. Find out what you need to know in our special report: Mergers, Acquisitions & IPOs Are Rocking the Cloud. Enterprises will be able to use CloudNexus in several different ways: One is transferring data between clouds -- for example, AWS to Azure. Another use case is private access to the public cloud. Enterprises will also use CloudNexus to provide connectivity between business partners and across the supply chain -- for example, connecting businesses in Chicago and London. Additionally, enterprises can use CloudNexus for business-critical software-as-a-service applications, including unified communications such as Zoom and enterprise productivity applications such as Workday, the company says. And enterprises can provide site-to-site connectivity, bridging data centers, headquarter, regional centers, and branch offices, Console Connect says. Founded in 2011, Console Connect has until now been a provider of wholesale bandwidth -- point-to-point connections, as well as remote connectivity to Internet exchanges. The company is now shifting to the enterprise market, and providing any-to-any connectivity. Pricing for the new services runs at about $3,000 to $5,000 per month for an average 3-5 Gbit/s. The service goes into beta next month, with general availability in late June or early July. Related posts: Console Intros Cloud Connection Software Platform Console Gets New CEO — Mitch Wagner
Editor, Enterprise Cloud News
Subscribe and receive the latest news from the industry.
Join 62,000+ members. Yes it's completely free.
You May Also Like
---