As Hulu Live Tops 1M Subs, Who Leads the OTT-TV Race?
As Hulu Live Tops 1M Subs, Who Leads the OTT-TV Race?
Virtual MVPD market is booming, taking industry watchers by surprise. Reaching a milestone in the relatively nascent virtual MVPD sector, Hulu's live TV service has eclipsed 1 million subscribers, roughly 15 months after the offering was launched, a person with direct knowledge of those numbers confirmed.
The subscriber mark, first reported this week by USA Today, is another clear indicator that Hulu LLC is having some success upgrading a portion of the millions of people who subscribe to its core subscription VoD service to the newer multichannel TV offering.
The Diffusion Group (TDG) currently estimates that total US virtual MVPD subscribers will flirt with the 8 million mark by the end of Q3 2018, with Sling TV holding a slight edge over AT&T's DirecTV Now service. The group marked as "Other" in the chart below includes OTT-TV services that don't publicly disclose subscriber numbers on a regular basis (i.e., YouTube TV, PlayStation Vue, fuboTV and Philo ).
Figure 1: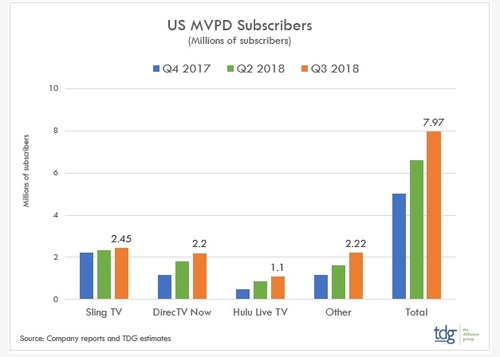 The rate of subscriber adds come as a bit of a surprise to some industry watchers.
"I'm seeing growth that I really didn't expect out of that collection of vMVPDs," said Michael Greeson, TDG's president and co-founder, who expects Hulu to have about 1.1 million subs by the end of Q3. "We could very well end up at 8.5 million [subs at the end of Q3] and come out higher than even the most optimistic forecasts."
As for this recent spike in subs, Greeson notes that services such as Sling TV and PlayStation Vue are ramping up their advertising again amid the start of the NFL regular season. fuboTV, the sports-focused OTT-TV service, has also introduced a new national campaign. (See fuboTV Kicks Off 'Don't Compromise' National Campaign .)
"It's just that time of year for them," he said.
For its part, Hulu introduced a new brand campaign ad this week in concert with the 2018 Emmy Awards under the "Better Ruins Everything" tagline. Watch Hulu's comedic take on reverse psychology below:
Greeson said it's not out of the realm of possibility that the current mix of virtual MVPDs could end 2018 with between 9 million to 9.5 million subs.
"We're at the beginning of that [subscriber] ramp right now," he said. "We're still squarely in the early adopter phase of this market."
But how long will that phase last? Greeson believes that OTT-TV players should start to worry about how to alter their messages for the consumer mainstream and get a fix on what the hang-ups are for that market before the early adopter market stalls out.
At the same time, he believes that the current batch of players will need to achieve much grander scale, with respect to subscribers, as the market is inching closer to an inevitable shakeout.
"I'm seeing growth percentage-wise, but they are working from a very low base," he said, noting that some of the pure play OTT-TV services without the luxury of having a deep-pocketed parent are the likeliest to be exposed to a market correction that could cause them to either shut the doors or seek out a buyer. "That shakeout will occur in the next couple of years," Greeson predicted.
Home in on the opportunities and challenges facing European cable operators. Join Light Reading for the Cable Next-Gen Europe event in London on November 6. All cable operators and other communications service providers get in free!
In the meantime, Greeson is anxious to see how AT&T Inc. (NYSE: T) fares with WatchTV, a sports-free, skinny bundle with more than 30 live channels and a VoD library that's free to mobile customers on AT&T's new unlimited plans and $15 per month on a standalone basis.
"I think that [model] will prove more and more attractive over time," he said. "There could be breakouts because of the sheer volume of people that subscribe to those mobile plans and receive the WatchTV service for free."
He's also keeping tabs on how some mobile giants, including T-Mobile US Inc. , are looking to tie their new 5G networks to service bundles featuring home broadband and pay-TV. (See T-Mobile to Play the Customer Care Card With Layer3 TV and T-Mobile Forming 'Wireless First' TV Strategy.)
"5G offers speeds that are plenty sufficient to support a live, multichannel pay-TV service over a wireless service to the home," Greeson said.
And while it's an interesting exercise to see how the OTT-TV players are stacking up at this stage of the game, eventually the dichotomy between those streaming services and the legacy pay-TV market will be erased as traditional service providers pivot more heavily to all-IP platforms and into an app-based, multiscreen world.
"Eventually this will all just be 'pay-TV'," Greeson said.
— Jeff Baumgartner, Senior Editor, Light Reading
Subscribe and receive the latest news from the industry.
Join 62,000+ members. Yes it's completely free.
You May Also Like
---