As Hurricane Lane dumps record-breaking amounts of rain on Hawaii, and with 2017 being one of the most active hurricane seasons ever, leaving devastation across Texas, Florida and the Caribbean, it seems the right time to consider the vulnerability of cellular and Internet infrastructures, and the difficulty of rebuilding them once destroyed, as was the case in Puerto Rico.
Despite the best intentions of network operators and regulators, bad stuff happens; even with five-nines reliability requirements, if the network gets hit by a natural disaster, or possibly a devastating cyberattack, it may be time to consider a fail-safe mechanism. Even if service providers don't see the need, it seems as if the users do, and they're turning to alternative sources to deliver this.
This loss of communication matters to people because, over the last ten years, the smartphone has fundamentally changed their behaviors and expectations of constant connectivity and access to the Internet. Huge businesses have grown around providing smartphone users such things as e-commerce capability, ride-sharing services, entertainment and the ability to share their lives on social media.
Additionally, smartphones are increasingly providing a remote control for the ever-expanding number of Internet of Things (IoT) devices. When this capability is removed, and the services are disrupted, even for a short while, people find it debilitating, causing emotional angst, as well as having an economic impact.
Motorola's original Dynatac cellphone was nicknamed "the brick" because of its shape and weight; ironically, this nickname stuck, and it's how many people in the mobile industry still think about modern day smartphones without network connections. There persists this myth that, without a network, the device is both useless and worthless.
What is the difference between the original Dynatac brick and today's smartphones? The answer is that today's smartphones have huge compute power, more than 20 sensors, multi-frequency transceivers and multi-protocol capability, including Bluetooth 5, Bluetooth Mesh, WiFi Direct, WiFi Ad-Hoc mode and WiFi Aware; all of these have enhanced smartphones' mesh networking capabilities.
Touchscreen-based smartphones allow easy use of applications to provide users with alternative communications options, leveraging mesh or P2P wireless ad-hoc networks. The networks don't rely on pre-established managed infrastructure; instead, every node participates in routing by forwarding data to other nodes in the network. The ad-hoc nature is a function of a continuously dynamic number of nodes in the network.
One of the most well-known applications of this type of mesh networking is when a government closes access to the Internet, and clamps down on communication, as in the case of the 2011 Arab Spring in the Middle East, and the 2014 Umbrella Revolution in Hong Kong. FireChat, an off-grid messaging app from Open Garden, was used to power the Hong Kong protests and is now a top 10 social networking app in 124 countries. Another leading company in this space is Swiss-based RightMesh.
These applications can and have been used in disaster recovery situations. Also, a complementary approach that some companies have created is a standalone device that connects to smartphones, also via an app, using either Bluetooth or WiFi, and then using long-range terrestrial off-grid connectivity. These dongle-type devices use the Family Radio Service (FRS) and General Mobile Radio Service (GMRS) frequencies at 462 MHz and 486 MHz, the Multi-Use Radio Service (MURS) at 150 MHz, and the industrial, scientific and medical (ISM) band at 915 MHz. Hardware-centric mesh networking is being driven by companies such as goTenna, GoTalkie, Sonnet, GoToky, Beartooth and goTele.
These are the solution that users are turning to -- not only following a disaster but also in preparation for such an event. It has provoked an interest in the potential need for a resilient mesh network layer that underlies the current cellular networks: a user network of solar-powered stationary relays that can operate permanently, or wait patiently until needed. Users can register these devices on a map and forum created by goTenna called Imeshu. The map below shows the distribution of goTenna devices in the US, as of August 20, 2018.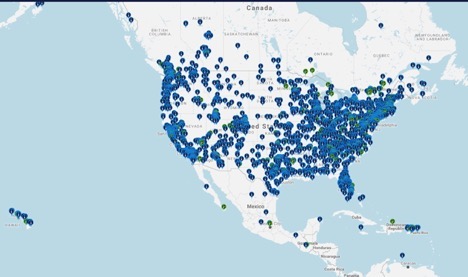 Is there an alternative to these ad-hoc non-cohesive solutions? There are several possibilities, and the cellular industry already has the mechanism to provide one. It could deploy LTE Direct, a device-to-device (D2D) standard that was incorporated in 3GPP Release 12, in 2014. 3GPP LTE Direct was primarily driven by Qualcomm, based on technology acquired when it bought Atheros. At that time, the discussion was about dating applications or advertising that would compete with WiFi Direct. It should be relatively easy to adapt LTE Direct as a fail-safe mechanism.
However, since 2014, very little has been done in terms of trials or implementation. Currently, LTE Direct is not something that chip vendors or device manufacturers see as a requirement. Qualcomm confirmed there is currently no plan to commercialize LTE Direct for smartphones.
Another possibility would be to include an FRS/GMRS radio module in smartphones as a standard offering. Users in vulnerable areas are willing to pay for the added security of a dongle, so this would allow operators to offer their own failover disaster recovery applications. Currently, there appears to be no incentive for any of the traditional parties to move forward with an LTE Direct failover solution. Off-grid communities may develop that bypass operators, resulting in another missed opportunity for them -- unless, in response to public concern or an escalating number of natural disasters, regulatory bodies mandate fail-safe mesh networks that drive the LTE Direct market.
— Steve Bell, Senior Analyst, Heavy Reading