In today's EMEA regional roundup: Nokia and Deutsche Telekom get industrial with 5G in Hamburg; eir revenue falls in Q2; Tele2's busy year; and Orange Business Services snaps up e-health specialist Enovacom .
Deutsche Telekom AG (NYSE: DT) and Nokia Corp. (NYSE: NOK) are to embark on the joint testing of 5G technology in the Port of Hamburg, carrying out various trials of 5G functionality -- such as so-called "network slicing" -- within an industrial context. Applications of the technology within the 8,000-hectare port area will include traffic lights management, data processing from mobile sensors and virtual reality. To facilitate the test program, an antenna has already been installed on the Hamburg TV tower, at a height of more than 150 meters.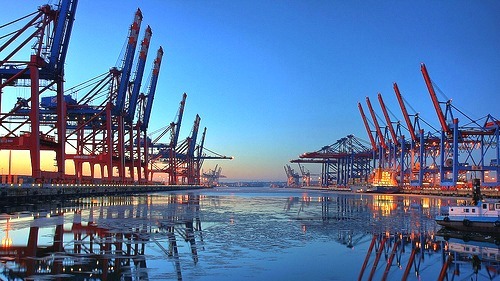 Ireland's incumbent operator eir saw second-quarter revenue fall 2% year-on-year to €322 million (US$402 million), though reported EBITDA, at €122 million ($152 million), was up 1% on last year's figure. The operator, currently the subject of a takeover bid, had to set aside €3 million ($3.7 million) of operating costs during the period to deal with the ravages of hurricane Ophelia. Earlier this week eir announced its decision to pull out of Ireland's National Broadband Plan -- a decision which, as the Irish Times reports, leaves the future of the project in doubt, with only one remaining bidder. (See Eurobites: Openreach Finally Puts 'Fibre First' and Iliad's Owner Swoops on Ireland's eir.)
Tele2 AB (Nasdaq: TLTO) has had a busy year, with the combining of its Dutch operation with that of Deutsche Telekom and the agreement to merge with Swedish cable operator Com Hem. Its fourth-quarter figures show revenue up 4.7% year-on-year to 6.64 billion Swedish kroner ($844 million), and EBITDA up 4.5% to SEK1.52 billion ($193 million). Mobile service revenue for the quarter overall grew by 8%, including the Netherlands portion, though the figure was down 1% on Tele2's home turf, Sweden, as the effects of the EU's "roam like at home" regulation continued to take their toll.
Orange Business Services is to acquire French e-health software specialist Enovacom and fold it into its Orange Healthcare, the unit that aims to help healthcare institutions with their digital transformation strategies. Enovacom, which generated revenues of around €10 million (US$12.5 million) in 2016, has developed software that enables "the exchange, sharing and security of data between all players in the healthcare system... In particular, Enovacom software is used to manage and secure hospitals' electronic exchanges with their various partners." Enovacom's software is already used by more than 1,500 healthcare institutions in France and other countries. The acquisition, for an unknown sum, is set to be completed in the next few weeks.
Elsewhere in the Orange (NYSE: FTE) empire, the operator is teaming up with the CNED (National Distance Learning Centre) to make it easier and less expensive for African students to access education content on their smartphones. (See Orange Teams With CNED on Educational Content .)
BT Group plc (NYSE: BT; London: BTA), which today announced a mixed set of third-quarter results, is to test out a new service that allows sports fans to create "virtual living rooms" in which they can watch the same TV program "together" without actually being in the same physical location. The service in question, Sceenic, won a BT Infinity Lab competition for sports-related innovation. Guys: just find a pub. (See BT Consumer Biz Hits Buffers as Q3 Results Disappoint.)

— Paul Rainford, Assistant Editor, Europe, Light Reading