Both Samsung Electronics Co. Ltd. (Korea: SEC) and Sony Ericsson Mobile Communications have discontinued support for Symbian Ltd. 's open-source operating system, leaving Nokia Corp. (NYSE: NOK) as the only Tier 1 handset maker to offer the OS -- a fate it was trying to avoid.

Samsung wrote on its developer support page that it will discontinue Symbian Support Service as of Dec. 31. It has been clear which OS Samsung favors for a while now as it has spent the year introducing Android smartphones and tablets. Most notably, its Galaxy S series of phones has already sold more than 2 million in the US.

Sony Ericsson, which had previously introduced the Symbian-based Vivaz and Vivaz Pro, confirmed its plans to ditch Symbian to Bloomberg earlier this week as well. Like Samsung, it will move way from Symbian to focus instead on Android and Windows Phone 7.

Symbian has been working hard on distancing itself from its one-time owner, Nokia, so losing two major handset makers won't help its cause. Symbian's new CTO wrote in an unrelated blog post yesterday that as a nonprofit, open-source organization made up of fewer than 100 employees spread across the globe, Symbian's mission and motivations are different from others'. He said that people often forget Symbian is not a commercial company and judge it by those standards.

"I've seen an article recently that said all of the experts and companies sitting on the technology councils are wasting their time," Rubio wrote. "Actually, these councils are the open source mechanism that makes our diverse community truly agile, allowing them to align their interests and collaborate to enhance the Symbian platform efficiently and effectively."


Frag Watch: Android has attracted the lion's share of concern about fragmentation, but on a broader level, the plethora of OSs available could lead to fragmentation for the entire market. That has many predicting "survival of the fittest" for those that can nab market share. Morgan Stanley analyst Mary Meeker says two to three may be the magic number, as decided by the wireless operators and what they want to carry. (See Juniper, Lehman & OS Frag Wars and The OS Outlook .)

Of course, the wireless operators are also considering launching their own OS, making the situation murkier. At the recent midVentureLaunch conference in Chicago, developers stressed that the biggest mistake carriers could make would be to block competitive app stores from their phones. This is something most, like Verizon Wireless , have vowed not to do, but developers in attendance weren't convinced. (See V Cast App Store Comes to Android, App Insights: VZ Wireless Lures With Ad Dollars , and Verizon Outlines App Store Political Spectrum .)


More love for Android: Android is gaining on the iPhone as the most desired smartphone amongst consumers. According to ChangeWave's latest survey , 7 percent more people plan to buy Android in September than the 30 percent who did in June. Those numbers are up from just 6 percent last September.

The iPhone, meanwhile, slipped 12 percent points from 50 percent in June to just 38 percent in September. Satisfaction is high with both brands too. 74 percent of Apple users said they were "very satisfied" with their current phone, as were 65 percent of Android users. Only 24 percent of Windows Mobile phone users felt the same.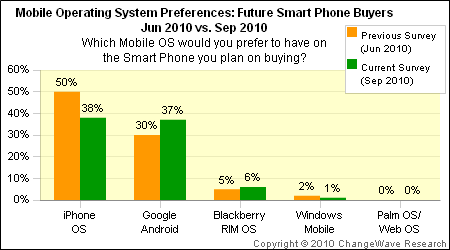 RIM considers QNX: BlackBerry 's next version of its OS may be its last. The BlackBerry-maker announced a slew of updates to the platform at its Developer Conference last week, but hinted that it would adopt QNX Software Systems , the company it acquired and used for its PlayBook tablet OS, for its future phones as well. (See Page From RIM's PlayBook.)

— Sarah Reedy, Senior Reporter, Light Reading Mobile