After securing a beachhead in the retail world, managed, whole-home WiFi products and services are rapidly becoming key weapons in the arsenals of ISPs, both large and small.
Those premium-level services, typically highlighted by WiFi extenders that work in tandem with primary gateways and with software systems that bring smarts to the in-home WiFi network, are emerging as both cable operators and telcos flirt with a new revenue stream that also comes with some important operational side benefits.
Whole-home WiFi services from ISPs are also gaining traction as broadband subscriber growth rates continue to lose steam.
The top US broadband service providers, representing about 95% of the market, added about 800,000 net new broadband subs in Q1 2018, 83% of the 965,000 added in the year-ago period, according to Leichtman Research Group Inc. (LRG) . Among individual MSOs, Comcast Corp. (Nasdaq: CMCSA, CMCSK), the US's largest cable operator, added 379,000 broadband subs in Q1 2018, down from the 429,000 it added in Q1 2017.
While new gigabit-class broadband services present an opportunity for more revenues, ISPs will not be able to simply raise rates to keep the average revenue per user stoked, at least without causing a consumer backlash.
Adding a premium whole-home WiFi service to the mix enables cable operators to extend a lucrative business of leasing access to consumer premises equipment while also enhancing their presence in the broadband customer's home.
In fact, it's becoming a critical part of the core business of home broadband business that can also serve as a retention tactic, explains Jeff Heynen, consulting director at SNL Kagan , a research and market analysis firm that tracks the home networking sector.
"It's a great way to ensure that if you're the broadband provider, you're not just the broadband provider to the door, but to other parts of the home as well," Heynen said. "It's another touch point for a cable operator in what is quickly becoming their most important line of business [broadband] as video services continue to decline and more people go over-the-top."
Owning the home WiFi network -- or at least having deeper visibility into the WiFi network and providing systems that can understand changing traffic conditions and steer tablets, PCs and other devices to the optimal band or channel -- could also prove to be a major operational benefit to cable operators and other ISPs. Since consumers tend to call the ISP whenever WiFi-related troubles arise, having this additional management layer is helpful in troubleshooting problems and reducing the need for costly truck rolls.
Open season for suppliers
For suppliers in the whole-home WiFi game, heated interest among ISPs for whole-home hardware and software combos has created a land-grab of sorts.
And, at this relatively nascent phase of the game, the market appears to be wide open for both startups and well-established suppliers, including AirTies , Eero , Arris Group Inc. (Nasdaq: ARRS), Netgear Inc. (Nasdaq: NTGR), Hitron Technologies Inc. and Plume Design Inc.
And the business model has been all over the board, as some ISPs opt for subscription- and leased-based whole-home packages while others are asking customers to purchase new equipment, such as WiFi extenders, outright.
Canada's Rogers Communications Inc. (Toronto: RCI) is the latest to join the club. Though Rogers has yet to make a big splash about this yet, hiding out in the open is a new offering called Wall-to-Wall WiFi that enables the MSO's modems to work in tandem with WiFi devices and management software from eero.
Earlier this week, WideOpenWest Holdings LLC (WOW) announced it has teamed with eero, initially in Columbus, Ohio, and Pinellas, Fla., with plans underway to expand the offering to other WOW markets later this summer.
Rogers is pitching it as a premium service that runs $9.99 per month for a package that includes one eero hub and one eero beacon, and additional beacon devices for an additional $4 per month.
Rogers's pick of eero came as somewhat of a surprise, given that Rogers is licensing Comcast's X1 platform for a recently launched IPTV service branded as Ignite TV, and in early 2017 indicated in an earnings call that Rogers would also use other consumer premises equipment designed by Comcast, including WiFi extenders.
Comcast is taking a different approach with its xFi-branded WiFi management system and a new line of xFi Pod WiFi extenders that were developed in partnership with Plume.
Plume, which counts Comcast an investor and operates a small, direct-to-consumer retail business, is also a key adopter of RDK-B, the broadband-facing version of the Reference Design Kit (RDK), a preintegrated software stack managed by a joint venture of Comcast, Liberty Global Inc. (Nasdaq: LBTY) and Charter Communications Inc. for gateways and set-top boxes. (See RDK-B Could Revolutionize Home Network.)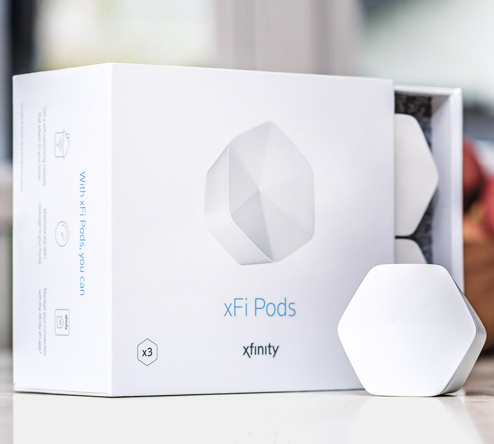 xFi comes standard on Comcast's latest line of broadband gateways, but sells the xFi Pods in three-packs for $119 or in six-packs that run $199 (Comcast plans to give subs a monthly payment plan option for those devices). (See Comcast Unlocks xFi-Powered Smart Home and Comcast 'X1 of the Internet' Arrives.)
Here's a representative snapshot of how some other large- and mid-tier ISPs are working with suppliers on whole-home WiFi services:
Table 1: A Whole Lot of Whole-Home WiFi

ISP/Service
Vendor Partner(s)
Notes
AT&T
AirTies.
Selling AirTies-made 'Smart Wi-Fi Extender' devices for $34.99 each. Designed to work with AT&T's BGW or 5268 WiFi Gateway.
Blue Ridge Communications/HomeFi
eero
$5.95 per month per device, plus a $49.95 activation fee.
Bell Canada
Plume
Four-pack of Plume-made WiFi Pods for $5 per month, and $2 per month for each additional Pod, which are integrated with Bell Canada's Home Hub 3000 modem/gateway.
Comporium Communications/Premium WiFi
AirTies
Two Air 4920 mesh WiFi extenders and management software for $9.99 per month, and $4.99 per month for additional leased devices.
Cox Communications/Panoramic WiFi
Arris
$9.99 per month for package that includes a DOCSIS 3.0 gateway with integrated dual-band 802.11ac WiFi, four-port gigabit router, and MoCA 2.0 support, and additional WiFi Extenders.
Midco
AirTies
$7.95 per month for up to four wireless access points, and an additional $2 per month for additional devices. Midco's web site currently notes that a new whole-home WiFi product is 'coming soon.'
Westman Communications
Hitron
N/A
WideOpenWest/WOW! Whole-Home WiFi
eero
$9.99 per month when bundled with broadband service, and $5.99 per month for each additional eero Beacon device.
(Source: The companies and Light Reading research)
Other suppliers have been getting into the whole-home WiFi act. In February, Nokia Corp. (NYSE: NOK) acquired Unium, a Seattle-based WiFi mesh technology company.
Earlier this year, Calix Inc. (NYSE: CALX) introduced a cloud-managed professional services offering for network operators that features the vendor's 804Mesh satellites/extenders. Hart Telephone, CL Tel, All West Communications are among the early takers. (See Calix Touts Cloud-Enhanced WiFi.)
Heynen said cable operators and other ISPs should also integrate whole-home WiFi into their products as a way to head off Amazon.com Inc. (Nasdaq: AMZN) and Google (Nasdaq: GOOG), noting that it makes sense for them to eventually integrate routers into their smart home product lines.
And becoming astute at whole-home WiFi could also help those service providers target the broader Internet of Things as consumers connect more and more devices.
Save for a smart speaker, Comcast's XB6/Advanced Wireless Gateway, a DOCSIS 3.1 device with dedicated IoT radios (for Bluetooth LE, Zigbee and Thread), is already well down that path, Heynen points out. (See Comcast Aims to Layer LoRa Into XB6 Gateway.)
— Jeff Baumgartner, Senior Editor, Light Reading