The tiny multiple antenna arrays used in the prototype high-band devices starting to arrive in operator and OEM labs present a new wrinkle for device testing: The tiny antennas are too small to performance test in the normal way. (See Azimuth Ties LTE Lab Testing to the Field.)
It is almost a truism at this point to say that millimeter wave (mmWave) brings a whole new set of challenges to a cellular industry bent on deploying 5G as soon as possible. Well, Verizon Wireless hipped Light Reading to another one when we visited their labs in Bedminster, N.J, Tuesday, the elements in a mmWave multiple input and output (MIMO) array require a different approach to testing than has largely held sway for earlier devices. (See Verizon's Fixed 5G: Are You Ready for the Wireless Gig Rush?)
Previously, David Binczewski, on the platform & technology network device evaluation team, said, you would plug up an antenna with an RF cable to test performance. With MIMO this already gets much more difficult, and with ever-growing numbers of teeny-tiny 28GHz antenna elements in an array, it becomes impossible.
"Cables are broken right now," Binczewski said. "We have to do everything over the air." In practice, this means isolating devices in an azimuth chamber and summing the performance of the multiple antennas with testing equipment.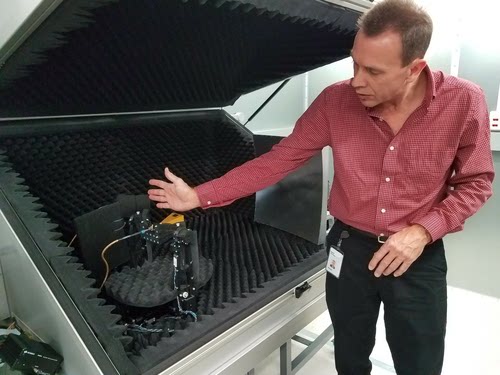 Verizon was checking out 5G test equipment from Keysight Technologies when we visited. Binczewski say they have also examined test gear for 28GHz tests from Anritsu Corp. , Rohde & Schwarz GmbH & Co. KG and more.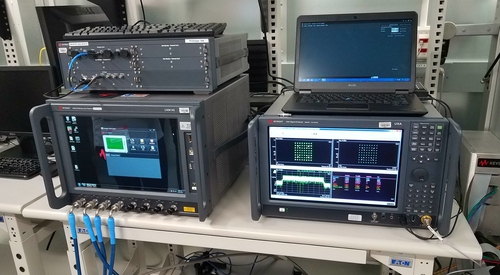 Binczewski had a recent version of a 28GHz Samsung antenna to show off while we were there, but they didn't fire it up.
— Dan Jones, Mobile Editor, Light Reading