In Nationwide 5G, It Will Be AT&T's 700MHz vs. T-Mobile's 600MHz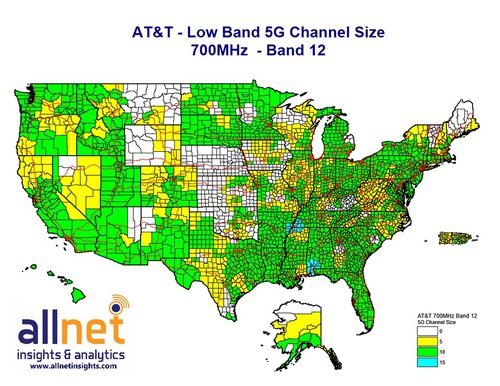 (2) |




It's all about Massive Machine Type Communication

It's definitely all about Massive Machine Type Communication (mMTC) and it's a good strategy for AT&T.

We believe that 5G actually will not be a big deal for consumers - at least not in terms of moving the needle (except higher data speeds needle) when it comes to ROI for the carriers.

Other than IoT applications (supported by mMTC), other 5G categories will be all about business customers (enterprise, industrial, and government). A list of all 5G application categories includes:

Enhanced mobile broadband (eMBB): Mobile broadband based apps will use MEC for more efficient operation. Localized processing will allow apps such as cloud-based gaming to run more smoothly and efficiently due to localized data caching and access to CDNs rather than routing all data through the network core. This will improve overall throughput, reduce latency, and minimize carrier resources needed to support data-hungry apps.
Ultra-reliable low-latency communications (URLLC): MEC will be particularly important in support of latency-sensitive apps and services for various consumer, enterprise, and industrial use cases. The combination of 5G and MEC is expected to reduce network latency significantly, which will enable many previously tethered-only applications and services such as VR, UAV control, autonomous vehicles, real-time remote control, haptic or tactile communications, and more.
Massive machine-type communications (mMTC): MEC will facilitate an entirely new class of low-power devices that rely upon MEC equipment for processing. Stated differently, some IoT devices will be very light-weight computationally speaking, relying upon edge computing nodes for most of their computation needs.

In terms of what apps will be within these categories, here are some illustrative examples:

Enhanced Mobile Broadband (eMBB) includes:

Web browsing
Video
Mobile Office/Productivity (Smart Workplace)
Connected Vehicles
Others (e.g. miscellaneous Smart City apps and services)

Ultra-Reliable Low Latency Communications (URLLC) includes:

Augmented Reality
Virtual Reality
Telepresence (includes Holographic calling)
Teleoperation/Tele-robotics
Autonomous Vehicles
UAV/Drone Operation]
Public Safety
Smart Buildings

The 5G Applications Market is going to have much more reliance upon enterprise, industrial, and government customers, and many of them will go with private networks for their own facilities. Mobile Edge Computing will also be important in support of this market.


DSS

Next year they'll all be using dynamic spectrum sharing which will make this more about who has used 5G ready equipment on existing 4G cell sites.