The Global Mobile Suppliers Association (GSA) released its latest 5G numbers for August, showing continued progress. Specifically, the GSA found a total of 100 announced 5G devices, ranging from phones to hotspots. Moreover, the group said it counted a total of 39 wireless network operators globally that have announced 3GPP-compatible 5G service launches.
In total, the GSA said it has identified 296 operators in 100 countries that have either launched, demonstrated, trialed or have been licensed to conduct field trials of 5G technologies.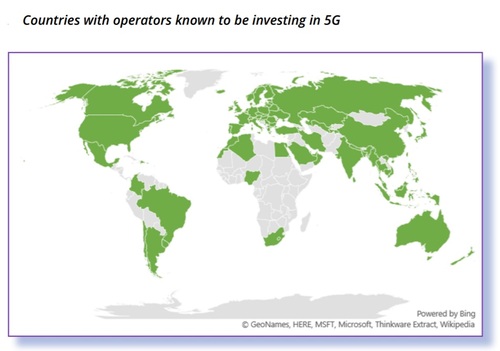 However, interest in 5G is not necessarily an indicator of actual progress. The GSA identified 56 operators in 32 countries that have stated that they have activated one or more 5G sites within their live commercial network. That number doesn't reflect real commercial service offerings, especially since some of those operators may not be selling devices for their services.
Perhaps the best 5G indicator is 39, which is the number of operators that have announced 5G service launches. "Among recent service launches (or limited service launches) are those by three operators in Kuwait (Viva, Zain and Ooredoo), Batelco in Bahrain, T-Mobile and Vodafone in Germany, Vodafone in the UK, Digi Mobile in Romania, Monaco Telecom and Dhiraagu in the Maldives," the association wrote in its report on the topic.
Interestingly, the GSA noted that ten operators are only offering fixed wireless 5G services. Another 15 are offering mobile-only 5G services. The GSA said 14 are offering both mobile and fixed services.
5G devices
Of course, 5G networks are only part of the equation. The other necessary element is devices that customers can use to access those networks, and the GSA said that there had been progress in that area, too: The association counted a total of 100 announced 5G devices so far.
Announced devices are not necessarily commercial devices. Even if they do make it to virtual or real store shelves, those devices might never be widely available.
That said, here are the commercially available 5G devices, at least in terms of distinct gadgets, as detailed by the GSA's latest report from August:
HTC 5G Hub (hotspot)
Huawei 5G CPE 2.0 (indoor and outdoor customer premises equipment, or CPE)
Huawei 5G CPE Win (outdoor and window CPE)
Huawei 5G CPE Pro (indoor CPE)
Huawei Mate X (phone)
Huawei Mate 20x 5G (phone)
Inseego R1000 Home Router/MiFi IQ 5G (fixed wireless indoor CPE)
Inseego MiFi M1000 5G Mobile Hotspot (hotspot)
LG V50 ThinQ (phone)
Motorola 5G Moto Mod Snap-on (dongle)
Netgear Nighthawk M5 Fusion MR5000 (aka Nighthawk 5G Mobile Hotspot) (hotspot)
Nokia Fastmile 5G Gateway CPE (indoor/ outdoor CPE)
OnePlus OnePlus 7Pro 5G (phone)
Oppo Reno 5G (phone)
Percepto Drone-in-abox (drone)
Samsung SFG-D0100 (indoor CPE)
Samsung Galaxy S10 5G (phone)
SIMCom Wireless SIM8200- EA-M2 (module)
SIMCom Wireless SIM8200G (module)
Xiaomi Mi Mix 3 5G (phone)
ZTE Axon 10 Pro 5G (phone)
ZTE 5G Indoor CPE MC801 (indoor CPE)
— Mike Dano, Editorial Director, 5G & Mobile Strategies, Light Reading | @mikeddano