BARCELONA -- MWC 2018 -- On an increasingly global scale, Facebook and its fellow Telecom Infra Project (TIP) operator partners are taking on the challenge of connecting unserved areas via a number of collaborative efforts. At today's Facebook press conference, Jay Parikh, Head of Engineering and Infrastructure for Facebook, joined five operators on stage to highlight new Telecom Infra Project (TIP) initiatives to connect rural areas in regions such as Africa and Latin America, make upgrades to Facebook's Terragraph technology, expand to the OpenCellular platform and grow its TIP Ecosystem Acceleration Centers (TEAC).
"There isn't one solution that can solve connectivity for everyone around the world," said Parikh, offering an overview of the results of recent efforts with TIP partners -- now totaling 500 -- to address such industry challenges as global disparity in network connectivity. Parikh was joined onstage by Alex Choi, Senior VP of Research and Technology Innovation with Deutsche Telekom AG (NYSE: DT); Johan Wiberg, Group Technology Officer for Vodafone Group plc (NYSE: VOD); Ruza Sabanovic, CTO of Telenor Group (Nasdaq: TELN); Emmanuel Lugagne, Senior VP of Orange (NYSE: FTE)Labs Networks; and Juan Carlos Garcia, Director of Technology & Architecture for Telefónica . (See Facebook Highlights Terragraph, Rural Connectivity at MWC.)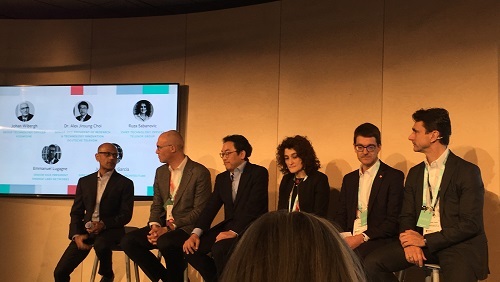 Launched several years ago, Facebook's Terragraph millimeter-wave technology is now undergoing field trials by operator partners – the technology can be deployed in urban environments that require higher bandwidth, said Parikh. Deutsche Telekom's subsidiary Magyar Telekom plans to test Terragraph technology in Budapest while Telenor will trial the technology in Kuala Lumpur.
In addition, Facebook is collaborating with Intel and RADWIN to produce a reference design for a Terragraph certified solution. Deutsche Telekom's Choi said the Terragraph technology could enable a number of future mobile services for autonomous driving and smart city use cases, for example.
Further, Facebook announced a joint trial of its OpenCellular platform in the rural highlands and islands of Scotland with BT, Nokia and Cavium to demonstrate interoperability between the platform and Nokia's community hosted network. Facebook has also collaborated with Intel and Radwin on the reference design for a Terragraph-certified solution.
Parikh noted that OpenCellular -- a low-power base station for rural or underdeveloped areas -- continues to make progress in existing trials. Vodafone is trialing the technology in South Africa and newer TIP member Telenor is conducting tests in Pakistan -- Telenor will also be conducting Terragraph trials in Malaysia. Vodafone's Wiberg says the operator plans to expand to 200 base stations in South Africa and India by Q2.
---
You're invited to attend Light Reading's Big Communications Event -- the ONE event that delivers fresh perspective on the rapid transformation of the telecom industry and the road ahead. We'll see you May 14-16 in Austin -- communications service providers get in free!
---
Telefonica and Facebook are targeting rural communities in Peru to connect 20,000 people, which requires developing a new operating model for rural access, said Parikh. Lessons from addressing the connectivity challenges in Peru will also be applied to future connectivity efforts in Africa, he added.
"When you go to rural, you have to change the operating model, you need to start working with local partners... that can help you in delivering the deployment and operation of networks in that environment," said Telefonica's Garcia about connectivity efforts in Peru. "It's also important to work with regulators and public administration so they can facilitate work with the rural mobile infrastructure operators."
The TIP Ecosystem Acceleration Center (TEAC) program, launched about a year ago, continues to expand as operators carry out their digital transformations -- Orange Labs Networks' Lugagne says the service provider has embarked on its first round with TEAC by collaborating with four selected startups focused on such areas as RAN networks, WiFi management and hardware for data centers.
"They bring agility, new skills -- we are quite excited to launch the second round of TEAC and areas of interest are artificial intelligence, virtualization and automation," said Lugagne.
— Kelsey Kusterer Ziser, Senior Editor, Light Reading