Africa's Data Dilemma
Africa's Data Dilemma
African telcos can no longer depend on subscriber growth and voice services for their prosperity. So now they need a much greater focus on data services and that shift may force them to change beyond recognition. When Nigerian authorities unnerved by terrorism this month slapped a $3.9 billion fine on MTN, the country's biggest telecom operator, for not disconnecting unregistered mobile phone users as instructed, other African telcos will have taken fright. Reduced from an original charge of $5.2 billion in November, the fine still equated to about 1.5 times what MTN made last year in post-tax profit. In penalizing MTN so heavily, Nigeria may have inadvertently dealt another blow to a regional industry that already bore some bruises. (See Eurobites: MTN Shares Suspended After $5.2B Fine.)
Across the entire continent of Africa, service providers are facing a sandstorm of difficulties, including tough regulation, local currency weakness and a lack of the fixed-line infrastructure needed to prop up the mobile data networks of the future. The imposition of more punitive measures in one of the region's biggest markets will only add to investor concerns.
Figure 1: Happy Texting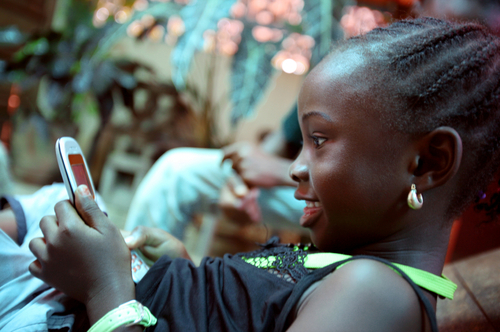 Text messaging is widely used in Africa, but the availability of Internet messaging services on lower-cost smartphones poses a threat to this business.
No doubt, Africa is currently witnessing a surge in the usage of mobile data services driven by the availability of lower-cost smartphones, making it an enticing prospect for equipment vendors flogging next-generation network gear. Yet this data boom has still not translated into substantive sales and earnings growth for many of the region's players. "Monetizing data is an issue," says Tracy Kivunyu, a research analyst with Africa Alliance Kenya Investment Bank. "You have to have a high-quality network to support the data traffic, subsidize handsets to ensure that smartphone penetration grows and provide content."
In many cases, growth in data revenues has simply not been sufficient to compensate for a decline in the mainstream voice and text-messaging business. Because increasingly few Africans lack mobile phones, many operators can no longer rely on subscriber growth to fuel a sales increase. Instead they need to get existing customers to spend more on services. But the unfortunate reality is that subscribers are spending less.
Figure 2: Evolution of ARPU over the 2005 to 2015 Period, African Average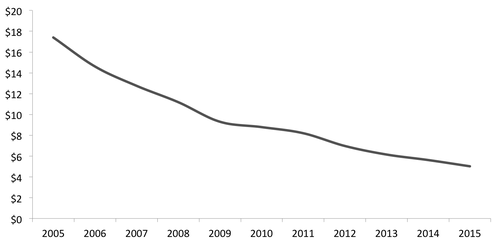 Note: Estimates based on 35 African markets. Source: Xalam Analytics.
While this trend is not unique to any region, it is perhaps more pernicious in Africa than elsewhere. Operators in North America, Europe and much of Asia have been relatively successful in shepherding customers away from usage-based tariffs and on to contracts that place a floor under monthly expenditure. At the same time, they have been able to ensure that a collapse in the value and usage of traditional voice and text-messaging services would have almost no impact across a large segment of the customer base. African operators, by contrast, look hugely exposed.
MTN Group Ltd. , for instance, still identifies more than 80% of its customers as prepaid users, who only make payments when they are actually using services. In the case of Bharti Airtel Ltd. (Mumbai: BHARTIARTL), which operates in 17 African markets, only 0.6% of customers are not on these kinds of tariffs. This leaves those operators and others like them extremely vulnerable to falls in per-minute pricing, forced down by competition and regulation, and to a drop in actual service usage.
So far, a decline in minutes of use by voice customers has not been an industry-wide problem, according to a study carried out by Xalam Analytics, Heavy Reading 's Africa and Middle East research unit. Indeed, Xalam's research shows that minutes of use have continued to rise overall. The trouble is that prices have tumbled under pressure from competition and regulation. "We have seen over the last quarter that our competitors have been very aggressive both on voice and data," said Sifiso Dabengwa, MTN's erstwhile CEO (forced to quit in November after MTN was hit with the original $5.2 billion fine), when discussing the Nigerian business during a recent earnings call. "There is no reason that we would expect that will change."
Figure 3: Evolution of Average Revenue Per Minute for Sample African Operators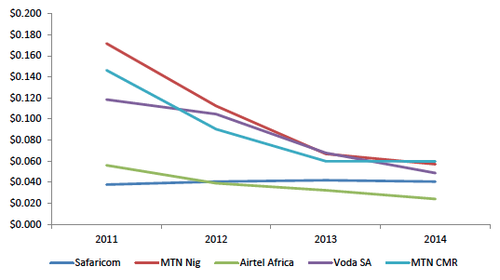 Source: Xalam Analytics
In 12 of MTN's 17 African markets, average revenue per user fell (ARPU) in local currency terms between the third quarter of 2014 and the same period this year. And due to currency weakness, only two countries (Liberia and Sudan) registered growth in dollar terms. Airtel Africa, meanwhile, saw ARPU drop from $4.7 to $4.3 per month over the same period in constant currency terms, even though minutes of use soared by 20%. In the case of Vodacom Pty. Ltd. , which has networks in five African markets, ARPU shrank from 71 South African rand ($4.9) per month in the July-to-September quarter of 2014 to ZAR69 ($4.8) in the same period this year. Two years ago, the figure had been as much as ZAR78 ($5.4).
Next page: Web worries
Web worries
Pushing services into more disadvantaged communities is clearly to blame for some of this shrinkage. But the big worry now is that rising adoption of Internet telephony and messaging applications, provided by the likes of WhatsApp and Viber, could force minutes of use into decline. The pricing models and prepaid skew of African markets makes these players a much bigger threat to operators in that region than to service providers in Europe and the US, says Guy Zibi, chief analyst at Xalam Analytics. "In Europe and the US your bill is more or less set each month but in Africa that's not the case," he explains. "If you are spending $10 or $15 a month and you start using WhatsApp that $10 or $15 goes to $5, so operators are very vulnerable."
Unfortunately, a major arbitrage opportunity still exists, according to Xalam. Its research indicates that African mobile customers can save anywhere between 40% and 99% of the cost of a normal on-net voice call during peak hours by instead purchasing a data pack and using Viber, WhatsApp or another Internet telephony service.
Figure 4: Voice Versus Data Price Differentials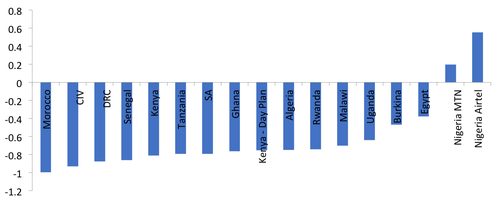 Note: Chart indicates data calls are cheaper in all markets bar Nigeria; based on data bundles valid at least 7 days; data price based on cheapest price per MB bundle available from the market's largest operator; differential assuming a 3-minute call at 12pm; using in-bundle rates. Source: Xalam Analytics.
This dynamic is surely contributing to the mistrust that exists between operators and web players, with few signs of functional partnerships. Viber has shown little interest in collaboration, according to Zibi, while it can still profit from casting itself as an alternative to expensive telecom services. "Some OTTs [over-the-top players] are listening and willing to discuss but most don't seem that interested unless there is a deal that totally favors them," he says.
With few examples of successful partnerships so far, there is a big question mark over what kinds of arrangement could work in future. Facebook is trying to persuade more operators to join its Internet.org initiative, whose stated goal is to make the Internet more accessible to people in emerging markets. "You can imagine the importance of Facebook to subscribers in the 16-25-year-old age bracket," says Kivunyu. "If done for a particular period, to attract the customer and instill the practice of data usage, this may be quite beneficial for MNOs [mobile network operators] to monetize data."
For all the latest news from the wireless networking and services sector, check out our dedicated mobile content channel here on Light Reading.
But many operators have balked at allowing customers to access some web services free of charge (as Internet.org requires), perhaps unconvinced this would spur usage of other data services and boost revenues accordingly (as Internet.org insists). That Facebook now offers its own Internet telephony and messaging features may be a further deterrent to deals. (See Facebook in Africa: Beauty or Beast?.)
"I'm not totally enthusiastic about this," said Marc Rennard, the deputy CEO of France's Orange (NYSE: FTE), during a conversation with Light Reading about Facebook's scheme in July. "At the end of the day someone has to pay for the bandwidth. I've never seen free lunch in a restaurant."
Next page: Orange strategy bears fruit
Orange strategy bears fruit
For Orange, Africa and the Middle East has so far been a relatively bright spot. In its last earnings report for the July-to-September quarter, the French incumbent, which has networks in 16 African markets, flagged a 6.8% year-on-year increase in revenues from Africa and the Middle East, to about €1.3 billion ($1.4 billion), and it remains confident of growing them by 20% between 2014 and 2018. (See Orange Aims for 20% Sales Growth in Africa.)


Orange has flourished partly by focusing on countries where there is still some room for customer growth. It has also been skirting or exiting markets where conditions look unfavorable and there is limited opportunity for it to become the market leader or number-two player. Annoyance with local regulation, which it blames for hampering its progress, recently prompted it to quit Kenya, for instance. "The regulatory situation is not acceptable," said Rennard in July, four months before Orange finally sold the Kenyan business to Helios, a private equity firm. "You have a dominant player in Safaricom and others don't make a profit."
Figure 5: Orange's African and Middle Eastern Footprint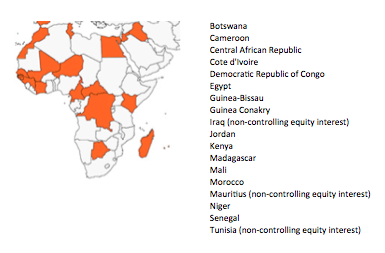 Source: Orange.
Elsewhere, the operator's introduction of mobile money services, such as remittances, has also met with success. According to Ramon Fernandez, Orange's chief financial officer, mobile money services currently generate about €50 million ($54 million) annually, but that figure is expected to grow to around €200 million ($216 million) by 2018. One plan is to expand service availability to non-African markets so that customers can send money from West Africa to parts of Europe with relative ease. "It's not difficult to monetize because we are much cheaper than other means such as Western Union," says Rennard. "We may have difficulty selling services like Internet but not Orange Money."
Even so, Orange is hardly immune to the problems that affect other players. Although its numbers have held up better than those of some rivals, ARPU has been declining in a selection of West African markets, including Cameroon, Cote d'Ivoire and Senegal. While data revenues have been growing at an impressive clip, Orange does not appear to have hit on any kind of magic formula for popularizing data services without exposing itself to arbitrage risks. Unhappiness with the web players extends beyond Facebook's Internet.org scheme. "OTTs want to use our network without paying us," says Rennard. "They say your customers want Facebook and Google and we say you use lots of bandwidth and have to pay something -- it's a permanent debate."
That bandwidth comes at a premium in Africa is hardly surprising. In Europe, operators tiptoeing towards a 5G future are becoming increasingly dependent on the availability of high-speed fiber links. Yet despite the rollout of submarine cables off the coastline, much of Africa's interior remains virgin territory to fixed-line equipment makers and service providers. "It is difficult to build fiber cables because the size of the continent is huge," says Rennard.
Moreover, the absence of fiber is not the only infrastructural challenge. Even in comparatively well-off and well-developed South Africa, electricity was unavailable to about 15% of the population as recently as late 2014, according to Alphonzo Samuels, the chief technology officer of Telkom SA Ltd. (NYSE/Johannesburg: TKG), the country's fixed and mobile incumbent. Speaking at the Broadband World Forum (BBWF) last year, Samuels also complained about authorities' failure to release sub-1GHz spectrum to the telecom industry. Because signals can travel at long distance over those airwaves, they would allow mobile operators to serve rural areas far more economically than with existing spectrum licenses.
Both Telkom and Orange believe more network sharing could help operators to overcome some of these hurdles. Although African operators have made joint investments in submarine capacity, they have appeared less willing than players in Europe to share terrestrial networks. One concern may be that competition will suffer if operators pool resources. Yet network sharing could massively reduce the cost of building broadband networks in rural areas. Orange's Rennard sounds surprised the model has not already taken off, while Samuels believes it could help South Africa to realize a target of giving everyone access to a basic broadband connection by 2020 under the country's Vision 2020 plan. "If we can find a good business model based on infrastructure sharing, while everyone is going after the same customers, we could get South Africa ready for Vision 2020," he said during his BBWF presentation last year.
Next page: A pan-Africa plan
A pan-Africa plan
In the absence of network sharing with rivals, Orange is eager to share more network infrastructure between its African subsidiaries. In July, the operator announced plans to set up network-monitoring facilities in Dakar (Senegal) and Abidjan (Cote d'Ivoire) that would look after its operations in ten West and Central African markets. The chief aim is to reduce indirect costs, which have been climbing as revenues have grown (although Orange's EBITDA margin across Africa and the Middle East held steady at 34% in the first half, compared with the same period last year). But the initiative suggests Orange is ultimately looking to exploit New IP technologies that promise more than just efficiency benefits.
Orange has disclosed few details so far but clearly has an opportunity to develop a "pan-net" capability in West and Central Africa that resembles the approach being taken by Deutsche Telekom AG (NYSE: DT) in central and eastern Europe. By replacing the production centers catering to individual markets with more sophisticated and centralized facilities serving an entire region, the operator could cost-effectively launch the same services across a number of countries with the kind of agility usually associated with web companies. The ability to de-risk experimentation with new service offerings, in particular, could have enormous appeal given the immaturity of Africa's data and enterprise communications markets.
Orange is already making moves that are consistent with such a strategy. Determined to migrate all of its customers worldwide on to all-IP networks by 2020, it has been carrying out a pilot of all-IP service offerings in Mauritius. It also seems eager to beef up its presence in West and Central Africa through takeover activity, having earlier this year entered into talks about acquiring networks in Burkina Faso, Chad, Congo Brazzaville and Sierra Leone from Bharti Airtel. "Orange is already present in surrounding countries, so there would be non-negligible cross-border synergies," says Xalam's Zibi, who agrees that Orange might even be interested in buying additional African assets from the Indian operator. (See Orange Lauds Attractions of Airtel Africa Deal and Bharti Airtel: Out of Africa?.)
Publicly stated goals/benefits

All-IP core network already built

Simplifying estate; replacing legacy networks; saving costs

Operator claims 21CN project achieved all-IP-to-exchanges target and that current initiative will take all-IP to premises

Macedonia, Slovakia and Croatia are all-IP

Service agility; cost savings ( euro 1.2 billion ($1.3 billion) by 2020 from use of cloud-based technology)

All-IP move is designed to support a major reduction in the number of service platforms Deutsche Telekom maintains across Europe, from about 650 before the process began to just 50 at its conclusion

Optimization for very high data volumes; reduced complexity; faster time to market

"To support our best-in-class access services, we continue to move towards an all-IP network," said KPN in 2014 annual report. "Moving towards a single IP core is needed to ensure best-in-class integrated services"

All broadband services in Mauritius are all-IP

Improved user experience; better scalability, security and energy efficiency; enabling development of new services

All-IP pilot under way in Mauritius, which was chosen, says Orange, because of its "size, the representativeness of the different markets, such as residential, enterprise and mobile, and the presence of all services and technologies"

>25% of connections; >33% of customers

Enabling cost-effective use of new services; offering services irrespective of type of access technology

Has migrated data transport network to IP, commissioned IP-based telephony and multimedia platform and been offering IP-based services since 2009

Migration from PSTN to all-IP under way

All-IP forms a part of network transformation Telefonica is carrying out

All fixed voice customers in Austria on all-IP

To overcome the problem of technology obsolescence related to the use of legacy networks

Has revealed that another subsidiary will shortly make an announcement on all-IP conversion

Source: Goldman Sachs, operators, Light Reading.
Deutsche Telekom reckons it will be able to reduce the number of service platforms it maintains across Europe from 650 to just 50 as a result of all-IP migration. While Orange undoubtedly operates far fewer platforms across Africa, it will be keen to ensure they do not proliferate as it rolls out new data and enterprise offerings. Moreover, analysts in the financial services industry reckon all-IP could provide a strong rationale for cross-border takeover activity. The idea is that a service provider could boost revenues and profit margins by acquiring networks and then dispensing with systems and staff it would have needed in a pre-all-IP world. (See DT Completes All-IP Move in Croatia.)
Clearly, African service providers besides Orange will be looking to take advantage of virtualization, 5G and other advanced network technologies as data services become increasingly important to their businesses. The trick will be combining the rollout of those technologies with the introduction of future-proof pricing models, and using New IP to help mitigate the danger posed by OTT players. If service providers can pull that off, Africa could shine for a long time yet.
— Iain Morris,

, News Editor, Light Reading
Subscribe and receive the latest news from the industry.
Join 62,000+ members. Yes it's completely free.
You May Also Like
---