Microsoft Azure Stack, SQL Server 2017 Emphasize Hybrid Cloud
Microsoft Azure Stack, SQL Server 2017 Emphasize Hybrid Cloud
At the start of Ignite, Microsoft is planning to emphasize its role in building out hybrid clouds with the release of Azure Stack, SQL Server 2017 and other offerings. When Microsoft kicks off its Ignite conference Monday in Orlando, Fla., the company plans to put a big spotlight on hybrid cloud.
First and foremost is the release of Azure Stack, Microsoft's private cloud and on-premises offering that contains many of the same features found in the company's public Azure cloud platform. Originally slated for release in 2016, Azure Stack will finally start shipping to customers on September 25, and the first partners include Dell EMC, Hewlett Packard Enterprise and Lenovo. (See Microsoft's Azure Stack Creeps Closer to Release.)
With Azure Stack, Microsoft is looking to stake its place in the hybrid cloud market by offering platforms for public and private clouds, as well as those looking to mix the two in a multi-cloud environment. (See Microsoft's Azure Stack Is Useful but Not for Everyone.)
While Microsoft trails Amazon Web Services in terms of public infrastructure-as-a-service (IaaS), the company is making a strong run at locking up second place in the market for a long time to come. With the release of Azure Stack, Redmond is looking to further expand its cloud footprint, especially in a space where Amazon has only started playing recently -- on-premises data centers and private clouds.(See VMware Launches Amazon Cloud Support.)
Microsoft is looking to take advantage of its edge in enterprise applications. AWS is adding those to its portfolio, but Redmond has an installed base of enterprise customers going back decades.
"The beauty of the Azure Stack is that it can arrive on-premises that day, and a few short hours later you can basically have a basic hybrid cloud stood up that's not just infrastructure but it's all the application services, it's your data platform, your identity and your end-to-end cloud," Scott Guthrie, executive vice president for Microsoft's Cloud and Enterprise Group, said before the September 25 announcement.
Figure 1: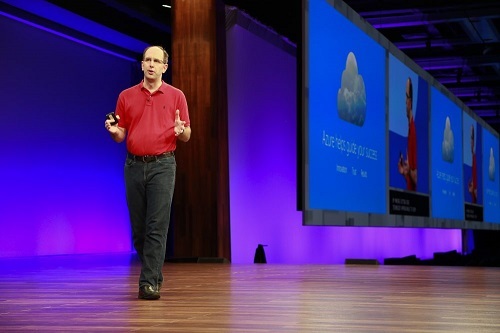 Scott Guthrie, cloud and enterprise group EVP, speaking at Microsoft Build earlier this year.
(Source: Microsoft)
In his remarks, Guthrie said that the hybrid approach is the only way to get most out of what cloud offers to the enterprise, but it's more than infrastructure. Businesses need to leverage data, as well as business applications, which is where Microsoft has played for years.
"Every organization out there has existing investments and the cloud vendor that is able to enable those customers to leverage their existing investments, both in terms of the software and hardware that they have, but also the people investments that they have is really going to be the one that differentiates and be best for the enterprise," Guthrie said.
In addition to Azure Stack hitting general availability, Microsoft is finally releasing SQL Server 2017. The database, which works with Windows, Linux and Docker, has been in release candidate since July.
Keep up with the latest enterprise cloud news and insights. Sign up for the weekly Enterprise Cloud News newsletter. With the release of SQL Server 2017 on Monday, Microsoft is emphasizing the security aspects of the database, which includes support for the company's own Active Directory. Additionally, there is support for Transport Layer Security (TLS) protocols, which allow developers to encrypt data that goes between the DB and the application. For additional security, the company is releasing Azure Security Center, which uses Microsoft's Intelligent Security Graph, and offers security recommendations and threat detection for on-premises cloud deployments. In addition to the GA release of SQL Server 2017, Microsoft is also planning to roll out a Database Migration Service along with a SQL DB Managed Instance to allow users to move on-premises SQL databases to the Azure SQL DB; a new tier for its SQL Data Warehouse to handle analytics; and what the company calls Azure Hybrid Benefit for SQL Server, which maximizes licensing. To further the hybrid cloud offerings, Microsoft also intends to release Azure Cost Management to allow customers to gauge how much they are spending on cloud services. The technology comes from Cloudyn, which Microsoft acquired earlier this year. (See Microsoft's Cloudyn Buy Boosts Multi-Cloud Strategy.) In keeping with Microsoft's artificial intelligence push, Guthrie is planning to preview what the company is calling Azure Machine Learning, a series of tools to help deploy machine learning technology to the public cloud, private cloud or at the edge of the network. Finally, Microsoft plans to offer CosmosDB, a globally distributed database that the company developed in-house, with Azure Functions, which is Microsoft's version of serverless computing. (See Microsoft Azure Beefs Up Cloud-Based Database Support.) Related posts:
IBM, Microsoft Rank in Blockchain Survey Microsoft Azure 'Confidential Computing' Secures Data In Use AWS, Azure Dominating Multi-Cloud Expansion – Study — Scott Ferguson, Editor, Enterprise Cloud News. Follow him on Twitter @sferguson_LR.
Subscribe and receive the latest news from the industry.
Join 62,000+ members. Yes it's completely free.
You May Also Like
---