 Startup Skylo Technologies is planning to deliver a global narrowband IoT (NB-IoT) network for mobilizing machine data collected from agricultural equipment, transport infrastructure, and more, starting in summer 2020.
The company has developed a different way of rolling out NB-IoT LTE networks, using geostationary communications satellites to connect numerous Skylo Hubs (or gateways) on the earth. The hubs are 8-by-8-inch boxes that can be installed on fishing boats, in railway carriages, as well as other machinery, Skylo says.
"We asked, 'What would it take to create a global fabric of connectivity for machines?'" co-founder and CEO Parthsarathi Trivedi tells Light Reading.
Figure 1: Skylo Connected Truck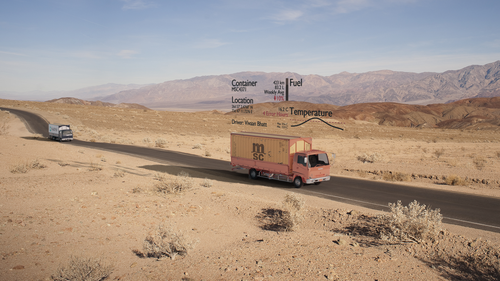 Trucking is one of the industries that Skylo imagines its product could be used in.
(Source: Skylo)
The startup was founded in 2017 and has offices in San Mateo, California, Tel Aviv, and Bangalore, India. The company has been funded to the tune of $116 million by SoftBank Group, DCM and Innovation Endeavors, a VC firm from former Google CEO Eric Schmidt.
"To truly build a ubiquitous network it's got to be satellite-based," Trivedi says. So far, Skylo offers minimal detail on the satellite systems or the Skylo hubs that support the NB-IoT network. Trivedi says the network operates on "standard 3GPP-defined bands in addition to specific satellite MSS bands."
The CEO also says the satellites don't require the installation of additional equipment to bounce the NB-IoT signal down to the hubs on the ground. "Think of them like a mirror," Trivedi says of the satellite's role in the new network.
Skylo claims to cost 95% less than existing satellite solutions, with connectivity starting at $1 per user and hardware that costs less than $100. The company describes itself as "building the most affordable and accessible network to mobilize the world's machine data."
State-owned Indian telecommunications company BSNL is working with Skylo on the IoT technology. Some of the early work between the two involves using Skylo's network to get real-time text messages from polling stations in Shella, India.
Skylo has also tested its pre-launch network in fishing boats off the Indian coast.
Why this matters
Skylo has upped the ante by developing a machine data network that can work globally. There are already cellular NB-IoT LTE networks operating in many locations: In 2020, countries like India are coming online with machine-to-machine (M2M) technology from carriers that include Airtel, Reliance Jio and Vodafone Idea.
Subscribe and receive the latest news from the industry.
Join 62,000+ members. Yes it's completely free.
You May Also Like
---