There's a major land grab taking place in cities across the country. As towns slowly but inexorably move toward smart city status, rival companies and organizations are racing to be the first to network these cities, power the applications that improve civic life and collect the data that new digital systems make available on local resources and behavioral patterns.
Some of the biggest names in tech and telecom, including Alphabet Inc. , AT&T Inc. (NYSE: T), Microsoft Corp. (Nasdaq: MSFT) and Verizon Communications Inc. (NYSE: VZ), are betting big on the future of smart city development. But as with any new market, there's also an opportunity for smaller companies to join the fray.
SmartWorks Partners is one such company in the smart city space, and it has the potential to be a disruptive force as it aims to create the national standard for software that aggregates and maps cities' digital assets. The company already boasts Columbus, Ohio as a customer, and that capital city just won the federal government's Smart City Challenge. (See Gigabites: Google Fiber Goes Wireless.)
CNX is also working with the city of Nashville, Tennessee, and with the state of Kentucky.
The information that CNX collects today is everything a telco provider could want: land use data; utility pole records; maps of existing broadband network infrastructure. CNX doesn't just collect the information, though, it provides a visual interface to the data and a powerful search function.
Say a carrier wants to figure out where to place small cells within a five-mile radius of City Hall. The CNX platform can perform a search within that geographic range to show what assets are available to support a small-cell deployment. Different data sets can be displayed on top of a rendering of the region just like old-style transparencies layered on top of a printed map.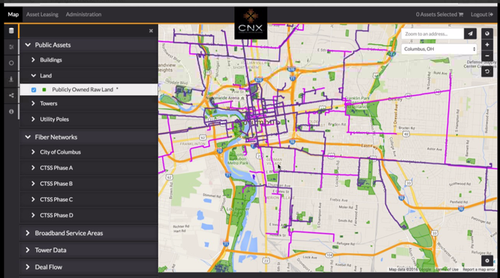 In the vendor's work with Columbus, the CNX platform is specifically being leveraged as a tool for transacting with private service providers interested in leasing the city's publicly owned fiber. CNX uses the software in leasing negotiations and makes its money through a revenue-sharing agreement with the city.
While leasing fiber is the initial business case, however, there are plenty of additional applications for the CNX solution. The platform can be used to attract new infrastructure deployments, as many cities are trying to do now with Google Fiber Inc. And it can be used in architecting the networks that will support new smart city applications. (See Google: Gigabit Hopefuls Need to Do Homework.)
---
Want to know more about the Internet of Things and smart cities? Check out our dedicated IoT content channel here on Light Reading.
---
For example, cities could use the software platform to help determine where to place sensors and wireless access points. Alphabet subsidiary Sidewalk Labs is working with New York on the LinkNYC initiative to install kiosks supporting gigabit wireless internet around the city. Sidewalk Labs is also reportedly courting Columbus for a similar project and has already promised to provide Flow, its new transportation coordination platform, to Columbus for free. Flow will manage and analyze data from smartphones, as well as new sensor deployments. (See Alphabet Wants to Network the Nation's Cities.)
CNX confirms that its software could be used to help Sidewalk Labs decide how and where to install kiosks and other sensors in Columbus. CEO Brian Mefford says that his company has "just recently been introduced" to Sidewalk Labs, but there's not a lot to report on that front at the moment.
Even if Sidewalk Labs doesn't end up formally partnering with CNX, the city of Columbus can still use CNX as a collection point for data about where kiosks and sensors are ultimately placed.
"At a minimum, this provides the starting point for the aggregation, and the visualization, more importantly, of the relevant city-side data," says Mefford. "So whatever the other application is, Flow or... locations for sensors, or placements of kiosks, those locations can be dropped into here and then immediately the city's able to visualize what assets are in place that support that."
Mefford notes that the CNX solution is scalable too and says that the company has learned how to work with cities to populate the CNX platform with relevant information upfront. He estimates that the process takes only two to three months at this point before a city is ready to push the platform live.
The value proposition appears to be compelling because CNX says it is already in advanced discussions with a handful of states about rolling out the software platform on behalf of their cities. "We certainly want this to be a national platform," comments Mefford.
CNX appears to have a good head-start on that goal. With several customers already under its belt and a new focus on Columbus, Ohio after the Smart City Challenge, CNX has staked out a strong claim along the smart city frontier.
— Mari Silbey, Senior Editor, Cable/Video, Light Reading