The future looks a little rocky for the smart home market.
According to a new report by Argus Insights, consumer demand for connected home devices like smart thermostats and door locks has slowed dramatically in the first half of this year. Argus estimates that demand is actually 15% below where it was in May 2014 thanks in part to reliability issues, consumer confusion and the fact that early adopters have already made their initial purchases and have no need to spend more money right now.
"Consumers are not seeing the value yet from these home automation devices," said John Feland, CEO and founder of Argus Insights. "There is a lot of confusion about standards with Google introducing Brillo and Apple's new HomeKit. Add in WiFi, Bluetooth, Zigbee and Z-Wave and there is a lot for any consumer to grapple with during installation. Until things become easier and consumers don't have to cobble together a total solution, I believe we will continue to see this stagnation continuing for the rest or 2015 unless a new offering addresses these issues and revitalizes the market."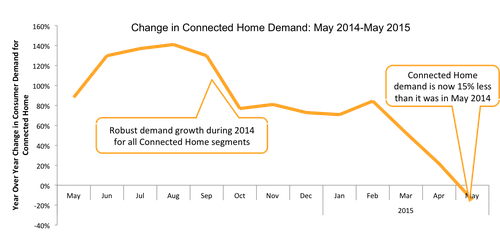 Veteran analyst Michael Wolf of Next Market Insights is seeing a similar trend. In a blog post this week, Wolf predicted that "we're in for a little turbulence in the smart home market." Wolf's reasoning is that early success with individual products hasn't translated into sales of broader systems with smart home hubs, suggesting that consumers aren't ready yet for the broader vision of a connected home.
At the same time, makers of standalone smart home products are likely now at risk because many are not yet connected into a larger ecosystem.
"If you don't already know (but I think you do by now)," said Wolf in his post, "hardware is hard folks. It can eat the best entrepreneurs alive, and in new categories that require market education, it can be doubly treacherous."
---
Want to know more about the smart home market and the Internet of Things? Check out our dedicated IoT content channel here on Light Reading.
---
Wolf likened the smart home market in some ways to the early days of streaming video circa 2004, saying "we in the industry knew at some point consumers would stream video and other great content to their TVs and around the home, but the consumers didn't yet know it."
As for the process of building up the necessary ecosystems to make the smart home market successful, both Feland and Wolf acknowledged that it's not yet clear how efforts like Apple Inc. (Nasdaq: AAPL)'s HomeKit framework and Google (Nasdaq: GOOG)'s Brillo operating system will play out.
There is also serious work underway in the broadband provider market to develop next-generation smart home services that link to lots of connected devices. AT&T Inc. (NYSE: T) announced this week that it will be begin testing integration with the Nest Learning Thermostat in July for its Digital Life Platform. And Comcast Corp. (Nasdaq: CMCSA, CMCSK) said in May that it is introducing a new "Works with Xfinity Home" certification program later this year. Comcast plans to support a slew of new retail products including the thermostat from Nest Labs , smart door locks from August and connected lighting devices from Lutron, among others. (See Comcast Opens Up the Smart Home.)
There is a lot of money being thrown into the smart home space, but it may be a while yet before those investments deliver significant returns.
— Mari Silbey, Senior Editor, Cable/Video, Light Reading