 It's taken almost nine months, but the acquisition of Icontrol is now complete. Comcast has closed on the part of the Icontrol business that includes the Zigbee-based Converge platform, while Alarm.com now owns Icontrol's Z-Wave-based Connect platform plus the Piper video security system.
Alarm.com Inc. is focused largely on the security dealer market and touts ADT Corp. as its marquee customer in that space. But the smart home tech company has also made some inroads into the telecom service provider industry, capturing Suddenlink before it was acquired by Altice , along with several smaller North American cable operators. (See Suddenlink Sounds Alarm for Smart Homes.)
While Alarm.com is a Goliath in the home security market, the big story here from a cable perspective is Comcast Corp. (Nasdaq: CMCSA, CMCSK). Comcast has long relied on Icontrol technology for parts of its Xfinity Home system, but by bringing part of the company in house, the cable operator now has a burgeoning wholesale business, and the products and engineering talent to target major industry expansion.
Figure 1: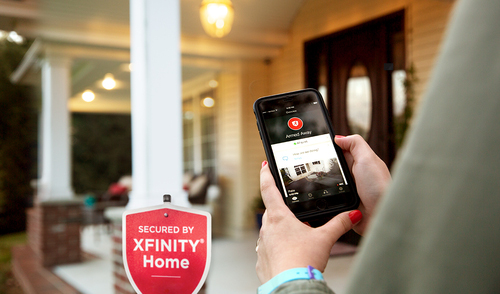 On the wholesale front, Comcast, through Icontrol, powers home security and automation services for several large operators, including Cox Communications Inc. , Rogers Corp. , Telstra Corp. Ltd. (ASX: TLS; NZK: TLS) in Australia and Itscom in Japan. Comcast also confirms that Charter Communications Inc. is still a customer through that company's acquisition of Time Warner Cable, which launched the Icontrol-powered Intelligent Home service in 2011. Charter announced last summer that it is de-emphasizing sales of the Intelligent Home platform while it assesses the business, but the MSO also promised to continue supporting existing customers. (See Why Charter May Shutter Its Smart Home.)
Comcast isn't revealing details yet on how it will proceed in the wholesale market, but the company does say it will formally announce plans for that business soon. The move into smart home B2B sales mirrors Comcast's wholesale ventures in other product areas. Currently the company licenses its X1 video platform to other cable operators, and recently the company confirmed it's also helping Rogers deploy the new Comcast Digital Home solution, a WiFi-based whole-home networking platform that Comcast introduced in January. (See Comcast Unveils Smart Home Platform.)
Want to learn more about the cable technology market? Sign up now for Light Reading's Cable Next-Gen Technologies & Strategies event on March 21-22, at the Curtis Hotel in downtown Denver.
Besides its expansion into the wholesale market, Comcast has hinted at ambitions to use its new smart home assets from Icontrol to broaden its role in the emerging Internet of Things sector. This includes the operation of an "IoT Center of Excellence" in Austin, and stated plans to invest in continued product and service development. New development will likely include more targeted offerings related to Comcast's existing portfolio (like IP cameras bundled with new features). But it could also lead to the pursuit of technology partnerships that would give Comcast a bridge into new industries -- partnerships like deals with utility companies to develop energy management solutions.
It's also important to recognize that Comcast's new IoT assets don't exist in a vacuum inside the company. As everything moves to IP, it becomes easier for Comcast to blend its services in new ways. For example, there's no reason that the rules engine used in Comcast's Xfinity Home platform couldn't also be tied in to the X1 video service and Comcast's in-home networking platform.
In the near term, the acquisition of Icontrol at the very least gives Comcast a stronger foundation and better scale to drive revenue from its existing Xfinity Home product. Comcast has been cagey about the success of Xfinity Home so far, but executives do keep repeating the stat that roughly 40% of customers who sign up for Xfinity Home are brand-new Comcast subscribers. With the Icontrol purchase now complete, perhaps Comcast will start to report more specific numbers that demonstrate its traction in the market; evidence to prove that its smart home investments are starting to generate measurable returns.
— Mari Silbey, Senior Editor, Cable/Video, Light Reading
Subscribe and receive the latest news from the industry.
Join 62,000+ members. Yes it's completely free.
You May Also Like
---