 It turns out that launching IoT markets is a lot faster than rolling out DOCSIS 3.1 upgrades. After announcing two trial IoT networks in Philadelphia and San Francisco last October, Comcast expanded into the city of Chicago with its machineQ-branded network technology and services only one month later. And now, just eight months after that, the company is adding 12 new metro regions to its coverage map and dropping the trial moniker, bringing the total number of Comcast commercial machineQ markets to 15.
These include: Atlanta, Baltimore, Boston, Chicago, Denver, Detroit, Indianapolis, Miami, Minneapolis/St. Paul, Oakland, Philadelphia, Pittsburgh, San Francisco, Seattle and Washington D.C.
Figure 1: machineQ footprint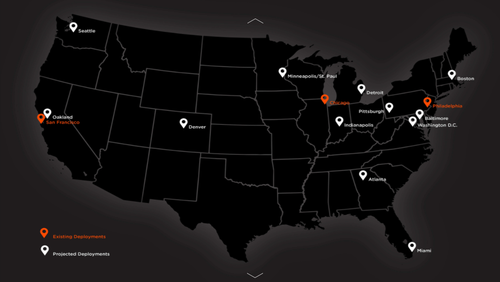 Launching new IoT markets does not mean Comcast Corp. (Nasdaq: CMCSA, CMCSK) has 100% IoT network coverage in those regions. According to machineQ founder and general manager Alex Khorram, coverage of roughly 50% of a city is enough for Comcast to introduce the machineQ service commercially. Khorram says that level creates enough scale and variability for customers to start viable application trials.
Speaking of trials, machineQ hasn't yet shared details on what its customer trials look like, but it has left clues about the types of applications being tested. The Comcast subsidiary has already partnered with companies like Trimble Water (water management), Flashnet (smart street lights) and Globe Tracker (supply chain tracking). It also regularly refers to several industries that are showing interest in the machineQ platform including the healthcare, utility, automotive and smart cities sectors.
As for machineQ's choice of IoT network standard, the company is using low-power, wide-area network (LPWAN) technology known as LoRa. Khorram says the machineQ service is ultimately protocol agnostic, but LoRa has given the company a good foothold in the industrial IoT scene. LoRa has ridden to market faster than low-power cellular network alternatives that rely on licensed spectrum (LoRa uses unlicensed spectrum), and it's a relatively open protocol compared to technology offered by IoT rivals like Ingenu and Sigfox . (See NB-IoT? Not at Those Prices, Say DT Customers and How IoT Forked the Mobile Roadmap.)
Figure 2: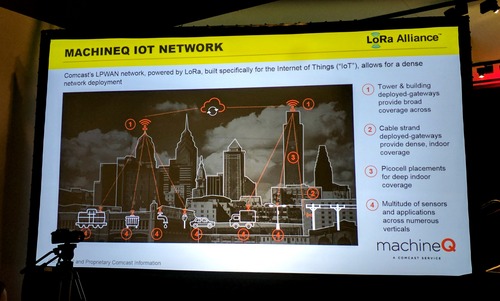 Beyond the LoRa head start, Comcast also believes it has an advantage in the IoT space because it can use existing right-of-way access and cable infrastructure to deploy new LoRa gateways quickly. In addition, executives argue that Comcast's existing network assets make it cheaper for IoT companies to deploy their own sensors because the density of the infrastructure means low-power sensors are all that's required. High-power sensors are more expensive and unnecessary if a device is close enough to an IoT gateway. (See Comcast Opens Up on Smart Cities & machineQ.)
For more broadband market coverage and insights, check out our dedicated gigabit/broadband content channel here on Light Reading. Of course, machineQ isn't the only game in town. Senet , a company founded roughly four years ago, currently operates the largest LoRa network in North America and has already built a back office system that it's selling as a managed service to both network and application providers. However, machineQ does have the weight of Comcast behind it. That includes not only the company's existing infrastructure, but also its technology knowhow and large customer base. While machineQ is still working out the best ways to make money from its IoT platform, Khorram notes that his team is already doing far more for its customers than just providing connectivity. Companies of all sizes have approached machineQ for help on how to prototype new IoT applications, and where it's feasible, machineQ is diving into that development business, at least temporarily. machineQ is also helping to match application providers with other partners where appropriate. Some of those partners are third-party organizations, but machineQ can also help develop ties between potential customers and other business divisions within Comcast. "There's literally a hundred [scenarios] where we're matching up IoT applications and solution partners," says Khorram. He notes that a leak detection startup, for instance, might want to connect to the machineQ network, but also make a deal to market its solution to MDUs via Comcast's Xfinity Communities business unit. In that case, machineQ can say, "hey yes come to our network, but hey, by the way, I can [also] help you accelerate your business by bringing you quicker to market and to scale." Khorram stresses that it's still very early for machineQ in its evolution as a company, just as it's still early days for the IoT industry as a whole. As a result, machineQ, isn't setting revenue goals for itself yet. Instead, it's measuring success by the number of new partners it can enable in its own IoT ecosystem and by the satisfaction of its customers in new application trials. "This is a marathon, not a sprint," emphasizes Khorram. That may be, but with 15 markets already announced, machineQ isn't holding back the pace either. — Mari Silbey, Senior Editor, Cable/Video, Light Reading
Subscribe and receive the latest news from the industry.
Join 62,000+ members. Yes it's completely free.
You May Also Like
---