Cable Industry Advice Led Tibit to Its Tiny OLT
Cable Industry Advice Led Tibit to Its Tiny OLT
New 'MicroPlug' expected to tie into cable's move toward virtualization, distributed access architectures. Cable's desire to cram low-power Optical Line Terminals (OLTs) into remote nodes played a prominent role in leading Tibit Communications to develop a new pluggable power- and space-saving PON Optical Line Terminal.
Tibit's new product, called the "MicroPlug OLT," was introduced this week and is slated for general availability in late November. (See Tibit Pursues PON With 'MicroPlug' OLT .)
Though the MicroPlug OLT can serve both cable operators and telcos, as it supports both a 10-Gig EPON MAC and 10G GPON (XGS-PON), the desire to miniaturize the product so it can plug into remote nodes or the transceiver housings of switches has cable industry roots. That design, Tibit execs said, came from early discussions with engineers at Comcast and Charter Communications as they noodled on ways to distribute the access network and start the pivot toward virtualization.
"That was our first market objective," Jay Teborek, Tibit's VP of marketing, said.
Figure 1: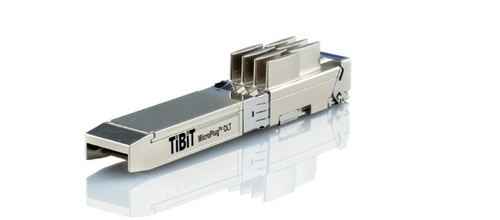 Tibit's work around miniaturization of the PON OLT is full of good intentions around power- and space-savings and network virtualization, and nothing to do with the evil and crazy that was associated with shrinking things during Saturday mornings in the mid-1970s.
A key to the miniaturization into a pluggable product is Tibit's custom ASIC, which is equipped with a full Ethernet MAC (as the device plugs into an Ethernet switch), a CPU to handle management commands, and two full 10-Gig PON Macs.
The cable use-cases span both enterprise and residential, though the enterprise use-case is expected to deploy the fastest in order to deliver on rising high-speed data requirements for business customers and for a mobile backhaul market that will become more lucrative for MSOs as small cells and new 5G networks begin to take hold, Teborek said.
For a deeper look into Tibit's strategy for the MicroPlug OLT, which switch vendors are involved in the early going, and what's ahead with respect to trials and deployments, please see this story on our sister site, Broadband World News.
— Jeff Baumgartner, Senior Editor, Light Reading
Subscribe and receive the latest news from the industry.
Join 62,000+ members. Yes it's completely free.
You May Also Like
---