Top Ten Movers and Shakers in Telecom

11/18/2003

Comment (67)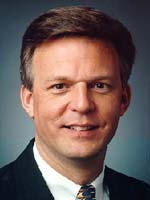 "We are not going to pursue this opportunity for Bill Smith at this time," wrote a
Porter Novelli
publicist representing
BellSouth Corp.
(NYSE: BLS). "Please keep us posted on upcoming opportunities."
Oh, we'll keep you posted alright...
Bill Smith's
publicity machine
may not want him to be part of our Top Ten list, but that won't keep him off. The thing is, Smith's a hard guy to ignore. These days you can't find a podium in the industry that doesn't have him behind it, giving a keynote speech. We've seen him speak at
OFC
,
Supercomm
, and
NFOEC
this year alone.
But being on a podium and saying stuff is one thing. Then there's doing stuff.
BellSouth is shaping up as one of the more aggressive incumbents in marketing next-generation data services such as metro Ethernet and broadband. In his role, Smith gets the credit (and takes the
lumps
) for the technology direction of BellSouth's core infrastructure. And he and his group caused quite a fracas this year when it gave
Cisco Systems Inc.
(Nasdaq: CSCO) its first RBOC customer win for its optical network products (see
BellSouth Chooses Cisco (and Lucent)
). Again BellSouth's technology planners got a face full of spotlight when, along with
Verizon Communications Inc.
(NYSE: VZ), and
SBC Communications Inc.
(NYSE: SBC), the carrier went ahead with a large request for proposal for fiber-to-the-premises buildouts (see
Vendors Await FTTP Shortlist
).
And, while BellSouth is chasing FTTP, it is also adding lots of
Alcatel SA
(NYSE: ALA; Paris: CGEP:PA) gear to provide 100 percent DSL coverage in its central offices in several states (see
BellSouth Picks Alcatel
). The carrier is also bundling satellite TV service as a way to provide voice, video, and data services to its customers, even if they don't all come down one single connection (see
BellSouth to Sell DirecTV
and
SBC Ratchets Up PON Politics
).
When he's not on the lecture circuit, Smith's role is intricately linked with BellSouth's future – and, by extension, that of the RBOCs overall. If he doesn't seize the right technology opportunities at the right time, BellSouth won't make up, let alone gain, any ground in its access battle with the cable companies.

(67) |