Top Ten Movers and Shakers in Telecom

11/18/2003

Comment (67)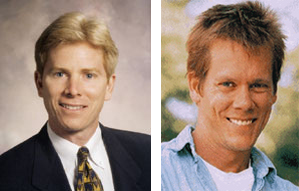 Is Ed Kennedy the next-generation savant at
Tellabs Inc.
(Nasdaq: TLAB; Frankfurt: BTLA)? Or did we just pick him because he laughs at our jokes?
It's probably a little bit of each.
The fact is, Kennedy has been on a
rocket-ship
ride since coming to Tellabs via the acquisition of Ocular Networks. It was as if he were a slick city boy who rode into a small town where rock music and dancing have been banned. But he didn't just accept things the way they were. Oh, no! He danced until his sinewy body glistened in the moonlit railyards!!
Ahem. Sorry.
Prior to Ocular, Kennedy held management jobs at Dynatech and
Newbridge Networks Corp.
(NYSE: NN; Toronto: NNC). Earlier in his career he worked as a design engineer and product manufacturer for
Fujitsu Ltd.
(KLS: FUJI.KL) and
Harris Corp.
(NYSE: HRS).
Kennedy's heritage as a startup guy is key, because Ocular started as the startup "killer" for the Tellabs 5500 platform. Now that Tellabs owns Ocular and its product has proven crucial to the portfolio, Kennedy's star has risen. He looks to be in line to succeed Michael Birck (see
Tellabs CEO to Retire... Again
).
By folding Ocular into its product line – and letting Kennedy run the whole thing – Tellabs has not only stopped an ageing product line from
cracking apart
, but it has spawned a series of interim steps between yesterday's all-electrical crossconnects and today's optical ones. Further, it has ensured that other Tellabs acquisitions, such as that of Vivace, will stand a chance to work out as smoothly (and profitably) for Tellabs (see
Tellabs Unveils Vivace Sibling
) in its all-important transition into multiservice switching.
And it's not as though Kennedy, despite his reputation as a successful startup leader, is new to any of the telecom battlefield. Prior to founding Ocular he was in charge of international marketing for
Alcatel SA
(NYSE: ALA; Paris: CGEP:PA).
And... Alcatel competes with
Nortel Networks Corp.
(NYSE/Toronto: NT), which used "Come Together" as the theme song in its TV pitches.
And... "Come Together" was written by John Lennon, who was in "A Hard Day's Night" with Phil Collins, speaking of ageing product lines...
And... Phil Collins was the voice of Muk and Luk in the movie
Balto
, which starred...
KEVIN BACON!! WE DID IT!! WOO-HOO!!
Ahem. Sorry.
So why watch him now? Quite simply, Kennedy infuses Tellabs with a new startup 'tude and familiarity with next-generation, which the company sorely needs as the largest carriers are starting to make the big move to converged IP and MPLS networks (see
Incumbents Converge on Convergence
). With most of Tellabs' employees reporting to him already, Kennedy is guiding this transition, which makes him the likely leader in Tellabs' next chapter. Our bet is that it's "when," not "if."

(67) |