The Best 3G & 4G Cities in America

10/30/2012

Comment (0)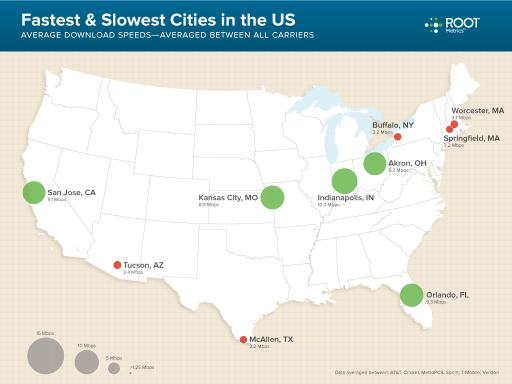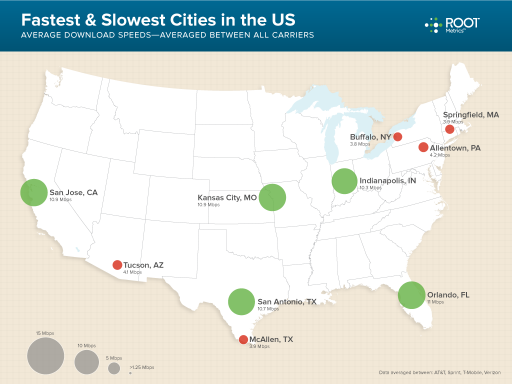 We've provided the Fastest Cities tables on the first page of this report. When looking at those you'll notice that even with Cricket and MetroPCS taken out and averaging across 3G and 4G networks, the results are similar to the top 4G cities numbers from early this year. (See Top Five 4G LTE Cities in the US.)

Kansas City is still a top 4G city, but Orlando moved upwards in the results by adding carriers like T-Mobile back into the mix.

Now let's look at the slowest cities, as measured by RootMetrics:

Table 15: Five Slowest Cities (All Carriers)

Rank
City
Average Download Speed (Mbit/s)
1
Buffalo, N.Y.
3.2
2
Springfield, Mass.
3.2
3
McAllen, Texas
3.2
4
Tucson, Ariz.
3.4
5
Worcester, Mass.
3.7
Source: RootMetrics
The LTE networks help to pull up the averages in this category as we saw in the individual results some carriers can have much slower results.
Table 16: Five Slowest Cities (Top 4 Carriers)
Rank
City
Average Download Speed (Mbit/s)
1
Buffalo, N.Y.
3.8
2
McAllen, Texas
3.9
3
Springfield, Mass.
3.9
4
Tucson, Ariz.
4.1
5
Allentown, Pa.
4.2
Source: RootMetrics
Buffalo, N.Y., is the slowest wireless city surveyed on average. McAllen, Tex., and Springfield, Mass., aren't far behind.
A snapshot of wireless performance in fall 2012
The range of speeds across the cities surveyed shows just what a state of flux the U.S. wireless market is in. From 20.4MBit/s downloads on the latest 4G technology to a 0.1MBit/s crawl on the low-end.
Wireless is a shared medium, so performance can vary depending on how close people are to the tower and how many people are using the network, as well as other factors.
Nonetheless, the numbers make it clear how much difference access to bigger spectrum channels makes for operators. With 2x10MHz channels for LTE in the 700MHz spectrum, AT&T and Verizon can crank out speeds higher than other operators', leaving rivals scrambling for spectrum through mergers and acquisitions.
For more



(0) |